When the phrase "Quantum Computer King" is uttered, names such as IBM, Microsoft, Google, and Amazon may be among the first that come to mind.
Keith Kohl declares that the market for Quantum Computing will reach $1 trillion within the next decade and there's "one obscure tech stock that holds the key to propelling us into the Quantum Computing era" that is NONE of the names mentioned above.
The Teaser
The chandelier looking device you see below is kicking off a groundbreaking technological revolution – one bigger than anything else we've ever seen since the dawn of the personal computer.
Keith Kohl is the editor and investment director of Angel Publishing's Technology and Opportunity, Energy Investor, and Topline Trader advisory services. These newsletters are purported to reach over 300,000 readers and provide in-depth coverage on the hottest investment trends in the market today, from energy and technology to the latest advances in biotech. We have covered some similar presentations here in the past, including but not limited to Dave Roberts' and Christian DeHaemer's Spatial Computing Company and Matt McCall's Quantum Glass Battery Stock.
Keith tells us this development has nothing to do with cryptocurrency, 5G or smartphones but rather about Quantum Computing and like so many technological breakthroughs before, it's about to make a small group of investors unbelievably wealthy very soon – that's us, maybe.
He goes on to explain that one single device is helping usher in the next $1 trillion tech industry and that there is "one publicly traded company with a critical set of patents that's sitting at the center of it all". Using historical valuations as a baseline, Keith is confident that this company could return investors as much as 31,594% in the coming months and possibly even more. He promises to explain how we can buy a stake in this company later in this presentation, but before he does…
The Pitch
The senior technology and biotechnology analyst at Angel Publishing pitches us a subscription to the Topline Trader weekly investment advisory service. We're told a one year subscription usually goes for $4,999, but for a "limited time only" he is offering it for an all-time low price of $1,999.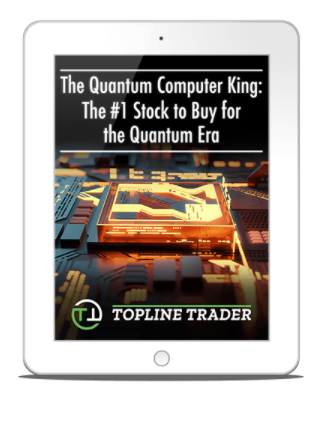 Included in the offer is the "The Quantum Computer King: The #1 Stock to Buy for the Quantum Era" special report, which contains the name and ticker symbol of the "Quantum Computer King", as well as weekly issues jammed packed with new research on nano and other technology companies, regular portfolio updates, and unlimited access to a members-only website.
The Cutting Edge Technology Behind The Quantum Computer King
Imagine if you could go back in time and invest in a small, little-known chipmaker by the name of Intel back in 1981. Had you held onto the stock through both bear and bull markets (no easy feat), a 26,070% return would have been yours. Enough to turn a small $500 stake into over $130,000.
Keith says the opportunity to make this kind of life-altering money from revolutionary computing technology isn't over. In fact, it may only be beginning. Because, much like Intel in 1981, one tiny, publicly traded company is currently holding the keys to the next major revolution in computing.
This is about the very foundation of how we store and transmit information, while most have heard about quantum computers and quantum technology before, few know exactly what it is and what it will mean for society. Consider this: Quantum computers have proven to be exponentially faster than a conventional computer at solving complex problems.
To just say this is a bit of an understatement, as Quantum computers have the potential to perform tasks up to 100 trillion times faster than the computing devices we use today. As Google recently boasted, a computation that would take 10,000 years on a classical supercomputer took only 200 seconds on its quantum computer.
Underlying all this is quantum mechanics, which we're not going to go into a seminar about as famed American physicist Richard Feynman once joked, "If you think you understand quantum mechanics, you don't understand quantum mechanics". What we will say is that as long as computers have been around, they've stored and retrieved information using a series of 0's and 1's, otherwise known as "bits".
Well unlike conventional computers, quantum computers don't read information in bits. They read them in quantum bits or "qubits" and the optimal method of doing this, according to a chorus of experts, is to use the directional "spin" of subatomic particles known as electrons.
This unique and emerging branch of electronics known as spin electronics or "spintronics" is the nanotechnology behind the tiny stock Keith has been saying might be the biggest stock story of the decade. Let's find out what it is.
Revealing The Quantum Computer King Stock
Keith left quite a few clues for us along the way, here they are:
Not only is this company a powerhouse in the spintronics industry with over 100 worldwide patents, but it also manufactures high-performance spintronic devices and licenses its intellectual property to major tech companies scrambling to utilize its quantum technology expertise.
As we write this, this company boasts an impressive growth rate of 56.5% and a profit margin approaching 54%
Its stock is currently valued at roughly 0.2% of Intel Corporation (Nasdaq: INTC).
Based on these, we would venture to say that the spintronics device manufacturer is NVE Corp. (Nasdaq: NVEC). This is what tipped the scales:
NVE's technology is protected by more than 100 patents worldwide either issued, pending or licensed from others.
NVE's profit margin as of the latest quarter is 53%, as Keith rightly states in his presentation.
At a current market capitalization of nearly $293 million, NVE is just about 0.2% the size of the mighty Intel Corp. whose market cap stands at over $211 billion.
Is Spintronics and NVE on the cusp of catapulting us into the Quantum Computing Era?
Enough to turn $5,000 into over $1.5 million?
Mordor Intelligence is projecting an annual growth rate of 50% for the spintronics industry through at least 2026, which comes as no surprise given its various applications from data storage to electric vehicles to the medical field.
There's no denying that faster data transmission capabilities and increased storage capacities are in major demand and spintronics appears to supply this to a much greater degree in comparison to conventional storage devices. This is all well and good, but is NVE the company that will lead this burgeoning industry?
The answer is unclear, but its above average profit margin and return on assets (ROA) of 14% suggest that it is already an industry leader with a technological edge. At a current price/earnings of 21x with an annual dividend yield above 6%, our downside is somewhat protected and there is tremendous upside potential, as this presentation showcased.
Quick Recap & Conclusion
Keith Kohl teases a "Quantum Computer King" stock that holds the key to the $1 trillion Quantum Computing market.
Keith says that this company could return investors as much as 31,594% in the coming months and possibly even more, while comparing it to Intel Corp. in its early days.
In order to find out the name and ticker symbol of this stock, we will need a subscription to Angel Publishing's weekly investment advisory service Topline Trader. This costs a not-so-low $1,999 for a "limited time" and includes "The Quantum Computer King: The #1 Stock to Buy for the Quantum Era" special report, with all the info we are after.
Luckily, you can pocket your hard earned money as we were able to uncover Keith's pick for free as NVE Corp. (Nasdaq: NVEC).
NVE is a profitable company, with sound underlying economics, and a generous annual dividend. One could certainly do worse for the moderate price being asked given the enormous potential upside.
Is Quantum Computing the future? What do you think about NVE's prospects? Tell us in the comment section below.