Keith Kohl believes we should brace ourselves for a black winter ahead.
Even going so far as to say that a complete blackout could happen as soon as February 17th and the only way to protect our wealth is with three LNG stocks that are set to soar due to this global energy crisis.
The Teaser
The scenario described may not sound plausible. In fact, it could be a nightmare. But the story Keith tells is on its way to becoming a reality for hundreds of millions of people this winter.

Keith Kohl is a technology and energy market insider, having plied his trade for nearly two decades. We have reviewed some of his past work here at GBR, including his "Infinite Lithium" Company and "Quantum Computer King" teaser.
Headlines about an existential energy crisis have been common in the news cycle recently and in Germany, Google searches for "firewood" are soaring as citizens brace for a shortage of gas that heats half of all homes: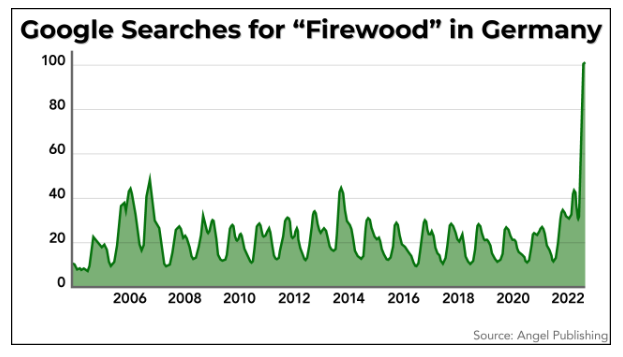 A number of factors have converged to create what could turn out to be the biggest global energy shock in history.
The closure of Russia's largest pipeline to Europe, which is the continent's main supplier of natural gas.

The price of natural gas, the main fuel that heats homes and powers electric grids, soared to record highs this past summer.

OPEC slashing its oil production right as strategic petroleum reserves are drying up.
It could all come to a head on February 17th.
On this day, Keith says over 70 nations will be at the highest risk of global blackouts.
All of this means that a historic reshaping of global power markets may be occurring. One that will mint an entirely new generation of millionaires and even billionaires.
A New Wave of American Energy Wealth
In summary, the world is turning more and more to American oil and gas to fill the gaps in the global energy supply.
A handful of domestic producers are already on the move because of it. Stocks like Northern Oil and Gas (NYSE: NOG) and Marathon Oil Corp. (NYSE: MRO), which are up over 1,000% and 700% since January 2021 are just two examples.
But this is just the start of this new American wave of energy wealth that's forming and Keith is going to show us how we can prepare and position ourselves to come out as rich as possible from what's coming.
The Pitch
Keith has put the details on three companies and the coming LNG boom inside a special report called: Black Winter: 3 LNG Stocks Set to Soar on the Global Energy Crisis.
This report along with two other bonus reports are ours if we subscribe to Angel Financial's Energy Investor advisory service. The introductory offer costs $99 and comes with a 100% satisfaction guarantee, 12 monthly issues, a free subscription to the Energy and Capital e-letter, 24/7 access to a model portfolio, and more.
The Three Black Winter Triggers
With global markets more interconnected than ever before, the energy supply shock is not isolated just to Europe anymore.
It's spilling over into every part of the world and there are three main reasons for this.
Trigger #1 Russia/Ukraine War Disrupting Global Energy Supply
Up until 2021, Europe depended on Russia for almost half of its entire natural gas supply.
It needs this supply to run its factories, generate electricity, and heat homes.
With the complete shutdown of Nord Stream 1, gas is now going to the highest bidder. Thus almost guaranteeing that prices will move much higher.
Trigger #2 Years of Severe Underinvestment in New Oil and Gas Production
Natural resources like oil, gas, and coal require massive upfront investments to bring out of the ground.
Domestic commodity-producing industries have suffered a record lack of capital investment over the past several years.
For example, back in 2014, over $700 billion was invested in the oil and gas sector. Fast-forward to 2021, and the amount invested was just $341 billion. New investment has been cut by more than half, despite demand being much higher today than it was then. So what gives?
This is primarily due to companies facing mounting pressures from (part of) the general public, investors, and the federal government to support the global transition to renewable energy.
Predictably, many years of underinvestment during the attempt to transition away from fossil fuels has done absolutely nothing to decrease the global demand for oil and gas and has left global supplies unable to satisfy the world's surging demand.
Trigger #3 Global Push for Renewables and the Shuttering of Fossil Fuel Plants and Pipelines
The day of a wonderful new green economy with renewable energy as its foundation may come, but it's decades away. Not months or even years.
For some context, get a load of this statistic:
Matching the energy value of just two months' worth of natural gas that Europe consumes would require building $40 trillion worth of batteries. Something that would take all the world's battery factories a combined 400 years to produce!
Despite this reality, politicians are smothering the fossil fuel industry and spending absurd amounts of cash on "green energy."
This is where this massive investment opportunity comes in. See, the U.S. is the world's largest producer of natural gas, despite the federal government's efforts to suffocate the industry.
Ever since 2016, when America made its first overseas shipments of LNG. It has rapidly become an LNG powerhouse as well. That's why Keith has identified three stocks with massive potential in this space.
Revealing the Black Winter LNG Stocks
We're given a set of clues about each stock, so here goes:
Black Winter Stock #1
It owns one of the largest LNG production facilities in the world.
The day after the Russia/Ukraine conflict began, a French energy giant signed a five-year LNG supply deal with this firm.
Black Winter Stock #2
This company

owns a massive state-of-the-art fleet of LNG tanker ships…

the youngest fleet in the entire industry.

It has raised its dividend by a stunning 1,150% over the past three years, which Keith believes is poised to soar even higher.
Black Winter Stock #3
This American company owns a stunning 20% of the world's fleet of LNG ships.
It also owns plants that turn LNG back into regular gas for customers across the globe, with facilities across South America to far as India.
Based on this data, these are Keith's top three picks:
Black Winter Stock #1: Cheniere Energy Inc. (NYSE: LNG). With Freeport's LNG facility out of commission until next year, Cheniere's Sabine Pass is the largest in the US and 5th largest in the world.
Black Winter Stock #2: Flex LNG Ltd. (NYSE: FLNG). The median age of its fleet is just three years as of the end of Q3 and Flex raised its dividend from $0.10 per share in 2019 to $1.25 today or precisely 1,150%.
Black Winter Stock #3: Shell Plc (NYSE: SHEL). Shell's 90 LNG carriers make up around 20% of the global LNG shipping fleet and it owns LNG plants in Peru (South America) and a receiving, storage, and regasification terminal at Hazira, Gujarat in India.
Once in a Lifetime Opportunity or a Mirage?
The current commodity supercycle has already delivered triple-digit gains from the beginning of 2020 to today.
Keith's three picks have benefited tremendously from this rising tide and will continue to do so over the short term. Looking ahead, all three businesses possess solid underlying economics with dividends in place to boot. If you aren't already overexposed to commodities and energy, in particular, these three stocks merit consideration.
Quick Recap & Conclusion
There's a black winter ahead and the only way to protect ourselves and our wealth according to Keith Kohl is with three LNG stocks that are set to soar due to the global energy crisis.
Three things are triggering this crisis: Russia/Ukraine war disrupting the global energy supply, years of underinvestment in oil and gas production, and the global push for renewable energy. Nonetheless, LNG is what the world needs right now, and Keith has identified three

stocks with massive potential in this space.

These three picks and details about the coming American LNG boom are inside a special report called: Black Winter: 3 LNG Stocks Set to Soar on the Global Energy Crisis. It's ours with a $99 subscription to the Energy Investor advisory service.
Is Keith on the money about American LNG supplying the world? Let us know your thoughts in the comment section.