We've been put on notice that a revolutionary new technology is set to disrupt the entire global economy on June 30, 2022.
Keith Kohl is calling it "a quantum leap into the future for mankind" and there are several small-cap "Invictus" stocks leading the way.
The Teaser
This may look like an oversized computer chip…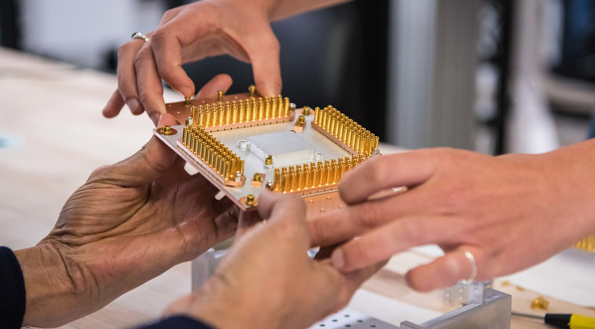 But we're told that this device is the greatest technological breakthrough in years.
Like most things labeled as "the next big thing", 99% of the population has no idea this even exists. However, those "in the know" say it's mankind's next great leap forward. So what exactly is it? Keith Kohl calls the technology "Invictus".
It's not a faster computer chip, more powerful processor, or even better faster internet. It's an entirely new class of technology, which scientists have been trying tirelessly to bring to fruition and now that they've finally cracked the code. Keith's research has led him to the conclusion that this technology could ultimately become more disruptive and profitable than the blockchain, artificial intelligence, and 5G combined!
This is why the world's biggest banks, including J.P. Morgan, Goldman Sachs, and Citigroup, are diving in and federal government agencies like the CIA and the Department of Defense are diverting billions into the sector too. But in truth, they're all too late, because one small-cap company has beaten them all to the punch.
Keith Kohl is the editor and investment director of Angel Publishing's Technology and Opportunity, Energy Investor, and Topline Trader advisory services. An insider of the technology and energy markets, his network includes hundreds of experts, from M.S.s and Ph.D.s to lab scientists grinding out the latest technological breakthroughs. We're no strangers to Keith's presentations and have reviewed several here in the past, including his "Quantum Computer King" Company and "Star Gas" Helium Stock.
Apparently this small-cap stock also has a catalyst to carry it to 10x returns or more. But there's only a small window of opportunity to take advantage of it, because this tiny company is due to make an earth-shattering announcement come June 30th. An announcement that will reveal the true game-changing potential of "Invictus".
The Pitch
Keith and his research team and have put together a special report called: Invictus: 3 Stocks for Riding the $47 Trillion Superboom. It's ours if we proceed with a no-risk trial to the Technology and Opportunity research service for $99 – a 60% discount off the regular retail price.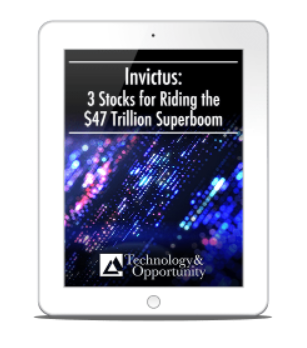 Included in this offer will be three free bonus reports in addition to the one mentioned above, 12 monthly briefings, flash market alerts, unlimited access to a private members-only website, and more.
What in the World is "Invictus"?
What is this technological breakthrough that could make early investors millions?
When Keith says that "it's nothing short of a quantum leap forward in our technological powers" the lightbulb goes off that he's talking about Quantum Computing.
Unlike ordinary computers which are binary and can only complete one process at a time. Quantum computers can perform tasks simultaneously and instantly. Picture this, if Quantum Computing were a car, you could drive around the circumference of the globe 556 times in just one second!
This unprecedented processing power and speed unlocks previously unimaginable potential. We're talking about the most complex problems faced by the economy and humanity as a whole. Here are some real-world examples:
From Mercedes-Benz and IBM forming a Quantum Computing partnership to develop their own next-gen batteries to power their electric vehicles (EV).
To making the process of diagnosing diseases diagnosing cheaper and more accessible.
And Quantum Computing power being used to predict the stock market with never-before-seen accuracy.
It genuinely seems like a game-changing innovation. Yet despite this, unless you spend your time on the frontier of the tech world, you probably have not heard of it. You won't hear about it much in the mainstream media, at least not until that crucial June 30th date. What is happening then?
Apparently, the "one small-cap company that has beaten all the tech titans to the punch" when it comes to Quantum Computing, is set to launch its most ambitious project ever on this date. One that will reveal the exponential potential of Quantum Computing.
Fortunately, we are still well ahead of this all-important date as we write this. Leaving us plenty of time to learn more about this pioneering tech and Keith's No. 1 small-cap Quantum Computing stock, among his other picks.
Revealing the "Invictus" Stocks
Keith throws us a freebie on his first Invictus stock, a warm-up if you will, which he surprisingly reveals as Honeywell International Inc. (Nasdaq: HON). He believes it will become one of the top five tech companies in the world during the Quantum Computing era, as its secretive and well-funded research and development division has quietly made a monumental Quantum Computing breakthrough.
Keith calls his "No. 1 Invictus stock" the Intel killer, because this firm is the first in the world to build its own factory specifically for Quantum Computing machines. This sounds like Rigetti Computing Inc. (Nasdaq: RGTI). Which has constructed its own Quantum Computer factory.
The next little-known Quantum Computing stock doesn't just have one contract with the federal government, it has dozens. It provides Quantum Computing strategy, research, and technical expertise helping firms prepare for the upcoming super boom in this technology. We're stumped about what stock this could be.
This last pick is 70 stocks in one. Meaning that this is an ETF or fund that own a small piece of over 70 firms working on Quantum Computing research and development. This is the Defiance Quantum ETF (NYSE: QTUM).
Legit Opportunity to Make Life-Changing Wealth?
Quantum Computing is still in the early stages and could take a while to pay off. But make no mistake, it is the next big step forward in computing.
According to a Deloitte report, Quantum Computing took in more than US$5 billion in investments in 2021, from both the private sector and federal governments the world over. The latter especially indicates that interest is rapidly ratcheting up in the technology, which is an early indicator that investors ought to take heed of.
As more and more dollars are invested into the space and into research and development (R&D) specifically, Quantum Computing could become powerful enough to tackle problems that can't be performed by computers today. This almost-there, but not quite, yet there is loads of potential, is a hall mark of Keith's presentations. But one thing we can appreciate is the acknowledgment of this fact and the embrace of a diversified approach to investing in Quantum Computing via Defiance Quantum ETF (NYSE: QTUM), which I applaud.
Quick Recap & Conclusion
Angel Publishing's Keith Kohl is teasing a revolutionary new technology he calls "Invictus" and several small-cap stocks are paving the way for it.
We learn that this technological breakthrough is Quantum Computing and it's a game-changing innovation that is about to go mainstream on June 30th.
To learn more about this and the stock behind the major announcement on June 30th, we will need to get our hands on a special report called: Invictus: 3 Stocks for Riding the $47 Trillion Superboom. It's ours if we opt into an annual $99 subscription to the Technology and Opportunity research service.
We weren't able to reveal all of Keith's stock picks here, but we do know that Honeywell International Inc. (Nasdaq: HON), Rigetti Computing Inc. (Nasdaq: RGTI), and Defiance Quantum ETF (NYSE: QTUM) are among them. Three out of four ain't so bad.
It's still early days for Quantum Computing in general, but we see the long-term potential and taking a small stake in a wide range of quality businesses in this sector via an ETF seems like a sensible approach. Who knows, it could end up actually delivering on its promise.
Is Quantum Computing the next big thing in tech? Let us know your thoughts in the comment section down below.