Spinoffs aren't a bad way to make a buck and this Intel spinoff company even helps solve crime.
Individual investor John Carl says Intel spins off more projects into solo companies than almost any other tech firm and its latest, an Artificial Intelligence (AI) firm, could be the most lucrative yet.
The Teaser
AI and crime. This is a new combination that frankly is a bit clunky, but one that definitely tests the bounds of AI at this point in time and could launch a much wider, more lucrative market.
John Carl says he's an investor, just like us, who started out as a day trader in 2009 before realizing the folly of his ways and becoming a buy-and-hold investor. He eventually found his way into financial publishing and the rest as they say, is history. We have covered plenty of AI teasers here at Green Bull in the past, including Enrique Abeyta's #1 AI Stock for 2023 and Nick Black's UAI Companies.
When the company being teased today spun off from Intel, almost no one heard about it…
Almost because Digest Publishing Co-Founder Nick Hodge did. Important to note right off the bat here, is that the company being teased is still private and we supposedly only have a short window to buy shares in it pre-IPO. John assures us that the buying process is all rather simple and straightforward, and "as easy as a few clicks of the mouse once all is said and done."
This disclosure out of the way, what makes this business so special? Apparently, "everywhere this company goes, crime disappears."
It does this by way of a groundbreaking platform that has proven technology that can reduce crime by up to 45%.
An Epidemic of Rising Crime?
This is a downer topic to talk about, but the reality is that crime has been creeping up for quite some time now in America.
A usual suspect list of six major cities – Atlanta, Baltimore, Los Angeles, New York City, Philadelphia, and Washington, D.C. definitely have it worse than other places, but according to Bloomberg, there's been a 12% jump in violent crime in US cities over the past decade.
Petty theft is one thing, but the numbers are climbing for just about every kind of crime, even the worst kind.
As reported by CBS News, nearly half of all murders now go unsolved. In fact, never before has the rate of unsolved crimes been so high.
This is where this new Intel spinoff company comes in, as its new crime-fighting technology is designed to address this issue.
As we can see, it may be needed now more than ever before.
The Pitch
This company has just a few months to complete its latest round of funding and everything we need to know about it, including how to buy shares is in a special report called The Intel Spinoff Protecting America's Safety.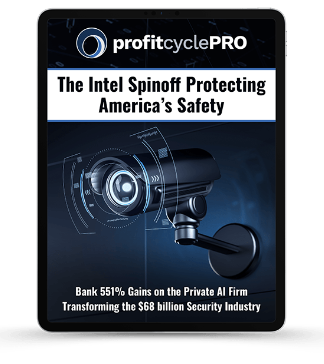 The report is ours for free if we give Digest's brand-new investment newsletter service, Profit Cycle Pro, a try. It costs $149 with a 60-day money-back guarantee and we would also receive two bonus reports, an "Investing U" masterclass series about how to approach the market, a Macro Markers service showing precisely what sectors to buy and what sectors to avoid, and an all-access-pass to Digest Publishing's four Quarterly Wealth Summits per year.
Big Data to the Rescue
There's no shortage of security cameras in America today.
This alone probably deters more crime from happening than we know, but as far as catching perps in the act, they are utterly useless for one reason.
For example, the city of Chicago's transit authority boasts that it has more than 33,000 cameras watching its trains and public transportation. Unfortunately, most of these cameras are completely unmonitored.
Here's a picture of the actual CTA command center where they're supposed to be monitored: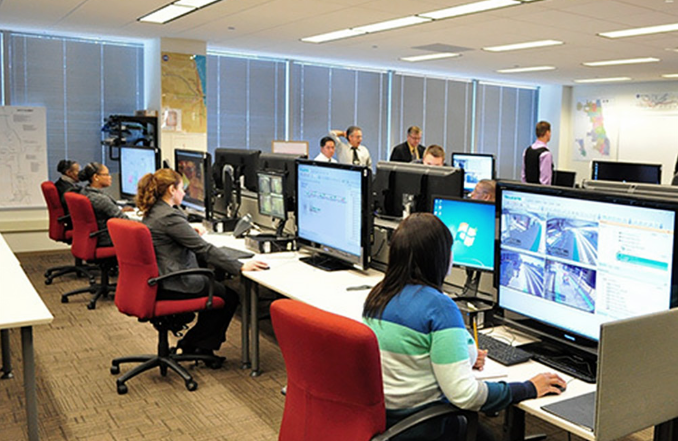 When it's fully staffed, there are a total of just 20 workstations.
This equates to 1,750 cameras to monitor per person, so it's no wonder crimes are going unchecked in broad daylight.
Every major city in the country now has tens of thousands of cameras tasked with reducing crime:
Los Angeles – 30,000 cameras
Philadelphia – 28,000 cameras
Atlanta – 25,000 cameras (per capita it's the most surveilled city in the nation)
Denver – 12,273 cameras
Washington, DC – 11,441 cameras
But across the country, crimes are going unsolved, even as the number of cameras climbs higher.
All of this tells us that the infrastructure is already in place, it's just a matter of being able to utilize it efficiently.
The technology being teased in this presentation takes the security camera data, pulls it all together, and then sends out alerts to stop crime before it happens.
Real-time Crimestopper
The technology uses a combination of powerful AI programs that can identify what's happening in real time, including facial, weapon, and vehicle recognition.
Thus, it can spot potential problems faster and more accurately than human operators and has enough processing power to follow thousands of different cameras all at once.
This system's AI is fast enough to alert authorities if something looks suspicious in time to literally stop crime in its tracks. Let's find out the Intel spinoff behind it.
Revealing John Carl's Intel Spinoff that Solves Crime
We know a little bit about our mystery company, including the following:
It has the right leadership, the company's CEO is a former FBI Special Agent and Interpol Director.
The technology has been battle-tested on the streets, including in the district of Benito Juarez in Mexico City, where it helped reduce the crime rate by 45%.
This company's shares are priced at exactly $1 each in its current pre-IPO funding round.
Not a whole lot to go on, but enough to reveal the name of the Intel spinoff as RadarUSA. The clues align like a lobbyist with a bag of money and a politician.
Radar's CEO Jeffrey Mueller is the former FBI Chief and Director of Interpol.
Via its partnership with public company VSBLTY Groupe Technologies (OTC: VSBGF), RadarUSA installed its first-of-a-kind citizen safety application in Benito Juarez, which reported a 40% reduction in crime during the first year with the technology.
Last July, Radar launched a private Reg A+ offering to raise $20 million by selling 20 million non-voting shares at $1 each.
Good Opportunity to Profit from Crime?
Being a private company, an investment in RadarUSA is illiquid.
Not only this but the value of the investment will be diluted if the company issues additional shares or options, which is all but guaranteed to happen.
John mentions that the company uses a platform "that's already been proven to have massive market potential", making him 551% gains. But this references his previous investment in already public sister company VSBLTY Groupe Technologies, and not relevant.
The minimum investment in RadarUSA is only $1,000, so low-risk, high-potential reward. Just be prepared to wait it out a few years or more for a potential IPO to cash out.
Quick Recap & Conclusion
Individual investor John Carl is pitching an Intel AI firm spinoff that is helping solve crime with its tech and could net us triple-digit gains.
Using AI for facial, weapon, and vehicle recognition, this tech scans security camera data, pulls it all together, and then sends out alerts to authorities to stop crime before it happens.
The private company behind this tech is in the midst of a funding round and everything we need to know about it, including how to buy shares is in a special report called The Intel Spinoff Protecting America's Safety. The report is ours for free if we give Diges

t Publishing

's new investment newsletter service, Profit Cycle Pro a try for $149 upfront with a 60-day money-back guarantee.
Not many clues to go on, but enough was provided to reveal the name of the Intel spinoff as RadarUSA for free.
Shares in RadarUSA can be purchased online for $1 with a minimum investment of $1,000 via the DealMaker platform. This is a multi-year hold while an IPO hopefully materializes to cash out the investment.
Is RadarUSA's AI technology the answer to crime or the beginning of a bigger set of problems? Sound off in the comment section below.