Biotech investment opportunities have seemed to get a lot of buzz in the past couple of years, being generally described as an easy way for fast earnings. However, with a volatile market and thousands of small upstarts in the U.S. alone, it's hard to discern what will be the next big thing and what will leave a hole in your wallet.
Jason Stutman claims to have the answer to that and is ready to teach you how and where to invest your money so that you can retire faster and with a hefty bank account. You can get all that plus many other tips and bonuses for the fabulous price of only $1,999 if you agree to subscribe to his newsletter program, Topline Turbo Charger.  In his latest marketing pitch, Project Greenlight Biotech Investments, Stutman talks about a "groundbreaking investment system that gives you a shot at six triple-digit winners every single month".  You'll also get highly exaggerated claims like "a breakthrough that gives everyday investors the chance to rake in massive payouts of up to $17,000 or more…".  So, if you're not ready to pony up the hefty amount just yet, don't worry because we have you covered and are going to be revealing his "Project Greenlight" system here in this article.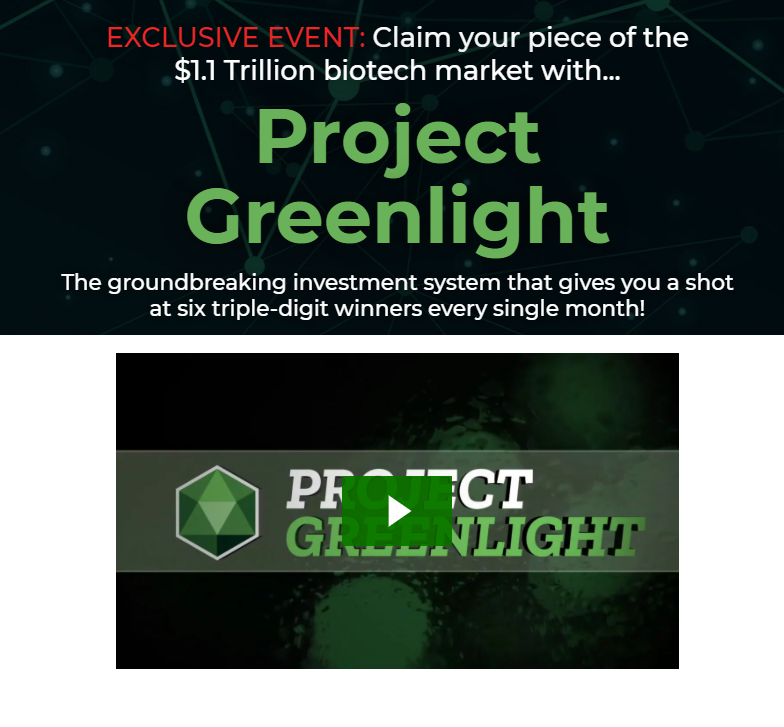 The Topline Turbo Charger newsletter also brands itself around the idea of exclusivity, claiming that only 450 people are allowed to join, so you're urged to type in your credit card details and become a member of this "elite" group that promises only the very best investment tips. It also includes weekly trade alerts, a quarterly guide to the overall biotech market, access to reports, catalyst archives, an advanced portfolio, and even a VIP concierge service. If you're not convinced, Stutman also throws in the "free bonus" called Topline Turbo-Charger: The Extra Step that DOUBLES Your Profit Potential.
Who is Jason Stutman?
According to public info, Jason Stutman is Angel Financial's senior technology analyst. He launched his first financial service back in 2013, named Technology and Opportunity, aiming to provide "actionable, relevant, and entertaining stock market commentary for retail investors in the U.S. and abroad."
Ever since then, he became interested in a few investment fields that he thinks are trendy, including Artificial Intelligence (AI), virtual/ augmented reality (VR), next-generation networking (5G), MEMS/ Sensors, and Autonomous Machines. Since new technology is released regularly, he certainly has plenty of material to work with trying to decipher which ones will remain prototypes or become big winners.
Even when you have years of experience and a research team to support your ideas, like Jason Stutman, predicting the best early-stage companies to invest in remains a gamble, so proceed at your own risk. This leads us directly to our next question – how profitable is investing in the kind of biotech companies Jason suggests?
What is Project Greenlight?
As we previously revealed, Stutman's main focus of interest is the biotech field, a field we have covered here plenty in the past – 5 Biotech Stocks Revolutionizing Healthcare and Jeff Brown's #1 Biotech Stock Exposed!
Jason claims that small-cap biotech stocks can bring high returns in a relatively small timeframe. With around 879 publicly traded biotech companies on the market currently and 58 new companies going public each year, that means a whole host of opportunities if you are diligent and do your homework. However, it also means potentially thousands of dollars in losses if you bet on the wrong horse(s).
Small Biotech public listings are nothing new, as such companies require massive amounts of research and development funding and the public markets are the easiest way to gain access to such capital. Based mainly on speculations, it's the perfect opportunity for short-term investment brokers to make a buck and place their clients in these "private placements" prior to the company listing its shares on the open market, hyping the opportunity up as a way to "get in early".
The project Stutman hints at in his teaser is no different, so let's take a closer look at it.
Although Jason talks about various companies in his latest marketing pitch, mentioning how you could have become a millionaire if you were smart enough to invest in certain stocks, there isn't one particular company he's teasing, so there's no specific name to reveal at the moment. What we can tell you is what Stutman's Project Greenlight stands for and its philosophy. 
Project Greenlight

talks about an algorithm to find the best biotech stocks to invest in, and, according to Stutman, it consists of three "green lights" or major check boxes a company must tick to be considered a safe and good investment, according to him.

The first "green light" Stutman talks about is called the "relative reward" band, which means that, "relative to their competitors, these companies are small enough to offer a big return". In other words, large-cap biotech companies are excluded since their biggest stock gains are likely to be behind them.
The second "green light" advertised is named "Critical FDA Events" and refers to the moment when a biotech company receives the FDA approval for their experimental drugs or at least sees positive trial returns. However, these events are not made public, which leads to the reason why you also need a third "green light" to ensure the stock you invest in has a high success rate. 

The third and final "green light" Stutman mentions is working closely with a team of 250 doctors and scientists to predict the outcome of the FDA analysis and make sure the biotech company will receive the approval needed or at least an encouraging positive feedback for their drugs. 
According to the author, Project Greenlight cost $25 million to develop and implement and claims to predict with 95% accuracy the next best biotech stock in the industry. As an example, Stutman mentions Aquinox Pharmaceuticals that was trading for less than $2 per share and, after "the company's groundbreaking clinical trial results hit", shares went up to $55.75 in less than a day."
Finally, Jason Stutman mentions that "these huge winners happen over and over again…at least six times a month, every month", and that this system can reliably predict all of them.
As previously mentioned, Project Greenlight doesn't tease any particular stock, so there is no stock symbol revealed. Instead Jason is touting a proprietary stock picking algorithm that in his own words is so good that you "don't have to know the first thing about biology or chemistry…You don't have to be a doctor…You don't even need a college degree!" to make big profits with it.
Is Project Greenlight Legit?
Small-cap biotech stocks are not a very mature market, which means they are a paradise for speculators looking for the next best thing. If you're a beginner investor, we don't necessarily recommend you pile into small-cap biotech stocks or invest in a high-priced system that helps you pile into them either. Even when they do get FDA approval for their drugs (a very small minority), some of these companies' stocks won't rise as expected because of a variety of other factors. 
Besides, it can take years before the company can come up with a safe formula for their drug and nobody guarantees that they will be the only ones thinking of it. To sum up, biotech stocks in and of themselves are a risk, small-cap biotech stocks are even riskier, and paying $1,999 per year to have access to a algorithm that claims it will tell you the next best biotech company to invest in with "95% accuracy" still leaves a 5% chance that it won't.
Quick Recap & Conclusion
Jason Stutman pitches his latest

Project Greenlight

marketing program as part of his newsletter subscription, Topline Turbo Charger, for $1,999. He claims only 450 people will be accepted in the program and, to make it more appealing, he throws in several bonuses, reports, investment portfolios, and special services to cater to the needs of a VIP guest who is willing to pay the money. 

Unfortunately, he isn't teasing any specific stock so there isn't much to reveal. He talks about a series of biotech companies that made it big and claims that, with the help of his

Project Greenlight

proprietary stock-picking algorithm

, he can predict with 95% accuracy

the next biotech company

to invest in for 6,000% gains or more. 

As we already mentioned, small-cap biotech stocks are a haven for short-term speculators and they may bring you out-sized returns over the short-term or may be some of the worst money you ever wasted.
Would you invest in small-cap biotech stocks as recommended by Stutman's Project Greenlight? Have you ever invested in a biotech opportunity in the past and how did it turn out? Interested to hear your thoughts in the comments below.