Right out the gate we are promised "extraordinary riches from the birth of a massive new industry" and according to our host Jason Simpkins, up to 8,933% gains could follow if you get in on his rocket company recommendation, which he's also calling the "SpaceX Killer".
Jason can almost guarantee we've never heard this rocket company's name and its nondescript headquarters just outside of Alameda, California, doesn't give you a clue that something revolutionary is going on inside…yet this company is expected to reach a $2.1 billion valuation in the coming weeks and this is just the beginning. Let's get to the bottom of this.
The Teaser
Right now, the world's top billionaires are scrambling to stake their claim to a big piece of this explosive new sector. Everyone from Jeff Bezos to Richard Branson to billionaire investor Ron Baron is pouring money in this, "as they that know that we're about to witness something truly historic".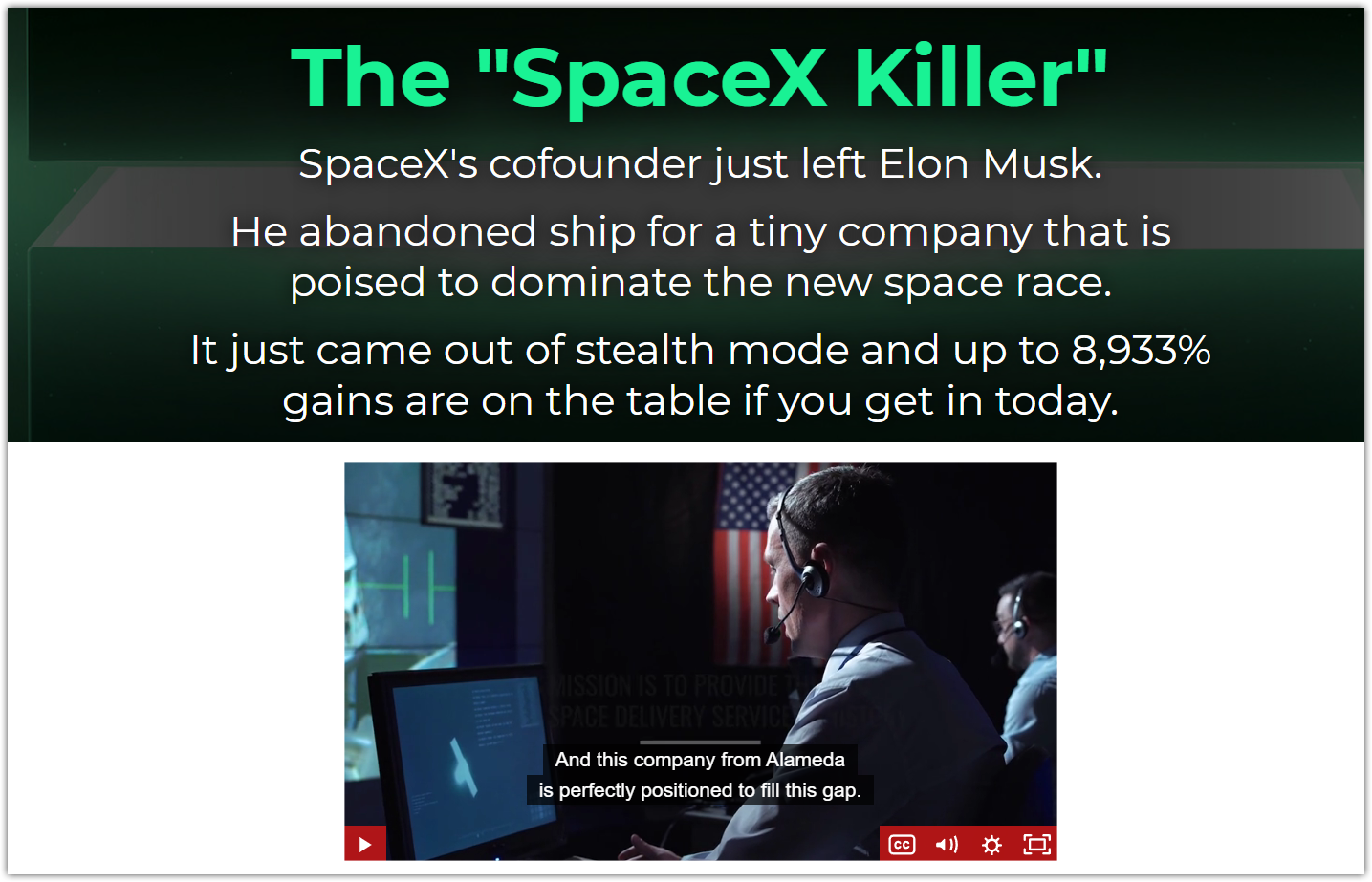 Jason Simpkins has worked as a financial reporter and analyst for the past nine years, writing more than 1,000 articles pertaining to personal finance and macroeconomics. He is the Investment Director of Wall Street's Proving Ground, an investment newsletter. We have covered plenty of space-themed presentations here recently, including Paul Mampilly's Space Stocks and The Secret $15 company Behind Elon Musk and Jeff Bezos' Race to Own the Internet.
See, the foundations of this industry have been around for years. But access to the technology used to be prohibitively expensive, where have we heard this before? However, this is all about to change, as the industry is on the cusp of a "major breakthrough", which is mass adoption.
According to Jason, we have seen this pattern play out many times before throughout the history of massive technology breakthroughs. Take the computer industry in the early 1980s, with only government institutions having access to expensive mainframes that used to fill entire rooms. Of course, this all changed when IBM released the first PC in August 1981 and personal computers quickly become popular in offices and homes across the world. IBM's shares soared 1,358% as a result.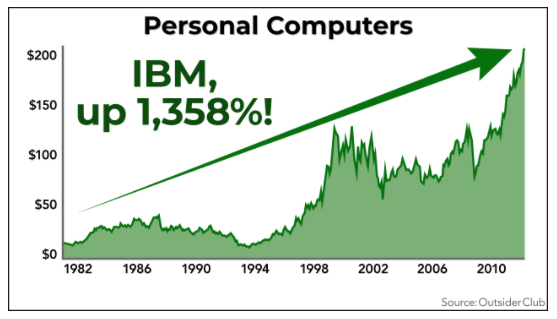 This happened again at the dawn of the internet, with institutional customers paying up to $30,000 per year to access an early version of the net in the 1980s. But with the advent of broadband technology, the internet became affordable for everyone. It happened once again with cell phones, but you get the idea. The point is that this is our "second chance to get in on the same kind of opportunity early investors in IBM, Comcast, and Ericsson grabbed".
Jason says that he's NOT talking about 5G, blockchain, AI, or IoT here, instead what he's going to show us is much more exciting. What he is talking about is the space industry after all.
The Pitch
All the information we need to move on this opportunity (including the name and ticker symbol of the company in question) can be found in Jason's brand-new investment report entitled: The New Space Age: An Exclusive Guide to a $1 Trillion Opportunity.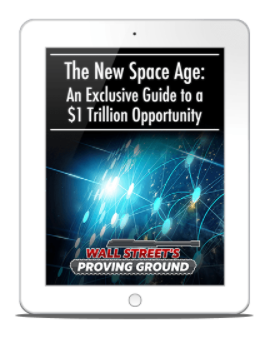 This and two other reports can be had by taking a risk-free trial of The Wall Street Proving Ground newsletter, for a one-year subscription cost of $99 ($100 off the regular price). Included. in addition to 12 regular monthly issues are research reports, recommendations, alerts, and proprietary stock picks.
What is The Once-in-a-Lifetime Space Technology
Jason begins by telling us that space satellites used to cost as much as $400 million, they were huge and they took months to build. However, as NASA's director of engineering Pete Klupar points out, an ordinary smartphone now has a faster processor and better sensors than a most of these satellites. This is why the next generation of satellites are now possible.
This next-gen is called nanosats and they are no bigger than a loaf of bread. In fact, Arizona State University (of all places) recently unveiled a nanosat that's about the size of a half-dollar coin.
Nanosats are much cheaper now as well, costing $1 million or less to make. Jason states "with satellites this affordable, even startups will soon be able to operate their own fleets of these tiny spacecraft" and this will have a huge positive impact on life on earth – this remains to be seen.
Despite this progress, there are still two huge obstacles remaining:
Getting satellites into orbit is extremely expensive and takes ages.
The wait to get a spot on a rocket to launch your satellite into space is at least two years.
Essentially, the demand for satellite launches exceeds the supply of rockets available to carry these satellites by a huge amount and this situation is only going to get worse according to our host.
Thankfully, a company from Alameda is perfectly positioned to fill this huge supply-demand gap and in the process become the first daily space delivery service in history. Think Uber Eats, but for space. So our "space technology" is more so a satellite launch service than a tech firm. Let's find out the name of the company behind it.
Revealing The Opportunity of The Decade
There were quite a few details revealed about the company, here are a few:
This company aims to offer daily satellite launches, something that has never been done before and offer unheard-of service in the satellite business.
This firm got into orbit twice as fast as SpaceX and three times faster than Richard Branson's Virgin Orbit.
This company was the fastest privately-funded company in history to reach space and also has the lowest cost dedicated access to space.
It only recently became a publicly traded company in July 2021.
Based on the above information, the company is Astra Space Inc. (Nasdaq: ASTR) Here is what gave it away:
As per the investor section on Astra's website, the company will begin delivering customer payloads into orbit in Summer 2021, moving to monthly, biweekly, weekly, and daily launches by 2025. This fits the optimistic daily satellite launches hinted at earlier.
Although Astra's pace does not appear to be significantly faster than anyone else's in the new space launch industry. It did launch its first rocket in December 2020 which made it to space and demonstrated orbital capability.
Astra did indeed only list on the Nasdaq this past July via a Special Purpose Acquisition Company (SPAC) at a $2.1 billion valuation.
Since there are other companies currently jockeying for pole position in this industry, is Astra the best of the bunch?
Real Opportunity to Make 8,933%?
Astra's predecessor company Ventions LLC was founded in late 2004 / early 2005 by Adam London, developing engines, propellant tanks and a host of other advanced projects for NASA/DARPA. The company did manage to successfully launch its first Rocket 3.2 into space last year, which was a big step forward toward eventual commercialization.
However, it appears likely that Astra will take at least 5 years from this first major launch to achieve orbit, so 2024 and it took arguably 17 years since the company's founding if you include their decade-plus tenure as Ventions just to reach this point.
SpaceX one of its top competitors on the other hand, did it with Falcon 1 in a little over 6 years starting from complete scratch, which if we're being honest blows everyone else out of the water right now. Given this, we wouldn't break the piggy bank to invest in Astra shares at this time.
If you are really interested in this space, purchase a small basket of all publicly traded space launch companies to diversify your risk since all are early stage.
Quick Recap & Conclusion
Jason Simpkins is here to tell us about how we can reap "extraordinary riches from the birth of a massive new industry", with four figure gains to follow.
What Jason is talking about here is not 5G, blockchain, AI, or IoT, but instead the space industry and there's one Alameda, California based company that is about to revolutionize it.
As is usually the case, in order to get the name and ticker of this company we must subscribe to Jason's Wall Street Proving Ground newsletter, at a one-year cost of $99. This will grant us access to a special report entitled: The New Space Age: An Exclusive Guide to a $1 Trillion Opportunity, which includes the name of this business.
Thankfully, there were enough clues dropped that we were able to reveal the company for free as Astra Space Inc. (Nasdaq: ASTR) saving you both time and money.
Astra has plenty of competition in this emerging space, with General Dynamics UK, Virgin Galactic, Rocket Lab, and SpaceX among them. There is huge potential here, but also a better than good chance that you will overpay for any future growth.
Are you already invested in the burgeoning space industry? Are rocket launch services the future and are they going to fill the satellite supply/demand gap? Let us know your thoughts as always in the comment section below.