Computer scientist and Renaissance man James Altucher says there's only one technology that will unleash the next generation of artificial intelligence and he calls it "The A.I. Crown Jewel."
Every single "Crown Jewel" is supplied by one mysterious company that we will reveal today.
The Teaser
If you're looking to cash in on the artificial intelligence boom, then look no further than this device that looks like a DJ turntable set: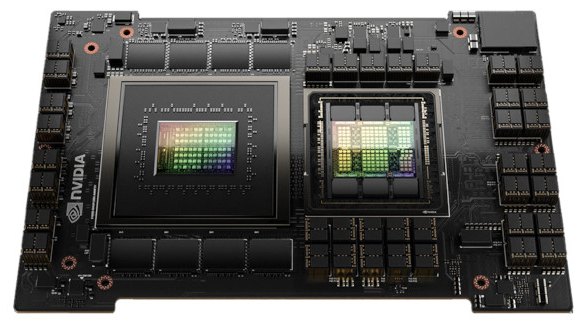 What we're looking at here is the fastest AI chip on the planet!
James Altucher is known for a lot of things – venture capitalist, podcast host, author, and one of the first who thought Facebook would become a $100 billion-dollar business back in 2007. We at Green Bull have taken a close look at several of James' recent picks, including his "Carbon Web" Company and "StarNet" Companies.

Why is a blazing-fast A.I. chip so important?
In short, today's A.I. models require ten billion times more computing power than the A.I. models of ten years ago: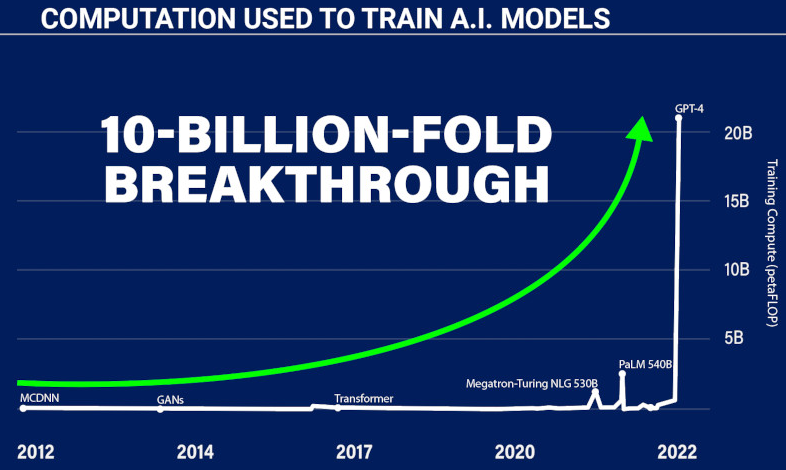 For example, the ChatGPT chatbot is trained on over 300 billion words.
To crunch all of that data a blazing-fast A.I. chip is needed and the Crown Jewel is the fastest graphics processing unit (GPU) in the world.
This is a big claim, but one that can be backed up, unlike most bold statements made by investment newsletters.
A.I. researchers recently held a competition to test the speed of the Crown Jewel against some of the fastest GPUs on the planet.
The chips were put through 8 different tests, all of which were designed to see how fast they could train AI models. The Crown Jewel ended up crushing every chip, in every category.
Researchers wrote: "The Crown Jewel dominates every benchmark."
The Company that has "monopolized the economics of AI"
As you probably were able to tell from the DJ turntable image above which was imprinted with their logo, "The Crown Jewel" is sold by one A.I. giant: Nvidia. However, there's a twist.
Nvidia doesn't make the GPU device shown.
Instead, Nvidia's little-known supplier is the only company in the world that makes this technology.
The Pitch
James reveals all the details about this company in a special report called The A.I. Crown Jewel: How To Cash In On The $150 Trillion A.I. Megatrend.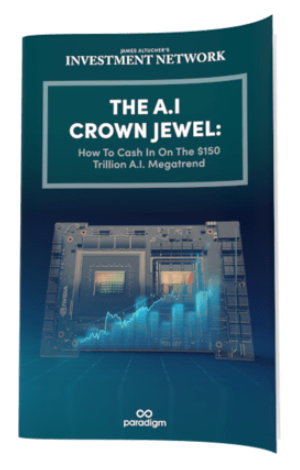 The report is available only to members of James' monthly research advisory called Altucher's Investment Network. Normally, a one-year subscription would be $299, but for a limited time, it's just $49.
This includes 12 issues of the monthly research advisory, two bonus reports, access to a complete model portfolio of AI stocks, monthly mastermind interviews, and more.
The Fastest Growing Technology In The History Of
Human Civilization
AI is objectively, without exaggeration, the fastest-growing technology in the history of civilization.
It took ChatGPT only 64 days to reach 100 million users. The next closest is Instagram, which took two and a half years to reach the 100 million user club.
However, if AI is to become three times bigger than the internet, as some are predicting. It's going to require tens of millions of powerful GPU chips.
This is why there's currently a buying panic in Silicon Valley (and probably other places too) to secure a steady supply of this technology.
Harder to Get Than Drugs
While trying to secure a supply of AI chips for his latest startup X.ai, Elon Musk said this technology is "considerably harder to get than drugs."
This should tell us all we need to know. But if you're still not convinced, word on the street in Silicon Valley is that big tech is placing orders for billions of dollars worth of these chips.
Facebook needs 100,000 chips
Google might want 30,000
Amazon, Microsoft, and Oracle may want 30,000 each as well
According to Business Insider, venture capitalists are swooping in too. They are buying up as many chips as they can get their hands on to guarantee their portfolio of companies have direct access to this technology.
Companies are even using it as collateral for debt.
The biggest story of all, which hasn't even been mentioned, is the U.S. restricting China's access to these next-generation GPU chips.
If the US federal government deems it important enough to poke the giant panda bear that is China over it, then you know it's important.
James' secretive Nvidia supplier could throw off massive gains as more chip orders pile in and best of all, it is the only company in the whole world that makes this special piece of computer engineering equipment.
Given that GPU chips are being called the most important technology in the entire AI supply chain, this first-mover advantage may be significant. Let's find out what it is.
Revealing James Altucher's "A.I. Crown Jewel" Supplier Stock
Here is everything we know about this mystery supplier:
It manufactures the most popular AI chip in the market today, Nvidia's GPU chip lineup.
It's the only company in the world that can build these chips on a commercial scale.
The stock is still flying under the radar, but it could become the next trillion-dollar company.
This one wasn't very hard, Nvidia's manufacturing supplier for its next-gen GPU chips is Wistron Corp. (Taiwan: 3231).
Nvidia has already selected Wistron as the main substrate supplier for its upcoming Blackwell B100 AI GPU chips.
"The only company in the world with the capability to make AI chips" is a bit disingenuous, as both TSMC and Hon Hai (Foxconn) also have the experience and expertise to make GPU chips, among other electronics.
Wistron has a current market cap of $8 billion, making it "only" a top 50 company on the Taiwan Stock Exchange.
The #1 Investment for the A.I. Revolution?
Wistron is not a name many are likely to be familiar with, including myself, making it an interesting pick.
The company is an original design manufacturer that spun out of Acer Inc. in 2000. Since then it has made tablets for Microsoft, Android OS mobile phones for several brands, and most recently, graphic processing unit (GPU) chips for Nvidia.
As a contract manufacturer, its underlying economics are predictably underwhelming, with a 4% return on assets, a 6% return on invested capital, and razor thin profit margins under 3%.
With that said, much of this is made up for with volume, like a B2B version of Costco, and Wistron's balance sheet is stable with a debt/equity ratio of only 1.2
I wouldn't call Wistron the #1 AI investment by any stretch, I don't think that company has been created yet, but Wistron is a safe play that should provide a good return over the next few years and possibly beyond.
Quick Recap & Conclusion
James Altucher says there's only one technology that will unleash the next generation of artificial intelligence and he calls it "The A.I. Crown Jewel."
What James is calling "The AI Crown Jewel" is actually the next generation of graphics processing unit (GPU) chips, which are the foundation of AI, and one company has a monopoly on their supply.
James reveals all the details about this company in a special report called The A.I. Crown Jewel: How To Cash In On The $150 Trillion A.I. Megatrend. The report is ours with a subscription to his monthly research advisory, Altucher's Investment Network, which costs $49 for the first year, for a limited time.
We were able to save you the hassle, as James' AI Crown Jewel investment is Wistron Corp. (Taiwan: 3231).
Wistron is a contract manufacturer of GPU chips for Nvidia and other big tech customers. It is a decent, although far from a great business, that will likely provide steady returns over the next decade, as it grows alongside the demand for AI infrastructure.
Are GPU chips the most important part of the AI supply chain? Let us know what you think in the comments.