American hedge fund manager and author James Altucher says that "2021 was supposed to be the year of 5G". With billions of dollars going towards building out the infrastructure necessary for the technology to deliver upon its promise.
This is all well and good except for the part about there being a massive problem with 5G technology, that few people in the mainstream media are talking about right now. Enter Amazon.com founder Jeff Bezos, who may be getting ready to announce a new "Ultimate 5G Killer" technology as early as August 23rd, which has something to do with some "StarNet" companies. Since this is news to us, lets see what this is really about.
The Teaser
According to top technologists like Jeremy Edalgo, the fundamental issue with current 5G technology is that "a way to distribute the 5G signal inside of a building simply doesn't exist yet". As you already might be able to tell, this is a fundamental issue rather than a small fix. Since a whopping 80% of mobile data traffic is consumed indoors.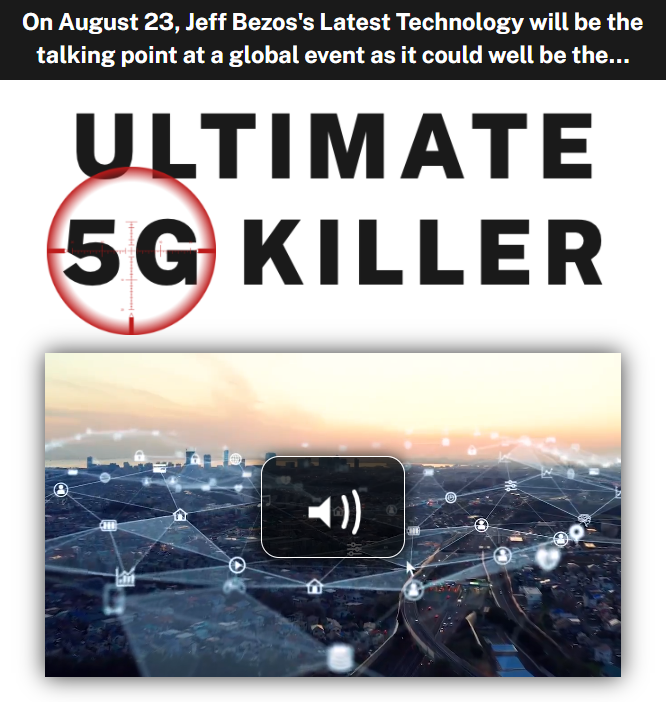 James Altucher is a hedge-fund manager, author, podcaster, and entrepreneur who has founded or co-founded over 20 companies. He is perhaps best known for his The James Altucher Show podcast, which has more than 40 million downloads. We have written about similar investment teasers here in the past, including Ray Blanco's Hypernet Company and George Gilder's "Internet Reboot".
Getting back to our regularly scheduled programming…the issue stems from 5G's own MM wave or millimeter wave, as these waves cannot penetrate building material. In fact, James states that "even your hand (while holding your phone) can stop the 5G waves from entering your phone". At the end of the day, this means that unless you live in a major city, you simply won't have 5G coverage. So much for 100% coverage.
The worst part is, instead of addressing this issue, big telecom companies like T-Mobile and AT&T have spent billions trying to cover it up with PR and ad campaigns – this is not surprising and where our supposed savior Jeff Bezos comes in. The Amazon founder has reportedly been working on a single piece of technology that offers 100% worldwide coverage without using:
A single cell tower
Fiber optic cable
Or 5G tech at all!
This is supposed to be the technology that kills 5G forever.
The Pitch
Rather than spill the beans and let us all in on the breakthrough tech, the details about two separate companies who are building out this technology is put into a special report: Jeff Bezos' Big Bet: Retire Rich on StarNet's Universal Internet Revolution by Altucher's Investment Network. All of it can be yours for only $49 for the first 12 months.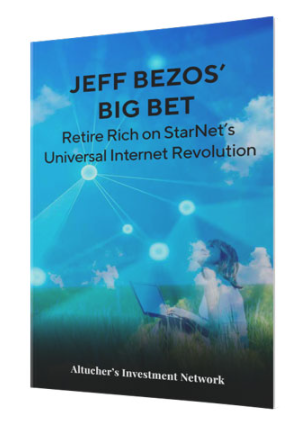 If you jump the shark and end up joining today, you will also receive two other (unrelated) special reports, an entire 279 hardcover book in electronic form, and a full 180 day money back guarantee.
What the Heck is StarNet?
James warns us that "what you're about to hear is going to completely shake up the telecom industry". Because what Amazon is about to announce could be the end of some very rich and powerful companies.
We're talking about a massive technological breakthrough that will wean us away from years and decades of depending on greedy telecom providers. We are all ears so far. James assures us that this is real and happening now, with billions of dollars already committed to the project, critical patents applied for, and government approvals already granted.
At the present time, the most visible proof of the project are the two buildings you see in this rather grainy Google Earth picture: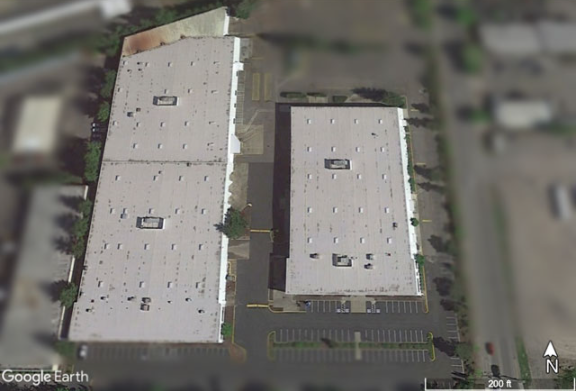 These two buildings located in the heart of Washington state is where it's all happening. Its where a "secret new technology that will eventually be available to every American, even if they are in the remotest corner of America" is being built.
So what is this secret "quantum leap forward in technology", that will upgrade Amazon from being just an online shopping platform to becoming an integral part of our everyday life? It is all about Universal Internet.
We are told that the groundbreaking technology being developed "will beam down internet from the sky" and make it available anywhere, anytime. From the Mojave Desert to the Grand Canyon to the middle of the Atlantic Ocean. Putting an end to dropped calls and searching for WiFi bars forever.
The big difference it that instead of depending on telephone lines, cell phone towers, and fiber optic cables like at present, Bezos' team has developed (and filed a patent for) a low flying satellite system that's set to reach every corner of the globe. James Altucher calls it "StarNet Universal Internet" or "StarNet" for short. As with every major disruption, James thinks the profit potential here is staggering, with "every $10,000 invested holding the potential to grow to over $850,000".
Since gains like this seldom materialize, lets find out how plausible this is and exactly how you could position yourself to cash in on this massive opportunity if it is.
The Two StarNet Companies
James tells us that "the internet infrastructure as we know it – is being pushed to the limit" and that unless our current infrastructure is massively overhauled, there is little chance that it will hold up.
This is where Amazon comes in, as it has a huge advantage in terms of being able to deliver the most advanced internet at potentially the lowest price possible. However, since Amazon is already a $1.5 trillion company you'll likely only see gains of 50%, 75% or 100% over the coming years.
If you're looking to maximize opportunities like this, "the real money is in finding smaller companies that will benefit off these massive technology shifts". Here are some clues about what these "StarNet opportunities" are:
The first StarNet opportunity is a manufacturing company based out of California
This company makes radiation hardened components for the satellites Amazon is launching into space. A billion dollar business, as a single satellite can cost well over $250,000 and there are 3,200 satellites approved for launch
They already have a contract with Amazon Web Services to be their Advanced Technology Partner providing specialized high-end security
As for the second StarNet opportunity:
According to NASA there are 500,000 pieces of junk in orbit. The European Space Agency puts the figure closer to 900,000.  So as the space satellites industry heats up, "there will be a huge demand for companies that deliver debris-removal services"
A little-known Colorado based firm is perfectly positioned to dominate this entire market
They are working on a robotic arm that will pull out dead and abandoned satellites and other debris out of the way of active satellites
Given these clues and a few other small tid bits, we think the first StarNet company in question is Microchip Technology Inc. (Nasdaq: MCHP). As for the second company, Maxar Technologies Inc. (NYSE: MAXR) fits the bill perfectly. Here is why:
Microchip Technology does have manufacturing operations based out of Irvine, California
Microchip's product capabilities are vast and they include components for satellites
They already have an existing partnership with Amazon Web Services
On the second score, Maxar Technologies is an even better fit. The company is headquartered in Westminster, Colorado and they are a specialty manufacturer of on-orbit servicing satellites, satellite products, and related services.
The more important question is: Are we really looking at 1,000%, 5,000% maybe even 10,000% gains?
How Much Can StarNet Companies Really Make Me?
The Average Price/Earnings ratio of the NYSE is currently 29x, up 32.7% in the past twelve months alone. This is not good. Given that Maxar and Microchip Technologies are listed on the NYSE and Nasdaq, respectively, this is a major factor from this point forward and will very definitely effect your investment in any business listed on a major exchange.
From a microeconomic standpoint, the P/E ratio of Maxar is under 9x while it is 112x for Microchip Technologies. In this respect, Maxar is much better value for your money (price is always what you pay, value is what you get). Although when we look "behind the hood" so to speak, we can see that Maxar is currently generating very little to no free cash flow, meaning that the quality of their earnings are below average at best.
Overall, while any company can "break out" at any moment, the prospect of this is low to none and any investment should be looked at in terms of a years long commitment instead of one that is just a couple weeks or months long.
Quick Recap & Conclusion
Best-selling author and serial entrepreneur James Altucher is here with a teaser about a "Ultimate 5G Killer" technology
We later learn that this is really all about Universal Internet or "StarNet Universal Internet", "StarNet" for short, which will create a low flying satellite system that's set to deliver high speed Internet to every corner of the globe
Amazon and Jeff Bezos are taking the lead on this, but if you're looking to maximize opportunities like this then the "the real money is in finding smaller companies that will benefit off these massive technology shifts". In order to discover such companies we need to subscribe to subscribe to Altucher's Investment Network. For only $49 for the first 12 months.
James teases two "StarNet opportunities" and based on all the information available, we believe they are Microchip Technology Inc. (Nasdaq: MCHP) and Maxar Technologies Inc. (NYSE: MAXR) respectively.
We believe Maxar Technologies currently provides better value, but both should be viewed with a very long-term timeframe if anything close to the kind of gains Altucher hints at are to be achieved.
Do you believe Universal Internet will replace 5G? Are you already invested in any businesses playing to this trend? Let us know in the comment section below.