One "Perfect Battery" is set to become the cornerstone technology of the projected $858 billion dollar electric vehicle (EV) market.
The battery is far superior to everything else on the market and Enrique Abeyta says a single EV Stock is both building and installing them.
The Teaser
The premise of this teaser is that the traditional battery found in most EVs today cannot hold a candle to what Enrique calls "the perfect battery", which looks like this: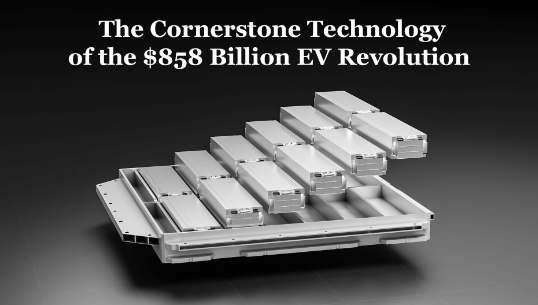 This "perfect battery" is purported to be safer, 61% cheaper, and nearly five times longer lasting than the lithium-ion batteries found in most electric cars today.
It's a critical component of the auto industry's EV boom that is now underway.
Before joining Whitney Tilson's Empire Financial Research as a newsletter editor, Enrique Abeyta spent more than two decades on Wall Street after which he co-founded a media company called Project M Group that acquires digital media properties. I have reviewed several of his teasers in the past, including his #1 AI Stock for 2023 and "Robinhood of Crypto" stock.
Elecric Vehicles are the biggest change in the hundred-plus-year history of the auto industry and change means money can be made from a shift in capital and also consumer preferences.
According to Enrique's own proprietary research, which is based on a survey of more than 1,100 automotive executives across 31 countries. The EV market is set to grow by an average of 133% every year. This is based on the Environmental Protection Agency (EPA) mandating 67% of cars be electric by 2032.
Since just 5.8% of new cars were EVs last year, reaching this number by 2032 would entail a 133% annual hike through 2030.
EVs are Coming
To me, 133% annual growth is overly ambitious when we consider that many consumers simply aren't interested in ever purchasing an EV.
But the industry is definitely headed in this direction, as evidenced by the staggering amounts of cash big-name automakers are pouring into EVs.
Mercedes has put down $47 billion. It is introducing 10 new EVs in this year alone.
General Motors is investing $35 billion
And Volkswagen has earmarked a staggering $180 billion for EVs.
All told, automakers are investing $575 billion to make sure they do not get left behind by this auto industry reset.
They are all scrambling to add "perfect batteries" to their makes, but only one automaker is both putting these batteries in their cars and building a plant that will provide them.
The Pitch
Enrique has put everything we need to know about this EV stock in his new investment dossier, "The #1 EV Stock of the 2020s."
This dossier which tells us how to buy it in our brokerage account is ours if we take a trial subscription to the Empire Stock Investor newsletter. The regular retail rate is $199 per year, but for a limited time, it's available for just $49.
The offer includes a total of four investment dossiers, 12 issues of the Empire Stock Investor, two free e-letters, Empire Financial Daily and Whitney Tilson's Daily, plus full access to all of Empire's archived research reports.
What in the World Are "Perfect Batteries"?
When Enrique refers to "perfect batteries" he is talking about Solid-State Lithium-Iron Batteries.
If EV adoption is to swell, as some project they will, EVs need to cost the same as their gas-powered counterparts.
This starts with their batteries, as the reason EVs remain relatively expensive is because of their lithium-ion batteries.
Batteries make up about half the cost of electric cars because they are made with nickel and cobalt and with EV sales rising, both of these materials have recently soared to multi-year highs.
However, solid-state batteries contain neither nickel nor cobalt.
Its cathode is made of iron and phosphorus, two materials that are far more affordable than nickel and cobalt. This is what makes solid-state batteries 61% cheaper than nickel-cobalt batteries.
Today the average EV battery costs $26,000 and represents a whopping 40% of a $66,000 electric vehicle's price.
If we take 60% off this sticker price of $26,000, we get a solid-state price of $10,400. Combine that with the price of the rest of the EV and we wind up with an electric car that costs $50,160.
This is more in line with the cost of an average car today and is at the very least competitive.
A Significantly Safer Battery?
A nail penetration test is a type of safety testing done to simulate internal short-circuiting.
In short, when a traditional lithium-ion battery is pierced with a nail, it sparks up right away. When a solid-state battery is subjected to the same test, it is completely unchanged.
One study also found that solid-state batteries are more durable than traditional lithium-ion ones.
Your typical EV battery lasts for about a thousand charge cycles. This means you will have to replace it every decade or so.
But solid-state lithium-iron batteries deliver nearly five times as many charge cycles as regular lithium-ion batteries. In other words, you could have a battery for about 50 years before having to replace it.
The #1 EV stock of the 2020s is the only automaker that is building these batteries in the States.
Revealing Enrique Abeyta's "Perfect Battery" EV Stock
We don't get very many clues from Enrique, but some scraps are tossed our way:
The stock is still cheap, currently trading for around $12 per share.
According to Car and Driver "it is the sole U.S. automaker to have announced it will equip its EVs with solid-state batteries and build a U.S. plant to make them."
The battery project is overseen by "one of the world's most talented engineering executives", who is the mastermind behind the Tesla Model 3.
The government recently awarded this firm with a massive $8.6 billion contract.
Based on these clues and the fact that the company is both an auto and battery maker, Enrique's pick here has to be Ford Motor Company (NYSE: F).
Real Opportunity to Triple our Money?
Fully-electric vehicles had a 7.2% market share in the US in Q1 2023. This is a new all-time record.
At the same time, Tesla's share of the US EV market is declining.
These are two factors clearly working in Ford's favor, at a time when its own EV sales are rapidly climbing thanks to the conversion of favorite makes such as the F-150 into EVs. If this continues, I expect Ford's current P/E ratio of only 7x to trade up to the auto industry median of 10.5x and continue going up. By comparison, Tesla's current P/E is above 50x.
So a three-bagger isn't out of the question with Ford stock over the long term.
Quick Recap & Conclusion
Enrique Abeyta is teasing a "perfect battery" that is far superior to everything else on the market and a single EV Stock is both building and installing them.
So-called "perfect batteries" are actually Solid-State Lithium-Iron Batteries, which are both safer and cost less than their lithium-ion counterparts.
Enrique has put everything we need to know about this EV stock in his new investment dossier, "The #1 EV Stock of the 2020s." For a limited time, it's available for just $49 to new subscribers of the Empire Stock Investor newsletter.
Fortunately, we were able to uncover Enrique's pick for free as Ford Motor Company (NYSE: F).
The domestic EV market is growing and so are Ford's EV sales. If the legacy automaker is able to keep this up, it will gain ground on industry leader Tesla, whose shares trade at an 11x premium to Ford's.
Will Ford challenge Tesla for the EV market crown? Tell us what you think in the comment section below.