For those who don't keep up with Reddit meme stocks, Robinhood is the popular trading app among millennials who made headlines earlier this year for dubious reasons before going public in July.
Enrique Abeyta from Empire Financial Research hopes that "a recently launched trading app" will fare not only as good as Robinhood has up to this point, but even better, as he thinks it is "the most obvious opportunity he's seen in his 25 year career" and he's even calling it the "Robinhood of Crypto". Lets find out exactly what he is teasing here.
The Teaser
Enrique starts off by telling us that over the years, he's had a few no-brainer, "this stock has to go to the moon" recommendations. As you may have already guessed this is one of those times.
Before getting too exuberant, he brings us back from the edge of our seats by noting that because he does his research and is selective about making recommendations, they usually pan out. However, Enrique does state that "investing in securities always comes with a high degree of risk". Sometimes people lose their money. Hell, sometimes people lose all their money. At least he's honest.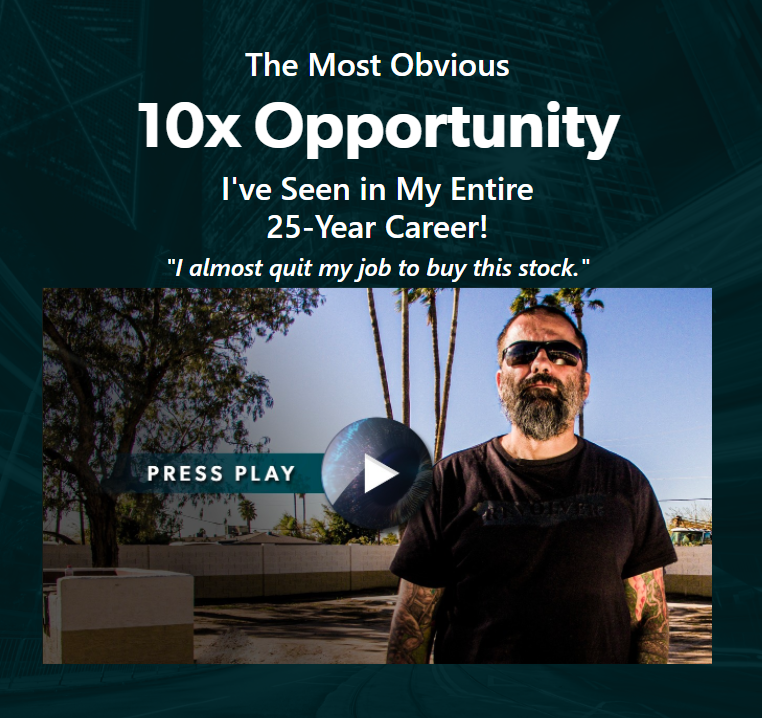 Enrique Abeyta is an editor for Whitney Tilson's Empire Financial Research and several of their investment newsletters. Abeyta spent more than 20 years on Wall Street, where he founded and served as managing partner of two long/short hedge funds, helping grow their assets under management to more than $1.7 billion. We have covered plenty of crypto related teasers, including Weiss Ratings' "Supercrypto" Picks and Jeff Brown's Blockchain Stocks, among others.
Among Enrique's past picks are Carvana, GAN Limited, and Match Group, among others. All of these have at least doubled since the time he alerted his subscribers, which along with his humble beginnings makes us relate and give him our ear a little while longer.
Given this track record, Enrique only puts his name on a recommendation if he thinks it has 3x, 5x or even 10x potential. The first thing he tells us about this crypto investment opportunity that he says is similar to Coinbase, is that it is already blowing Wall Street's expectations out of the water.
Enrique shares that it pulled in 200x more revenue than it did last year and that it is growing "at an insane pace". This is one reason that really makes him believe that the stock could skyrocket 1,000% or more from here. Another reason is because it would be a way for us to catch the upside of the exploding cryptocurrency market without having to buy a single crypto.
He caps this off by exclaiming that "if you missed out on bitcoin, this could be a way you could STILL make 1,000% gains in crypto – directly through your brokerage account".
The Pitch
To find out the name and ticker symbol of Enrique's highest conviction pick ever, you need to sign up to the investment research service Empire Elite Growth. This will cost you $2,250 (at half off the regular price) and unlock the special report: "The Robinhood of Crypto: How to Make 1,000% Without Ever Owning a Crypto." containing all the details on this stock pick.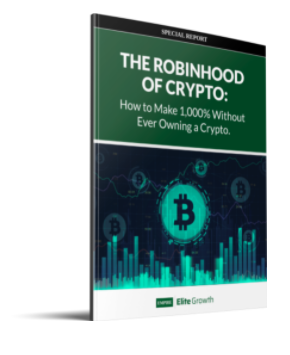 In addition to 12 monthly issues of the research letter, you will receive three bonus reports and access to a model portfolio among other perks.
What in the World is the "Robinhood of Crypto?"
In December 2018, the entire cryptocurrency market was worth around $130 billion. Today, it's north of $2 trillion. Enrique is right when he says "that's as fast as you'll ever see any industry grow". He contends that up until recently, the only way to profit off this booming industry was to invest directly in cryptos.
Now this has all changed as:
We don't have to buy a single bitcoin or any other crypto to get in on this opportunity.
We don't have to open an online wallet, sign up with a new broker, or interact with any exchanges.
We don't have to worry about storage and security, or your coins getting "hacked."
Enrique affirms that "we can still catch the upside of the crypto market without any of these risks".
See, just as you need a broker, such as Robinhood to buy shares of a stock, you need the same thing to buy cryptocurrencies. So this potential "backdoor" into the cryptocurrency market is actually the only fully regulated crypto brokerage currently in the United States.
For those already familiar with the large crypto broker Coinbase, Enrique says his pick is an exchange similar to Coinbase, except with some critical differences.
For starters, one tell tale sign of an exchange's success (or lack thereof) is how many assets have been deposited with the platform. Enrique informs us that in 2019, this mystery exchange had just $5 million in assets under management. Today, it has more than $2 billion!
Another sign is to look at how many people are actually using the actual service. As recently as December of last year, this company had fewer than 40,000 verified users, as the service was still relatively secret. By the end of January of this year, 250,000 new users had signed up.
This above-average rate of growth is why Enrique stresses the time sensitive nature of this opportunity. One this note, lets find out the name of this "Robinhood of Crypto".
The Robinhood of Crypto
Since we already know what the company does and that we would be hard-pressed to find one that is growing faster, lets see what other distinguishing features it has.
Interestingly, Enrique tells us that this brokerage pays its customers interest on their deposits and that in March, "it was paying customers as high as 9% interest".
As the only fully regulated crypto brokerage in the US, it is "fully licensed in 49 states and even owns a FINRA broker/dealer for security tokens and derivatives".
Much like like Robinhood, the free stock-trading app. It doesn't take any commission on the trades its customers place.
While this company is based in the United States, it doesn't trade on the Nasdaq or the New York Stock Exchange.
Based on all of this information, the crypto brokerage in question is Voyager Digital Ltd. (OTC: VYGVF). Here are the reasons why:
First, while Voyager is based in New York, it doesn't trade on the so-called "big board". Instead it is listed on the OTC exchange, making it a perfect fit with the last clue above.
Voyager allows registered account holders to trade "over 60 digital assets commission free". This ticks another box.
Voyager users can earn up to 12% on qualifying deposits. This is even higher than Enrique quoted, but it still fits the bill.
Voyager Digital is a FinCEN registered company, with FINRA approving the change of control of the broker-dealer, VYGR Digital Securities LLC, which in turn is owned equally between Voyager and Market Rebellion via a joint venture partnership. This checks the last box in terms of the company owning a FINRA licensed broker/dealer.
Can Voyager stock really take off soon and become a 10-bagger as Enrique Abeyta insists?
A Real 10x Opportunity?
The first thing that sticks out about Voyager Digital, which is a Canadian company that through its United States operating subsidiaries, operates a crypto-asset broker that provides retail and institutional investors with a turnkey solution to trade crypto assets, is that it is currently a $2 billion dollar company with less than $100 million in annual revenue and a net operating loss of more than $80 million for the nine months through March 2020.
We fully comprehend that future growth is what we would be paying for in this instance, but this is one hefty price to pay. Such a hefty price in fact, that it may take several years, if not more for the company's operations to fully catch up its lofty valuation.
While it rings true that the vast majority of Voyager's top line revenue growth has come within the last three months, this is also the time period in which its general and administrative expenses have ramped up. Short-term its stock should get a bump when shares begin trading on the Toronto Stock Exchange, for which condition approval has been received. A welcome sight since shares are down about 50% since April.
Quick Recap & Conclusion
Enrique Abeyta from Empire Financial Research is here to tell us about "a recently launched trading app" that is his highest conviction stock pick ever.
We gradually come to learn that his 10x potential pick is actually the only

fully regulated crypto brokerage currently in the United States.

To get the name and ticker symbol of this broker, we must sign up to Empire Elite Growth financial research service and plunk down $2,250 (half off the regular price) to get access to the special report: "The Robinhood of Crypto: How to Make 1,000% Without Ever Owning a Crypto." containing all the details on this stock pick.
Fortunately, there were enough clues left behind like bread crumbs to lead us to the obvious conclusion that Voyager Digital Ltd. (OTC: VYGVF) is the crypto broker in question.
While somewhat promising, despite competing in what is about to become a very crowded space. Voyager's valuation already factors in a lot of this implied future growth and then some, making it too rich for our taste.
Have you used a crypto broker to purchase cryptocurrency coins or tokens? Do you think crypto brokers are commodity service providers or can one have some sort of a competitive advantage? Tell us in the comment section below.