Dave Forest's latest teaser starts out reading like something out of the cult classic X-Files series, stating that there is an "Operation Blue Lightning" which starts "at a top-secret location buried in the Nevada desert".
Few know exactly what's happening behind the scenes, but the U.S. military is scrambling to develop a new and top-secret technology and "if just 10% of the U.S. Department of Defense's massive budget pours into this technology" then it "could kick off one of the most explosive stock moves in history", including in one "tiny company at the forefront of this huge technological trend". Lets get to the bottom of this mystery.
The Teaser
Dave begins by alerting us that he "doesn't have the full details on what they (U.S. Military) have under wraps"…but that "alert investors could parlay this operation into potential gains of 617% over time". To the author's credit he does state that he "can't guarantee anything of course", but that in the next few minutes he will show us how such huge gains are possible.
David Forest is a professional geologist who has worked professionally in mining and petroleum for over 20 years. He has bridged this specialized expertise to the finance and investment sector, originally joining Casey Research in 2004 when he founded the Casey Energy Speculator, which is dedicated to finding high-potential investment opportunities in oil, natural gas, uranium, and renewables globally. We have covered very similar pitches from Dave here in the past, including his $4 Lithium Company and Copper Royalty Company. So this is par for the course.
To further prime us, we are given some examples of related stocks that have been the beneficiaries of government largesse in the past and made explosive moves as a result: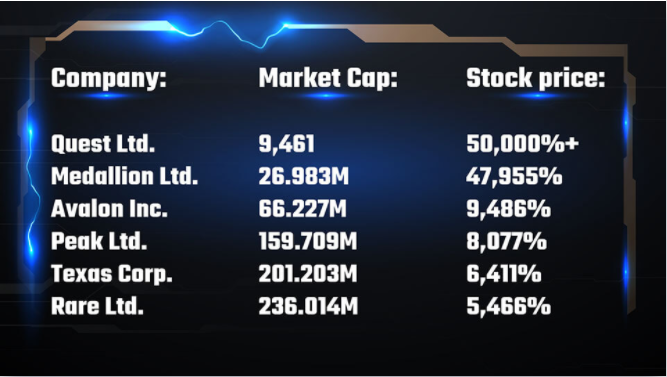 According to Dave the "U.S. military is scrambling — and I mean scrambling — to secure a new technology" which will enable new military applications, such as command and control systems, reconnaissance systems, and (of course) surveillance systems, and despite that being a WHOLE LOT of systems, this is just naming a few.
Long story short, if the military does not develop this technology, then it could soon find itself at the mercy of one of our biggest rivals…(cue dramatic music): China. Dave tells us this is because "we are almost totally dependent on China for the building blocks of perhaps the most critical new technology in the world". So what is this modern warfare technology that seemingly all military systems must be upgraded to?
The Sales Pitch
Dave is prepared to give you all the details about a tiny company at the forefront of this new technology, if you sign up to his brand new special report entitled: The 5G Metal: A Chance at 617% Gains as 1.5 Billion 5G Devices Roll Out.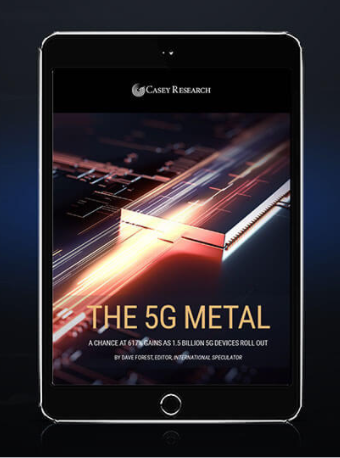 This report is part of Casey Research's International Speculator newsletter and will normally run you a steep $3,500 for a one year subscription. But if you sign up now, you will get 43% the retail price and only have to pay $1,995 for a 12 month subscription. This will include the works, a private model portfolio that's regularly updated, trade alerts, and access to at least two additional special reports: 5G's Underground Supplier: The #1 Copper Investment in America and Electric Vehicles: How to Multiply Your Money on Tesla's New Battery.
What is "Operation Blue Lightning"?
The military operation title is the name Dave Forest has given to the U.S. armed forces' latest plan to upgrade their weaponry to a new technology called 5G. He insists that while we may have "heard a lot about 5G, the technology has barely started to roll out".
Since all the weapon systems we previously mentioned, such as stealth bombers, Poseidon military aircraft, and even F-35 jets all need 5G, a lot of capital is currently flowing into the technology. From The Pentagon spending $600 million on 5G testing to Lockheed Martin's recent $200 million investment, the mission-critical momentum behind this trend is sure to lift many boats. But Dave estimates that "one tiny company at the forefront of this huge technological trend" stands to benefit the most.
He goes on to reveal that while "this company is a complete secret to 99.99% of investors" without its product "almost 100% of all U.S. weapon systems will be as good as dead". All this may sound outlandish (because it kind of is), but it also holds true that more than 1 billion 5G devices will be produced over the next few years and Dave thinks "every singly one of them will need what this tiny firm produces".
Given the author's visibly strong conviction, its not surprising to hear him say that there's "good chance you could see gains as high as 617% over time" if you buy into this stock. But that time is of the essence, with 5G being a $5 billion dollar market currently, that is "predicted to pass $700 billion over the next 4 years" now is the time to get in before this presumed 140-fold increase occurs. So what is the name of this go-to supplier for almost all U.S. military weapons systems?
Revealing the "5G Metal" Company
Several clues are dropped throughout the lengthy teaser, lets see if they were enough to help us root out the name of the stock being teased.
First, we find out that the company in question currently trades for around 27¢ per share.
Dave says "this company holds $315 million worth of this 5G building block" this could be in reference to a military contract of that amount.
According to Forest the company is "positioned to potentially supply the U.S. military with neodymium". Which is a rare-earth element and a hard, somewhat malleable silvery metal that quickly tarnishes in the air and in moisture.
The company in question is based in Canada and it is a rare earth element producer.
Based solely on this info, Avalon Advanced Materials (TSX: AVL) is the name that is the closest fit. Here's why:
Avalon's stock price traded in the 27¢ per share range back in February and currently sits just below the 20¢ mark.
The company per its own description is involved in "exploration, evaluation, and development of specialty metal and mineral properties primarily in Canada". It thus fitting the "Canadian rare earth element producer" bill perfectly.
Avalon announced in a press release in early 2020 that "the recent agreement by Canada and the United States, announced on December 19, 2019, to co-operate on critical minerals supply chain development (and rare earths in particular), has resulted in new government initiatives in both countries to support the creation of these supply chains" and that it has been actively involved in these discussions to assist in developing an appropriate strategy for Canada. Making it well positioned to potentially supply the U.S. military with essential minerals.
Real Potential to Make A 617% Return?
The overall macro-backdrop is interesting, as it is a poorly kept secret that the United States currently lags in the production of neodymium as well as other critical minerals such as lithium, tin, and others, which are needed inputs for the production of 5G cellular phones and many other consumer and industrial devices.
Given this backdrop, a domestic or NATO ally supplier of such critical minerals makes perfect sense. As how else do you obtain these materials without deepening your reliance on China, which currently supplies the country with approximately 80% of its rare earth metal needs.
The micro-economic picture however, could use some work. As Avalon Advanced Materials is still a micro-cap with limited production capacity and currently operating at a deficit. Just recently it completed a non-brokered private placement of shares (read shareholder dilution) to raise gross proceeds of $500,000.
While it does have five critical minerals project across Canada currently on the go, providing investors with exposure to lithium, rare earths, cesium, tantalum, feldspars, tin, and indium, its junior miner status and large ongoing capital expenditures make me pause before backing up the proverbial Brinks truck, which is more like a rented U-Haul, but you get the picture.
Quick Recap & Conclusion
David Forest opens his latest pitch by teasing a "tiny company at the forefront of a huge technological trend".
We are told that "U.S. military is scrambling — and I mean scrambling — to secure a new technology (5G)" which will enable new military applications.
The only way to find out the name of this "tiny 5G metal company" is by subscribing to Casey Research's International Speculator newsletter, for a special one-time price of $1,995 for 12 months, which will include this special report: The 5G Metal: A Chance at 617% Gains as 1.5 Billion 5G Devices Roll Out.
Fortunately we were able to reveal the name of this company for you for free as: Avalon Advanced Materials (TSX: AVL). Which is a rare earth mineral exploration and development company headquartered in Toronto, Canada.
While the macro-economic backdrop of the pitch is spot-on, the underlying economics of Avalon are not the best to put it mildly and the company is a junior miner, which should always be owned in small baskets of several miners rather than any single one miner.
Do you currently own any rare earth mineral producers for exposure to these commodities? What do you make of the current lack of rare earth production in the US? Let us know about your personal experience in the comments section below.