The crypto boom has been one of the greatest wealth generators in history.
While it hasn't been so hot lately, Christian DeHaemer thinks one "final integration" coin will create the next trillion-dollar crypto boom.
The Teaser
If you missed out on the first round of crypto fortunes, you shouldn't beat yourself up. Because the biggest gains are yet to come.

We're no strangers to Christian DeHaemer's work here at Green Bull. We have reviewed some of his past picks – DeHaemer's Tesla Bot Profits Stock and also took a closer look at one of his previous crypto presentations, see "End of Bitcoin" Teaser.
This time around, he's urging us to pay close attention to what he's about to reveal. Because he says we're on the verge of the biggest bull run ever, one that could make past gains look tiny by comparison.
In fact, this new bonanza could turn even a single $100 bill into a handsome nest egg in record time. Christian calls it the "Final Integration" and it's already underway.
He goes on to reveal that a dull little ad he uncovered tipped him off to this next big crypto bull run. He's talking about this job posting on Amazon's recruitment site:
Amazon wants to hire a "digital currency and blockchain product lead", which according to Christian is a huge deal and he expects it to make one little-known coin soar.
Some examples are given next about how events like this can create life-changing gains. Like when Decentraland surged 1,600% after Facebook's metaverse announcement or Dogecoin's eye-popping 7,610% return just because of a couple of tweets about it from Elon Musk.
But all of this is supposed to pale in comparison to what's about to unfold soon.
The Biggest Crypto News Ever
This is because insiders are sure Amazon is hiring crypto experts for one specific reason. The retailer is preparing to accept digital currencies as payment and it could reveal the news as early as October 26th.
Not only this, but Christian believes he's found THE coin that's set to soar as a consequence.
The Pitch
This sounds juicy and all the information we need to move on this opportunity can be found inside a brand-new investment report called "Retire Rich on the 10K Coin Kicking off the 'Final Integration."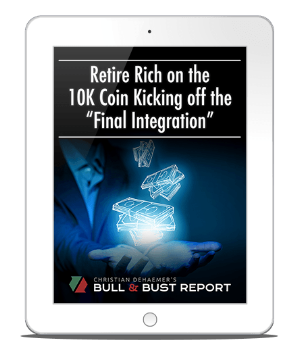 Its part of a package deal that comes with a subscription to the Bull and Bust Report advisory service for $99. This includes 12 monthly issues of the Bull and Bust Report, full access to a model portfolio, a free subscription to the Energy and Capital newsletter, and another special bonus report – "Web3: The Next Millionaire Maker."
What in the World is The Final Integration?
The beginning of the so-called "Final Integration" is all about the tipping point toward crypto's mass adoption by the general public.
We're talking about a major shift that's putting cryptocurrencies front and center of the world economy, with some of the world's biggest companies like Apple and Walmart transitioning to accept alternative payments.
It's rather simple to understand why, we're at a rather unique moment in history when fiat currencies are becoming more and more volatile by the day (a chart of the once invulnerable British Pound proves my point). People and institutions are looking for alternatives and this "10K Coin" as Christian calls it, solves a HUGE problem other cryptos have.
Crypto's Trillion-Dollar Problem
Basically, it all comes down to one thing: scalability. Every cryptocurrency runs on a network called a blockchain. Well, the blockchain and specifically more than 12,000 computers having to approve every transaction, makes it rather slow. This in turn makes Bitcoin and other cryptocurrencies based on this blockchain slow.
This is where the "10K Coin" comes in. Right now, it takes Bitcoin as long as 1 hour to confirm a payment. Other coins like Ethereum, Ripple, and Stellar are all faster than Bitcoin, but they're still a long shot away from being able to match Visa's 150 million daily transaction volume.
The coin that Christian is touting is able to handle more than 100 million transactions a day right now thanks to its superior technology and ultimately, it's designed to reach 259 million transactions a day. It's all made possible by a proprietary transaction protocol, which is a unique settlement mechanism based on the research of the MIT professor behind it all.
It has other catalysts going for it too. Like its ultra-fast settlement times, making it a clear upgrade over the decades-old SWIFT transaction settlement system.
The burgeoning NFT market, which surpassed $40 billion in 2021, is also set to benefit from the 10K Coin's superior technology, which means a massive influx of cash could begin pouring into this coin soon.
Revealing The Final Integration Coin
This is what we know about the coin that Christian estimates less than 1% of investors know about:
The coin was developed by one of the most accomplished crypto specialists of our time. He's an MIT professor who won the prestigious Turing Award a few years ago, the "Nobel Prize of computer science."
It still trades for just a couple bucks or a fraction of Bitcoin's five-digit or Ethereum's four-digit price points.
The International Swaps and Derivatives Association (ISDA) is currently exploring how to turbocharge derivatives deals with this coin.
One of the world's largest copyright management companies already launched 4 million NFTs on this crypto.
Based on this set of clues, the coin is Algorand (ALGO). Here is how they match up:
The MIT professor is Silvio Micali and he is the designer of ALGO's unique decentralized, secure, and scalable architecture.
Algorand's current market price is hovering around $0.37, so just a tiny fraction of BTC and ETH's.
An old article mentions ALGO's work with ISDA to implement their Common Domain Model (CDM) on the Algorand blockchain.
Algorand and the Italian Society of Authors and Publishers have partnered to copyright NFTs.
The Next Coin to Mint Millionaires?
Algorand has been called an "Ethereum Killer" and this is not without merit.
If I could summarize the ALGO smart contract platform mechanics in a single sentence it would be this: Algorand's protocol is able to add transaction blocks (records) and at the same time also ensure transaction finality all within a five-second time frame.
All the while, it also stays true to decentralization through its random selection of network validators through the Pure Proof of Stake (PPoS) algorithm. This is what makes it so powerful and enables it to be be scalable, decentralized, and secure at the same time.
For all intents and purposes Algorand is a scalable smart platform, which Ethereum did first minus the scalable part. Given this and ALGO's myriad real-world applications, a small stake in the coin could prove valuable.
Quick Recap & Conclusion
Christian DeHaemer is convinced that one "final integration" coin will kick-off the next trillion-dollar crypto boom.
He says one catalyst for this could be Amazon's impending announcement that it will begin accept digital currencies as payment. Something which could be revealed as early as October 26th.
All the information we need, including the name of "The 10K Coin" can be found inside a brand-new investment report called "Retire Rich on the 10K Coin Kicking off the 'Final Integration."
The coin Christian is teasing here is Algorand (ALGO). Which could be the world's first scalable smart contract platform.
ALGO is a second generation platform that blows first-gen cryptos like Bitcoin and others out of the water, in terms of its scalability and functionality.
Are there any ALGO killers out there? Let us know in the comment section below.