As is customary, investors prefer "safe stocks" during difficult periods such as economic or financial upheavals and pandemics. One of the biggest stores of value in the world today remains gold, but owning gold certainly won't turn you into a millionaire overnight, which means you need to be smart and choose gold stocks or perhaps "3 Gold Stocks to Become a Millionaire?"
In his latest marketing newsletter, the "Bailout Millionaires", author and former Wall Street financial guru, Christian DeHaemer, talks about the importance of investing smartly in gold. He believes gold will skyrocket largely due to huge government bailouts and that people should invest in three gold stocks that can bring them profits of up to 3,000% or more. And, since nothing ever comes for free, he is pitching his latest newsletter subscription program, Bull and Bust Report for the low price of $99 per year. But stay tuned as we are going to try and reveal these three stocks right here for free in this article!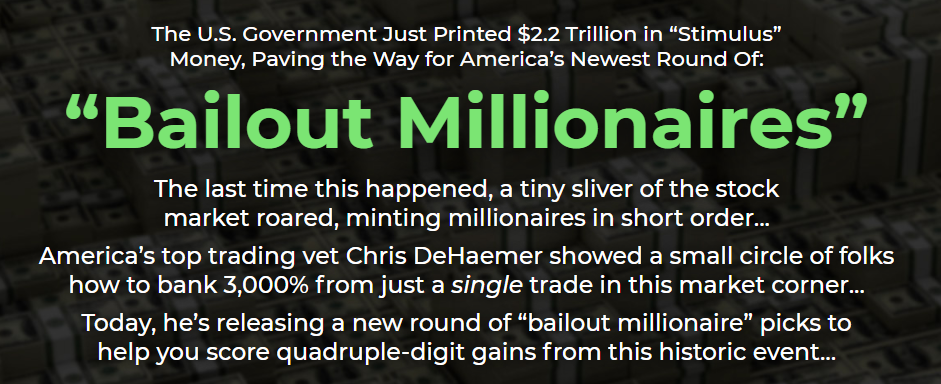 If you choose to subscribe to the Bull and Bust Report anyway, you'll get 12 monthly issues of the report, 2 bonus reports, including "8-to-1: The Magical Silver Profit Ratio", recommendations, market updates, a free subscription to "Energy and Capital", as well as customer support. Moreover, you'll get the name and the ticker symbols of these three gold stocks he teases. Here is everything else you should know about the Bailout Millionaires.
Who is Chris DeHaemer?
Chris DeHaemer is the editor of Angel Publishing. He also contributes to "Energy and Capital", the subscription you are going to receive if you sign up for the Bull and Bust Report. We have covered several of Chris' teasers here in the past such as Pandemic Millionaires and his Tech Reset, which have similar underlying themes.
DeHaemer has over 20 years of financial experience and has traveled across the globe in search of the next big companies to invest in. He claims to have exposed hundreds of profitable stocks so far, in fields as various as oil, tech, and mining. Most of his work is geared towards retirement investing, pitching his stock picks to those who are on the verge of retiring or want to build a solid portfolio to live off once they retire. 
Unlike many other financial analysts, DeHaemer innovatively approaches business: instead of sitting behind a desk and analyzing reports and numbers, he travels the world to meet with company CEOs to get a better picture of the stocks he pitches and considers profitable.
The Case for Investing In Gold
Gold is believed to be one of the safest long-term investments that will only appreciate in value over the very long-term, most especially so in times of war, economic crises, and general uncertainty. 
DeHaemer starts his pitch by saying that the government will issue a new round of stimulus checks worth over $2.2 trillion in total to bail out the economy from the fallout caused by the Coronavirus pandemic, hence the name of the marketing letter, "Bailout Millionaires".
He claims that "central banks around the world are ditching American dollars for gold", giving the examples of China and Russia, which are both investing in gold stocks and seek to buy more gold for their national reserves. As previously mentioned, this behavior is only normal in times of social and economic uncertainty, which will mainly fuel the price of gold throughout this year and possibly beyond. 
However, buying the shiny metal directly won't bring you outsized returns over the short-term, so it would be better to invest in gold stocks instead of owning the commodity itself according to Chris. And, even though there are plenty of gold miners out there from which to choose, you need to have a strategy to identify the most profitable ones to invest in, which DeHaemer's claims is his calling card. 
The author mentions that "you have to be more strategic" and goes on to explain the process of picking the perfect gold stock by analyzing the companies' mining operations, its production, the management, balance sheet and cash flows, pretty basic fundamental stuff.
Altogether, Chris isn't wrong about the trend of fiat currency devaluation, as it is happening right before our very eyes. Insofar as investing in gold producers instead of the metal itself, this carries a much higher degree of risk which kind of flies in the face of the reason to invest in gold in the first place – long-term store of value.
The 3 Gold Stocks That Will (Maybe) Make You A Millionaire
At the beginning of the letter, DeHaemer mentions that he will reveal the name and ticker symbols of three companies that will be extremely profitable for investors. However, there is next to no information provided on any of them throughout the teaser, which made our job to identify them for you all but impossible. 
DeHaemer does give the names of three gold stocks he recommended back in 2009, which ended up rising 351%, 354%, and 3,000%, respectively. The companies are

Entree Resources (TSX: ETG)

,

Nevsun Resources Ltd. which was acquired by Zijin Mining Group in 2018

, and

Allied Nevada Gold Corp. which actually ended up declaring bankruptcy in 2015

. These three companies were all junior mining companies at the time he recommended them.

The author thinks that gold will skyrocket in value because the "trillions of dollars" printed to bail out the economy will cause "massive currency devaluation", not to mention negative interest rates as well.

He expects gold prices to eventually reach up to $5,000 per ounce, perhaps even double that price, depending on the extent of market uncertainty and volatility. 
DeHaemer promises to help you earn "quadruple-digit gains in the next 12 months" with these three new gold stocks that he teases. To make his statement more credible, he states that "Today, in 2020, I believe we are at the start of one of the most incredible gold bull markets we will see in our lifetimes – even bigger than the previous ones" and urges you to bet on gold stocks instead of ones in similarly speculative industries like 5G or biotech.
Is Investing In Gold or Gold Stocks A Good Opportunity?
Unfortunately, we aren't able to analyze the individual stocks teased and how profitable (or not) they may end up being because DeHaemer doesn't provide much of any clues on any of them. Instead, he promises to disclose everything and even throw in some market research about gold stocks in his "Bailout Millionaires" bonus report which you will receive once you register for his Bull and Bust Report newsletter.
Investing in gold itself is among the most secure investments you can make as a long-term store of value. We are talking about one of the most stable markets in documented world history, having served as a medium of exchange for over 7,000 years now. Historically speaking, gold has seen its value increase even more so during times of displacement such as pandemics, crises, and manias, similar to what we are experiencing now.
To back up our claims, DeHaemer also says that "this year alone, gold has been one of the world's best performing assets. It's up more than 29%" and, if prophecies come true, its price will only go higher by the end of the next year. 
To sum things up, rare metals like gold and silver have always been the backup plan of investors in times of uncertainty. Whether we're talking about wars, the Great Depression, or the most recent economic crisis from 2008-2009, gold has remained a steady and solid investment. 
Betting your money on gold alone won't make you rich and gold stocks might not bring you the promised quadruple-digit returns in only 12 months, but the former will provide a store of value, protected from inflation, which is about as well as one can hope for if Chris is right about what is coming in the next few years.
Quick Recap & Conclusion
In his latest marketing pitch,

"Bailout Millionaires"

, author Chris DeHaemer talks about the importance of investing in gold stocks as an easy way to secure your future by gaining up to 3,000% in just 12 months. The best three gold stocks you can invest in are revealed in his special report the

Bull and Bust Report

, for $99 per year.

Although he teases three companies that are in the gold mining market, he doesn't provide much information on any of them, which means we couldn't identify them for you. 

Because of the current pandemic situation, DeHaemer considers that gold prices will skyrocket and may even end up at $5,000 per ounce, which is why he urges you to invest in gold and gold stocks in the weeks and months ahead. 
What do you think about gold stocks? Do you currently own any gold physically or through an ETF? Tell us your thoughts in the comments below.