The Coronavirus pandemic hit hard, leaving over 40 million Americans unemployed and counting for over 7 million cases as of September 2020. Without a specific timeline when we could expect any signs of normality, the investment market seems to be taking a small break, at least in some areas.
On the other hand, the biggest companies on the planet, the so-called FAANGs (Facebook, Apple, Amazon, Netflix, and Google), seem to thrive even more than ever, increasing their top lines by billions of dollars and expanding their businesses. Other big companies from connex markets are looking to cash in big too, which leads us to one particular financial analyst and author, who teases four of these companies in his latest marketing ad, Chris Dehaemer's Tap And Go Stocks Revealed – The Great American "Tech Reset".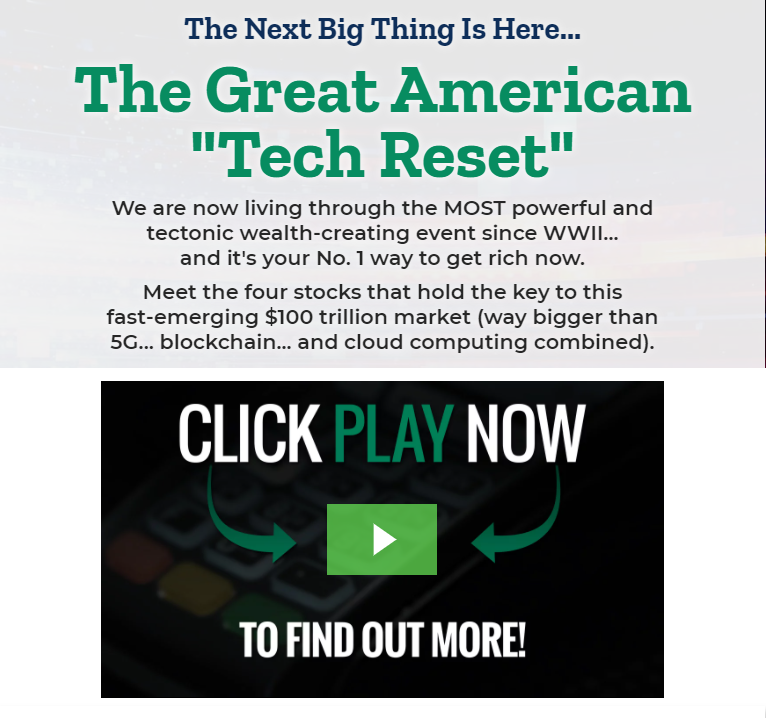 With this latest marketing ad, the author is really pitching his old newsletter subscription program, Bull and Bust Report, selling for $249 per year. For this price, you'll receive members-only email alerts, access to a members-only website, as well as five bonus reports, including "Banking 1,000% on These Three Cell Tower Titans" and "Get Paid to Own Farmland". 
However, if you're short on money or prefer to spend it elsewhere, here is everything we were able to find about the companies he's pitching in his latest ad, which he calls his "New Tech MVP companies".
Who is Chris Dehaemer?
Chris Dehaemer is the creator and managing editor of the Bull and Bust Report and a well-known writer, editor, publisher, and financial analyst. He has an experience of over thirty years and according to himself isn't afraid to "get his hands dirty" when it comes to finding the perfect investment solution for his clients. 
Dehaemer claims to have traveled the world, looking for new investment opportunities, which makes him knowledgeable in various fields, from tech stocks to 5G, renewable energies, and other en-vogue industries. He managed to predict the success of various companies, including a "759% gain on Petro Matad (OTC: PRTDF), a Mongolian company most people had never heard of", and a "411% stock explosion on Africa Oil, at a time when most stock pickers were staying away from it". We're definitely no stranger to the touchless payment industry and have covered similar teasers here in the past  – Michael Robinson's Touchless Payment Company.
What is The Tech Reset?
Dehaemer talks about "four stocks that hold the key to a fast-emerging $100 trillion market", which he considers to be "way bigger than 5G…blockchain… and cloud computing combined". He also claims that holding on to the right stock for five to 10 years is enough to earn you a fortune, as long as the stock is good, and the market continues to develop. So, what is the opportunity behind Dehaemer's pitch? 
His report is called "The Four MVPs of the Tap-&-Go Revolution" and he mentions a "tap & go revolution". The notion that "cash is dying" is not new and has been around for at least a decade, with more or less success across the globe. Out of all European countries, Sweden now brags about being around 96% a cashless society, relying heavily on microchip debit cards, AI, and smartphones to pay for almost anything. 
A similar approach has already been made by China, where cashless apps, like WeChat Pay and AliPay, are used by 92% of people in large cities to pay for everything, counting for more than 775 million people who use mobile paying methods in China. Dehaemer thinks that this is also bound to happen in the United States, even more so, given the current Coronavirus pandemic environment. 
He predicts that "millions of Americans, like you and me, will be carrying just one thing: their mobile phones", which will be used to pay for everything from groceries to taxes, bills, and goods. Dehaemer is not wrong by making such assumptions, given the rapid development of the technology, but this is far from being news and we have heard it before – Michael Robinson's Bitcoin Master Class.
Although we think the cashless market is still a few years before taking over most sectors nationwide, investing in stocks in this field could prove to be a smart choice…provided you do your homework first. To this extent, lets see what stocks Chris is actually teasing.
The Four Stocks That Will Revolutionize The Payment Industry
As previously mentioned, Chris Dehaemer urges you to pay $249 for his annual newsletter subscription to reveal the four stocks he believes will revolutionize the payment industry. However, we are about to expose the stocks being teased for free, thank us later. 
Chris starts his pitch by saying "don't be surprised that in less than five years, money as you know it will be a thing of the past" and continues claiming that "new FAANG companies are cornering a $100 trillion market for themselves" by charging small fees for their services which results in potential revenues of "$250 billion straight into their pockets".

The first small hint comes from the phrase "I expected their share prices to go ballistic on or around March 25… when Facebook's Libra venture goes belly-up". 
According to official data, Libra is "a blockchain digital currency proposed by the American social media company Facebook, Inc.". The launch was initially planned in 2020 but there is no official release date so far. However, after months of political pushback and regulatory pressure, Facebook pivoted its project direction, and, instead of becoming a cryptocurrency, will now support both existing government-backed currencies, including the US dollar and the EUR, before it's ready to release the Libra token. 
If Libra was released, most likely it would have been pushed through all Facebook companies, including WhatsApp and Instagram, potentially becoming a strong competitor in the years to come for other cashless apps, including Amazon Pay and Paypal. This piece of information helped us narrow down the list of stocks Dehaemer teases. 
Dehaemer claims he identified a "catalyst" that will spark the stocks – with Libra's failure to launch, the author says these four companies' stock value will increase "because there will be one less competitor to split up to $100 trillion in revenue with!"
The companies teased are not FAANG but they are still the biggest ones in the cashless world so, it is with a little disappointment that we announce them, according to Dehaemer's predictions the four stocks that will revolutionize the payment industry are – Mastercard (NYSE: MA), VISA (NYSE: V), Paypal (NASDAQ: PYPL), and Square (NASDAQ: SQ).
As these are already among the top 100 biggest companies in the United States, that means any additional growth is likely to be more tepid in the short-term. This is definitely not a get rich overnight type of opportunity, but instead a 5, 10 or more years opportunity.
Is This a Good Opportunity?
Both payment card companies – Mastercard and Visa enjoy big profit margins (50% profit margins with 13-14% annual revenue growth), and they are now trading at 25-30X forward earnings, which I honestly thought would have been even higher given the inherent competitive advantages of their business models. As we already mentioned, they happen to be the biggest payment card providers on the market and, even though they may lose some market share in the upcoming years as a result of more competitors joining the fray, they are still likely to thrive. 
Out of all the four stocks Dehaemer teases, we reckon Paypal remains the favorite because it benefits from a dominant position in online payments and is already a trusted brand, used by hundreds of millions of people worldwide, out of which over 50 million are in the United States alone. 
According to official records, over 86% of online buyers nationwide use Paypal, with many considering it the safest online payment method. With annual turnover of over $16 billion, if Paypal were a bank, it would be the 21st largest in the United States. By comparison to Visa and Mastercard, Paypal is also growing at a faster clip (over 20% annually as opposed to approximately 13% and 14% respectively), which makes us believe it will continue its outperformance, at least over the next few years. 
However, as cryptocurrencies are fast developing, all of the stocks teased by Dehaemer have their positions threatened. Competitors as diverse as Amazon Pay, Venmo, Revolut, Ethereum, and Bitcoin can also be used as cashless platforms for online payments, which means Paypal and other incumbents must come up with inventive new ways to keep people on their platforms in the coming years.
Quick Recap & Conclusion
Chris Dehaemer is a financial advisor and investor with over 30 years of experience, he is pitching us his newsletter subscription program,

Bull and Bust Report

for $295 per year, which includes exclusive weekly reports, and five bonus reports. 

The author teases four companies in the cashless payments industry, which, he claims, are "way bigger than 5G, blockchain, and cloud computing combined", counting for a total market of around $100 trillion. 

Based on the clues he hints throughout his marketing pitch, we were able to identify those four companies as: Mastercard, Visa, Paypal, and Square, saving you the $295 annual charge.

These four companies are already some of the biggest in the world with revenues of hundreds of billions annually, and their stocks don't come cheap either. 

Out of the four, we consider Paypal to be a top choice, as it will most likely continue to grow and outperform the others over the next five years or so. However, don't expect to get rich overnight or to retire rich after 5-10 years from investing in this stock alone. 
What do you think about Dehaemer's big reveal? Do you already own stock in any of these "big four" companies? Are there any others in the cashless payments industry that we should be considering? Let us know in the comments below.