Christian DeHaemer believes he's just hit the mother lode and made the world's biggest oil find.
It's offshore in a tiny, remote country about the size of Idaho called Guyana and it's the "#1 Play for the Guyana Oil Boom".
The Teaser
Guyana is the world's hottest offshore drilling location and it could become responsible for one of the greatest wealth transfers in human history.
Since 1996, Christian DeHaemer has been scouring the markets looking for the fastest, safest ways to make money. We've followed along and reviewed some of his picks, including a "Mars Metal" Magnesium Company and A Chip Manufacturer solving America's Biggest Crisis.
Christian intimates that "an absolute miracle is unfolding" and it's one that most investors simply have no clue about and will completely miss out on.
I'm probably in this boat, although I've heard rumblings about Guyanese oil, I wasn't aware of the extent of the discovery.
It turns out that a whopping $878 BILLION oil discovery has just been made in the remote country. To put it into perspective, this is more than the market value of ExxonMobil, British Petroleum, and Shell combined!
This is indeed something, as projections have this tiny nation's income exceeding that of the world's biggest oil and gas empires like Qatar, Kuwait, and even Norway in just three years.
It's the kind of wealth capable of turning small nations into world economic superpowers and making early investors fantastically rich.
Too Good to be True?
Past indiscretions about supposedly "extraordinary finds" at remote locations like Bre-X Minerals have rightfully left many skeptical.
But what lends this story some credibility is that even some of the world's largest oil companies are moving into this region. According to Reuters, ExxonMobil has already planned to invest upwards of $10 billion into this exact oil project.
Not only this but Guyana was already known to have the 17th largest oil reserves in the world before this discovery.
Christian's research suggests that what is occurring over there is bound to cause one of the next major oil bull markets. One that will be even bigger than the infamous oil shock of 2008 and one company is better positioned than any other independent oil company to prosper.
The Pitch
All of Christian's findings can be found in a new special report called "The #1 Play for the Guyana Oil Boom."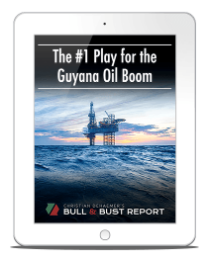 The only way to get a hold of it is with a subscription to the Bull and Bust Report advisory service. When you sign up for a special new member price of only $99, you get access to 12 monthly issues of the report, a model portfolio, a free subscription to the Energy and Capital newsletter, and a free special bonus report called "The Mother Lode in Guyana: 3 Stocks Set to Soar".
New Age of Oil?
Despite what you may have heard in the mainstream media or even from Wall Street, oil is still the lifeblood of the American economy, whether we want it to be or not.

See, many would like to believe that oil is dead. A mere relic of our energy past, like the Biden administration, whose "green" agenda is hamstringing domestic oil production. ESG adherent funds are also playing a huge part by decreasing investment into new oil production.
All this at a time when the world needs more oil to run, not less.
The European Energy Crisis
Europe is foremost among those with an immediate need for reliable, affordable sources of oil. As much of the continent has begun to ration gas this winter amid its raging oil crisis.
In fact, European households and businesses have already seen a rise in total energy costs of about $1 trillion Euros.
With everything from ground transportation to airlines and even retail still running on gas, the vast majority of the global economy is highly reliant on oil.
So whenever a new "mother lode" deposit of so-called "liquid gold" is found, getting in on it could be the key to unlocking enormous wealth. Christian likens it to getting in on the ground floor of Africa Oil before it went on to soar over 1,016%.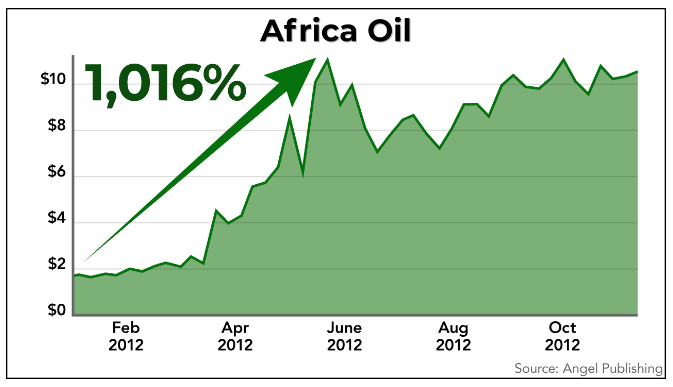 Or Petrobras before it went on to soar over 1,140%…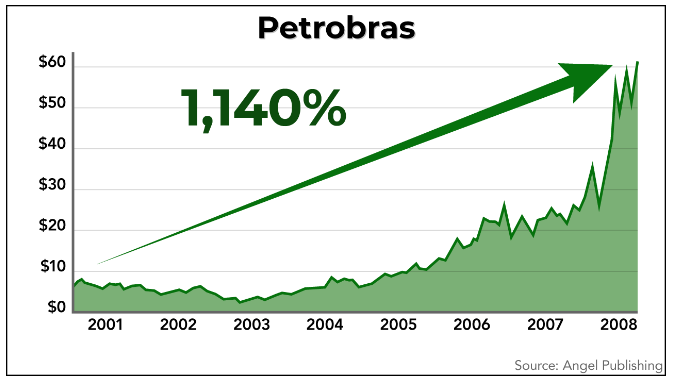 What is unfolding right now in Guyana will be responsible for the next major oil boom.
On paper, the South American nation of Guyana is one of the poorest nations on Earth. But in just two years, it could see its income climb to heights greater than Brazil's, as it just recently discovered 10 billion barrels' worth of oil.
Just to give you perspective on how big this discovery is, every resident of Guyana theoretically could walk away from this discovery a millionaire. While local politics will, unfortunately, make sure that this won't be the case, this discovery is set to dominate the oil market over the next couple of years.
Meaning Christian's oil company is positioned to rake in massive gains.
Revealing the #1 Play for the Guyana Oil Boom
There's quite a bit revealed about this pick, so let's get right into it.
This company owns a 30% share in ExxonMobil's largest field – a 6.6 million-acre behemoth of crude oil.
Soon there will be six floating production storage and offloading vessels on the scene. Each producing more than $1 million worth of oil per day.
Had we invested in this stock at the beginning, we would have beaten the market by 1,200%. And that's before it hit the mother lode.
Based on Christian's description, Hess Corp. (NYSE: HES) fits the bill perfectly.
Hess holds a 30% interest in the 6.6 million acre Stabroek Block, located approximately 120 miles offshore Guyana. ExxonMobil is the operator.
The fourth and largest development on the Stabroek Block was sanctioned in April 2022, with the first oil expected in 2025.
Since listing in December 1984, Hess stock has appreciated by more than 1,200%.
A Quick 759% Gain?
Unlike many stocks that are teased in these presentations, Hess is an established, multi-faceted energy company and not a small-cap with long odds.
Besides its Stabroek stake, Hess is also one of the largest producers in the deepwater Gulf of Mexico and a key natural gas producer and supplier to Peninsular Malaysia and Thailand. So the energy company has a lot going for it, including a small 1% annual dividend.
That said, the chances of Hess returning a quick 700% gain aren't too high. Especially considering that it returned just over 1,200% (not including dividends) over the past 38 years. However, I do expect the stock to get a boost once Stabroek production comes online in the next few years and the overall business should beat the market over the long term.
Quick Recap & Conclusion
Christian DeHaemer has come across the world's biggest oil find and it's far off the beaten path in a small country called Guyana.
Given the global economy's high reliance on oil and gas and the state's opposition to it, there's a very high chance that it will continue to become more scarce and valuable.
Christian's findings, including the name and ticker symbol of his pick, can be found in a

new special report called

"The #1 Play for the Guyana Oil Boom."
Based on the clues furnished in this presentation, the stock in question is Hess Corp. (NYSE: HES).
Hess is an integrated energy company with onshore, offshore, and midstream operations. Its 30% stake in the Stabroek Block offshore oil field in Guyana is promising and could make the company infinitely more valuable once production comes online in 2025.
Are oil and gas going to continue to dominate after 2030? Let us know what you think in the comment section.