Brad Thomas is a small-town millionaire who got rich, went broke, and got rich again.
Now, for the first time ever he's showing how it's possible to make money from the 500 fastest-growing companies in North America…all from just one ticker. In this post, we'll be taking a look at his "Fast 500" teaser.
The Teaser
Brad Thomas says he's discovered a strategy that allows anyone to collect income from hundreds of fast-growing privately held companies that most people otherwise can't invest in.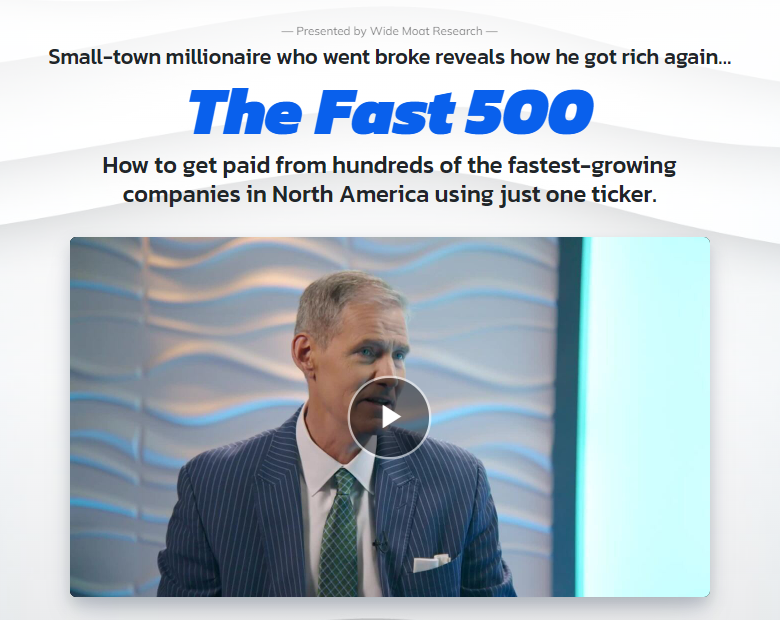 Millionaire real estate investor, victim of the 2008 real estate bubble, CEO of a financial information publisher, Brad Thomas has had a heck of a journey. We have reviewed one of his previous presentations – SWAN Stocks, The Key to Making a Fortune? And also just discussed Shah Gilani's Billionaire's Reserve Market Picks. Which is also about investing in privately-held businesses.
This "market-beating" strategy is supposedly possible…
Without setting up a special account.
Without a massive up-front investment of six figures or more.
And without waiting years for an initial public offering or another "exit event" to make money.
All we need is just our regular old brokerage account.
The Fast 500
The strategy seemingly stems from market research firm Deloitte's annual Technology Fast 500 list.
Just like it sounds, the list ranks the 500 fastest-growing tech companies in America in terms of revenue growth over the last 3 years. There are over 100 companies on the list with gains of over 200% and even some with annual revenue growth of over 1,000% and even 87,037% at the very top of the list.
So how can this help us build our wealth?
Brad says if we dig through this list of 500 companies with a fine toothcomb like he has, we'll start to notice a pattern and this pattern is key.
Because it's this pattern that gives us the ability to make money from hundreds of these companies, all with just one ticker symbol.
What this would basically entail is "piggybacking" off hundreds of the fastest-growing companies in America and making money every time they make money. Until recently, this was impossible, but Brad reveals that…
"A unique kind of company has figured out a way to tap into the revenue streams of these fast-growing companies and pass along 90% of the cash to us regular investors."
This last paragraph is key, as it tells us that Brad is talking about either a Business Development Company (BDC) or a Real Estate Investment Trust (REIT). By law, these companies must pay out 90% of their earnings to shareholders. So what's the name and ticker of this business?
The Pitch
This information is reserved for paid subscribers of Brad's income advisory service The Intelligent Income Investor.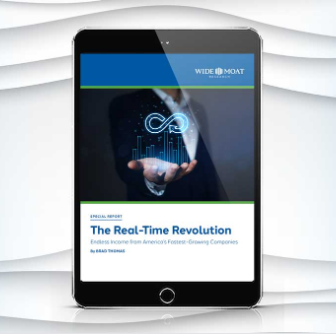 The moment we subscribe to the service for $199, we'll receive access to a special report The Real-Time Revolution: Endless Income on America's Fastest Growing Companies, containing the info we are after. Included in the offer is a second free special report called Retail Riches: Get Paid from 95 of the Biggest Private Companies in America, access to Brad's model portfolio, which includes 24 open stock recommendations, and a 100% money-back guarantee.
The Sector Responsible for 77% of North America's Fastest-Growing Companies
If we take all the companies in North America and there are a lot of them.
And then just look at the fastest growing ones, some 368 out of 500, or a full 77% operate in just one tiny sector of the economy.
Brad says it's nothing that's on most people's radars nowadays. Not biotechnology, electric cars, energy, and not the metaverse.
It all comes back to typical-looking buildings. Like the one below in New Jersey through which $4 trillion dollars move every day!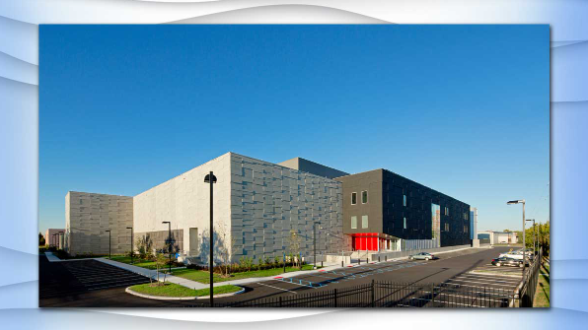 Apparently, there are hundreds of buildings just like this one all over the world through which money flows. This is a map of them: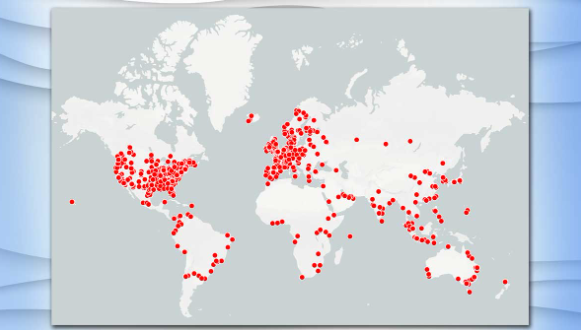 Another clue is that this sector practically didn't exist until a few years ago. But it's now dominating and has doubled in size every 3 years. So what is the mystery sector?
We're talking about digital infrastructure or plain and simple Data Centers.
The building in Seacaucus New Jersey through which "$4 trillion dollars flows every day", is the NY5 data center, which houses massive electronic trading ecosystems, the New York Carrier hotel system, and more.
If we got into the REIT that owns this data center and that Brad is recommending here at its inception, we'd be up as much as 1,265% today. During the same time, the S&P 500 has only gained 281%.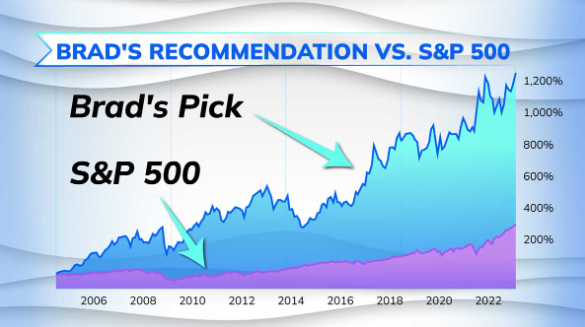 Not only has this investment performed 4x better than the stock market, but it's projected to continue to vastly outperform over the coming years.
This begs the question, what is the ticker that Brad is recommending here?
Revealing the Fast 500 Stock Pick
We're given a few hints, but not a whole lot to go on. See for yourself:
The fast-growing companies on Deloitte's list can't exist without it, as they all rely on the "real-time" data it provides.
It makes reliable, predictable income month after month after month. This is in line with a typical REIT profile.
The company owns data centers like the one in New Jersey, in 32 countries around the world.
Thankfully, because we were able to pinpoint the exact location of the Seacaucus, New Jersey data center, we didn't need any other clue. Brad's pick is Equinix Inc. (Nasdaq: EQIX).
Equinix is a REIT that specializes in owning "digital infrastructure" and data centers.
It is the owner of the NY5 Data Center located at 800 Secaucus Road, Secaucus, NJ, as well as 249 others in 32 countries across five continents.
The REIT of the Future?
In his presentation, Brad stated:
"Investing in this one ticker (EQIX) will put us smack dab in the middle of the income stream of hundreds of hyperscale companies that exist right now."
Technically speaking, this is true. Equinix's vendor-neutral, multi-tenant data centers power businesses across a wide range of industries. This has carried the REIT to 79 consecutive quarters of growth! A longer streak than any other company in the S&P 500.
Thus, it comes as no surprise that units of the REIT are selling for the hefty premium of 6x book value.
Will growth catch up to this price? Right now Equinix's 10-year total annualized return including dividends is 25%, which is phenomenal. At this rate, it would still take book value just under a decade to reach the current unit price.
Equinix owns 135 of its 249 Data Centers and given its growth to date, there is good reason to believe that this could accelerate in the coming years. Macro and micro headwinds make Equinix a good candidate to deliver above-average growth over the mid/long term.
Quick Recap & Conclusion
Brad Thomas is teasing one single stock to make money from the 500 fastest-growing private companies in North America.
More than 368 out of these 500 companies rely on digital infrastructure and data centers.
Brad has put the name and ticker symbol of the business that makes money from all these companies in a special report The Real-Time Revolution: Endless Income on America's Fastest Growing Companies.
Only a few generic clues were dropped in the presentation, but the info was enough to reveal Brad's pick as Equinix Inc. (Nasdaq: EQIX). A REIT that owns data centers on five continents.
Equinix has the longest consecutive quarterly growth streak of any company in the S&P 500. It is likely to continue to grow faster than the market as a whole and its valuation reflects these high growth expectations. Hint: It's high.
Are there any other digital infrastructure plays out there growing as fast as Equinix? Let us know in the comment section below.