According to Empire Financial Research's Berna Barshay, "the financial event of the century started on January 1, 2022" and this presentation was put together to share an urgent profit opportunity with us.
This event has already started to trigger a global shift of $7.1 trillion and it could mean gains of up to 4x, 5x, perhaps even 10x for anyone that is a "first mover".
The Teaser
The presentation opens with Berna saying that "we're literally in unprecedented territory here" and the information that she is about to share hasn't been reported on by the mainstream media and it wasn't picked up by the nightly news either. So very few people are actually privy to the details.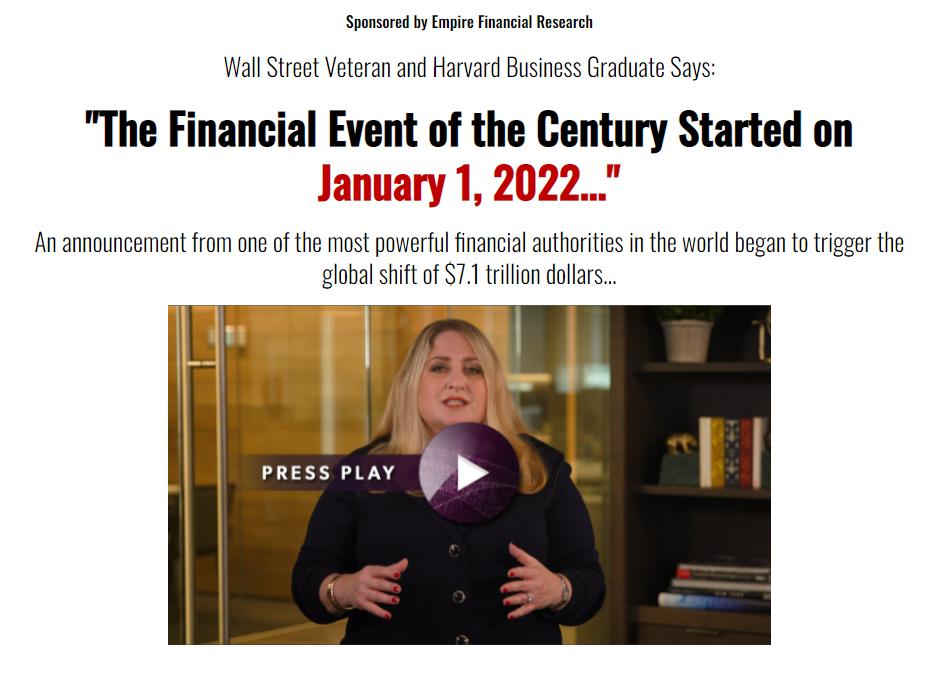 Berna Barshay is a seasoned financial pro, with over 17 years of experience. She is the editor of the Empire Financial Daily and Empire Market Insider newsletters and is a contributing editor to the Empire Stock Investor and Empire Investment Report newsletters. We have reviewed a couple of Empire Financial Research presentations, including America's Next Big Monopoly and Whitney Tilson's Best Stock for 2022.
As a result, trillions of dollars are being funneled into a newly created sector of the stock market as we speak. As one might expect, some of the richest individuals in the world are dedicating billions to this coming shift.
Bill Gates is putting up $1 billion
Venture capitalist Chris Sacca is investing $800 million.
And Jeff Bezos is throwing $10 billion into the mix.
But that's not all, the EU has pledged to post a total of €225 billion and the U.S. has also allocated $1.2 trillion to investments that could have direct ties to this sector. This sector is called "ESG", which stands for Environment, Social and Governance. Berna says regardless of what we may have read or heard about ESG, the only thing we need to know is that apparently ESG-related investments have beat both the S&P and Dow Jones over the past two decades.
Now we can see why some of the world's largest hedge funds, billionaire investors, and hundreds of publicly traded companies are all flooding into the ESG market with trillions of dollars right now. After analyzing a Harvard Law School Forum on corporate governance report and performing countless hours of additional research, Berna believes she has found the three best "first mover" ESG stocks that stand to make us an absolute killing.
The Pitch
In order to become "first movers" we will need to become members of the Empire Market Insider newsletter. This will cost $2,000 – a 60% discount off the regular $5,000 price and includes the special report Three Little-Known "First Mover" Stocks that Will Win Big in the $100 Trillion ESG Space.
A membership will also provide exclusive access to a members-only website, a dedicated member services team, and 12 regular monthly issues of the newsletter.
What is So Special About ESG Anyway?
There's a Harvard Law School Forum briefing on corporate governance called "The Ripple Effect of EU Taxonomy for Sustainable Investments in the U.S. Financial Sector" circulating which clearly outlines something called "the EU Taxonomy".
This is essentially a unified classification system for so-called 'green' and 'sustainable' economic activities under the EU's sustainable finance regulations. According to this, certain economic activities can be considered "sustainable" if they meet certain objectives:
Climate change mitigation
Climate change adaptation
Sustainable use and protection of water
Transition to a circular economy
Pollution prevention and control
Protection and restoration of biodiversity and ecosystems
In order for companies, funds or financial institutions to access ESG-related funds, they must prove that they're complying with these objectives by participating in what the EU considers "sustainable activities". There is also a section of the report which shows who the EU Taxonomy applies to: financial market participants, large companies, and the EU and Member States.
Notice that nowhere does it say EU-only investors, EU-only companies or EU-only countries. This means the EU Taxonomy includes all countries that do any kind of business in the EU and of course this naturally includes the United States. So tax advantages, access to funding, and media approval await companies and funds who align themselves with this orthodoxy.
There may also be a "first mover advantage" for companies who are the first to occupy a new market segment and according to Berna, the ESG market is the hottest segment on the planet right now. Now we too can take advantage of this massive EU Taxonomy regulation – by getting into all three investments trading around $10 or $15 a share that Berna has identified, for the chance to substantially grow our wealth over the next few years. Let's see if we can find out what these are.
The "First Mover" ESG Stocks
This is where the presentation comes up short, in that literally the only details Berna provides us on these three stocks is that they are "first movers" in adopting ESG measures and that they are a "once in a lifetime opportunity".
So, sadly no reveals this time around, but we are going to take a look to see if there really is any clear advantage to investing in "socially responsible" stocks or if its all just smoke and mirrors.
Triple Digit ESG Gains?
In her presentation Berna made the bold statement that "ESG-related investments outperform the broader market…period".
Some receipts were supplied, showing ESG-related investments beating both the S&P and Dow Jones over the past two decades and Bloomberg saying 9 of the world's largest ESG funds outperformed the S&P over the past five years. Among these were the Ave Maria Growth Fund, the $3.8 billion Calvert Equity Fund, and the $4.9 billion Putnam Sustainable Leaders Fund.
We dug a bit deeper and looked into the Ave Maria Growth Fund's top holdings. What we ended up finding are familiar, household names, such as Microsoft Corp. (Nasdaq: MSFT), which makes up nearly 6% of the fund's assets and in a bit of irony, the S&P Global Inc. (NYSE: SPGI) itself, which amounts to just over 4% of the fund's total assets. So the question on our minds and perhaps some readers as well is: Are these businesses really ESG investments?
Sure they all have "corporate responsibility sections" on their respective websites and pledge to adhere to similar ESG principles, as outlined in the EU Taxonomy. But the names above aren't exactly the first that come to mind when one thinks of "green" businesses. From what we can see, ESG sounds good on paper, but it looks like more of the same, from the same people and multinationals that dominate the current landscape.
Quick Recap & Conclusion
Berna Barshay says "the financial event of the century started on January 1, 2022" and she is here to share with us how we can profit from it.
She cites the emergence of the "ESG" (Environment, Social and Governance) sector as being this event and three "first mover" ESG stocks as being the vehicle to "making a killing".
Getting the names of these "first mover" stocks won't be so easy, as we will need to become members of the Empire Market Insider newsletter. This will cost us $2,000 – a 60% discount off the regular $5,000 price and includes the special report Three Little-Known "First Mover" Stocks that Will Win Big in the $100 Trillion ESG Space, containing the name and tickers of Berna's three picks.
Unfortunately, next to no info was offered up by Berna as to what her three stock picks could be, so we took a broad look at ESG investing itself.
This deeper dive led us to find concrete evidence that some ESG branded funds are indeed outperforming the market, as defined by the Dow Jones and S&P indexes. However, there is little to nothing distinguishing these funds from many other large-cap funds today, as many share the exact same holdings. For this reason and others, ESG is somewhat of a hallow term, without much substance behind it.
What do you think about ESG investing? Is it the future or clever Wall Street marketing for contemporary times? Tell us in the comment section below.