If you're looking for an easy way to make a few thousand dollars without having to put any money on the line, you might want to take a closer look at the experiment conducted by investor Jeff Clark in his latest video pitch. According to him, there are several ways to benefit from options, and one particular technique which he calls "America's Boldest Financial Experiment" which he states can easily bring you profits in excess of $100,000 per year, even with little to no prior investment experience. 
To find out more about this technique, he urges you to join his investment newsletter: The Jeff Clark Trader, for only $19 per year for a limited time. As opposed to many other similar newsletters that cost hundreds or even thousands of dollars, Clark is willing to throw in 12 monthly issues, frequent updates, the special report "The Ultimate Guide to Generating Income With Options", a second special report, and an eight-part video training series to help you start trading options, all for just $19. Besides all this, he also offers a 60-day money-back guarantee, in case you're not completely satisfied with the results of the techniques he details. 
For those of you who aren't sold on subscribing or maybe options just aren't your thing, here is what we were able to uncover for you for free.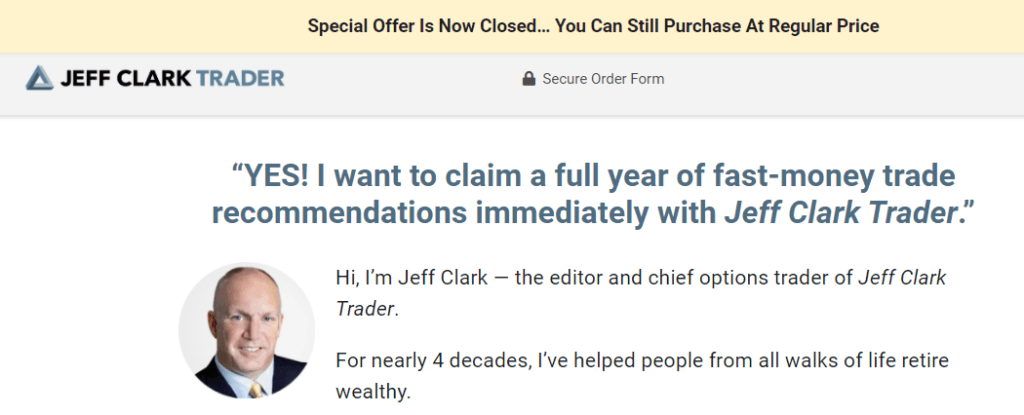 Jeff Clark is the man behind numerous investment advisories that focus on profiting from options in any market environment. He retired from a San Francisco-based brokerage house and private money management company a short time after turning 40 years old and has been in the newsletter game ever since. 
He has an MBA in finance and claims that he advises some of the wealthiest people in California, sharing with them many tips and tricks on how to enhance their profits through options. Amongst his most profitable financial predictions can be included a 100% increase in 10 days on Crocs, Inc. A 490% in 25 days on Palomar Medical, and 250% in 14 days on Silver Wheaton (now Wheaton Precious Metals).
The Options Opportunity
Clark calls part of his newsletter "America's boldest financial experiment", meaning to pay for your everyday purchases without cash or credit, but rather through a options trading technique that he teases. Clark conducts a "money generating experiment" to see if he can pay for his shopping spree while making options trades on his phone and says that with this strategy anyone can make an additional $1K per month or even more. The technique may be different, but the large profit claims are the same as others we frequently hear: Super Options – 400%+ in days? and Buffett's #1 Private Investment – 7,991%  Gains from Warrants.
The boldest claim he makes is that "it doesn't even matter if you don't have any stock market experience…what you need is a phone or a computer…a brokerage account…and about 10 seconds to execute this simple strategy". It sounds like he is preaching directly to the Robinhood app crowd here.  So what we do know thus far is that the strategy he boasts about involves options and that he accurately states "contrary to popular belief, options were originally designed to reduce risk – that is to protect yourself from the volatility of the stock market."
As one reads on, it becomes crystal clear exactly what Jeff is teasing more so than anything else. A proprietary options trading strategy and not any particular options or any options trade.
How Good or Bad Is The Options Strategy Being  Teased
In his video, Clark doesn't delve too deep into the finer details of his options strategy except for calling it the "Leave Your Wallet at Home Technique" because you're trading on your mobile and can presumably make the money you need to run your errands in real-time while on the go.  However, Clark does mention that this technique is not suited for those who are just wanting to play the market with a few bucks or cannot afford to set aide a portion of their monthly income- "it's best suited for folks who have already managed to put aside a little nest egg for retirement".
The author goes on to talk about a second technique that also involves….you guessed it: options, that could also potentially bring you profits of 1X, 2X, 5X, and even 10X your money. He calls this second technique the "Gain Amplifier".  Once again, there aren't too many details offered about this technique either, so we don't know for sure how it works. All Clark mentions is that "you do have to pay a premium to use this strategy" and that it would only be "a fraction of what you'd pay if you bought stocks", which also means that your risk is significantly reduced "because it's only limited to the premium you want to pay." This means absolutely nothing when trying to evaluate the underlying soundness of the strategy and I presume this obfuscation is intentional for just this reason – so that it cannot publicly be reviewed and possibly denounced.
Clark further states that one good thing that comes out of his pair of options techniques is that "you can make money when stocks go up, down, or sideways", and all you have to do is anticipate the right moment to make your move…so no different than virtually every other options strategy out there which relies on market timing.
Good Opportunity or Good Way To Lose Money?
Every type of investment carries risk and the degree of risk only gets bigger when you have limited knowledge about the thing you are making an investment in. In this particular case, Clark's options techniques are about as risky as it gets, since we know next to nothing about them, whether they have been back tested or not, and what (if any) success rate they have enjoyed to date.
Clark superficially says that his strategies are more like "pocket money" as in extra profits you didn't expect to find, but that nonetheless materialized. He admits that some people might not make the promised $1,000 per month, let alone the huge chunks of money he teases in his video of $60K or even $100K per year. As opposed to stocks that only bring you profits if you buy them at smaller prices than the one you sell them at, options based operations can be performed no matter how your stocks are doing, which is maybe the only good thing about the techniques Clark teases here. However, these operations are clouded in a combination of mystery and speculation, which carries a high risk of losing most, if not all of the money you invest. 
Clark does eventually promise to explain "how it all works in greater deal" in his special report, "The Ultimate Guide to Generating Income with Options", which is part of his newsletter subscription program that he is currently selling for $19 per year. We don't necessarily expect step-by-step guidance for beginners at that price, but Clark should come through on his promise to elaborate on the options strategies in question.
Generally speaking, we aren't too high on options or any derivative based investment strategy for that matter. At least not before learning the fundamental basics of how to determine a business' underlying value and how that differs from its market value or stock price. Once that is understood and in place, we can start getting exotic.
Quick Recap & Conclusion
In his latest video, investor Jeff Clark teases what he calls "America's boldest financial experiment" – or how to indulge in a one-day shopping spree without having anything else on you other than a phone and your preferred mobile trading app.

He pitches us one of his investment newsletters,

Jeff Clark Trader

for as little as $19 per year, and throws in two bonus reports, including one that promises to help you generate a stable source of income with the help of options.

Throughout the pitch, Clark briefly mentions two of these option techniques but doesn't go into too much detail, except for saying that they are only designed for people who already have some money aside. 

Although he claims his techniques can generate over $1,000 in cash per month or more, he does admit that every options strategy carries a risk, and you might lose some if not all the money you eventually put up. This latter statement is accurate. 

The good news is that, as opposed to stocks where you only look to sell for a profit, you can earn money with options even when the stock goes down. Again, not too many details are offered, so you can only test the advice he offers and these techniques by subscribing to his newsletter.

We personally would not recommend any options strategy before becoming an astute stock market investor first, as options being a derivative are not for the faint of heart or inexperienced.
What do you think of Clark's money-less options trading experiment? Is it something you would try? Do you currently dedicate any part of your portfolio or trading strategy to options? As always, let us know what you think in the comment section below.