When it comes to one of the latest market trends, the 5G industry has captured the attention of investors and financial analysts alike, including Alexander Green. In one of his latest investment newsletters, together with Bill O'Reilly, the pair put together what they call "The Great American Wealth Project", teasing the opportunity to invest one specific "5G Megastock".
Green calls this his "#1 stock in America" and that this company holds what he calls "the linchpin" to the 5G network. If this has you curious, here is what his pitch is all about and how you too, as an investor, can benefit from the proliferation of the 5G market.
The Teaser
"The Great American Wealth Project" is an investment opportunity created by Alexander Green in the form of various investment tips, tricks, and how-to videos in which he discusses the latest stocks that he believes will be profitable in the long term. In this particular marketing pitch, the author teases what he calls "the #1 stock in America right now", which he believes to be a company that manufactures microchips for a potential market of over 2 billion 5G enabled tech devices. We have covered plenty of 5G related teasers here in the past, such as 5G Keystone Neodymium Company and the 5G Volta Company among others. Lets see how this one stacks up.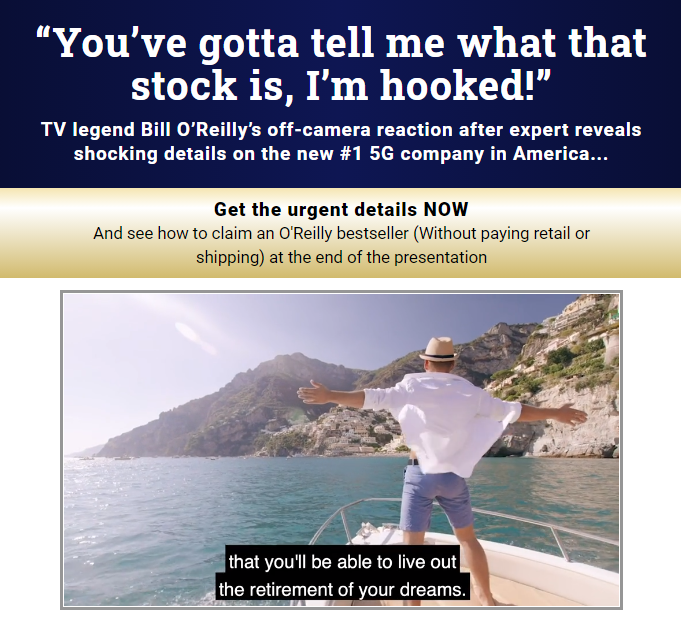 Alexander Green is a financial strategist, author, and speaker. He is also the Chief Investment Strategist for The Oxford Club, one the world's largest financial newsletters with more than 160,000 members and counting. This is his second career after retiring from a lucrative career on Wall St., where he was an investment advisor, research analyst and portfolio manager. He says that now "I can write what I want about the market – and the world – without a compliance officer scrutinizing my words. And readers don't have to worry about the objectivity of my analysis". 
Like many others before him, Green claims that "there's only one surefire way to retire wealthy in America, and that's by owning shares in a breakout business that's crushing sales records…by supplying innovative products". He strongly believes that the company he teases has all the necessary attributes to not only thrive in a competitive market, but also to situate itself as one of the leaders in the microchip industry. 
In an interesting interview-like exchange with author Bill O'Reilly, Green says that the stock he teases "operates in the fastest-growing and most exciting sector in the market today", referencing the 5G market. Which is expected to expand at a compound annual growth rate (CAGR) of more than 40% from 2021 through 2027.
So, how can you get access to the name and ticker symbol of this "5G Megastock"?
The Sales Pitch
All is revealed in the investment newsletter Green pitches us, The Oxford Club, for which you only have to pay $49 for the first year of your subscription and $79 starting the second year. By subscribing to the newsletter, you will not only get full access to the issues of The Oxford Club, but will also receive a free hardcover copy of the book "The United States of Trump" by Billy O'Reilly, the report "How to Profit from the #1 5G Megastock" in which you will find the name and ticker symbol of the company Green is talking up, another report, as well as access to Green's "Great American Wealth Blueprint" which includes a three-part video series to help you with your stock portfolio, four special reports, and other bonuses.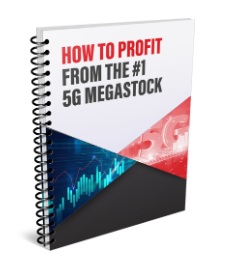 However, if you prefer to skip the subscription all together, here is what we were able to uncover for you, absolutely free of charge.
What Is The 5G Megastock?
In talking about this investment opportunity, the author first mentions three of the major problems most Americans are facing today:
People aren't prepared for retirement

They may be saving, but they aren't investing

The few who are, are not doing it the right way. 
In other words, one of the main reasons why working class Americans cannot even begin to consider thinking about retirement is that they are not financially secure. According to official government statistics, 78% of Americans live paycheck to paycheck and 57% of Americans have less than $1,000 saved.
Also, those who can afford to invest in stocks and indices usually choose poor performing ones like the S&P 500, which typically only return some 1.9% annually, which isn't even enough to cover the inflation rate. 
Under such dire circumstances, the entire system as we know it today should be re-thought. The crony capitalism of the United States centrally planned economy has long been a key driver of financial inequality. Creating a huge gap between the wealthy 1% and the sad reality of most Americans, who struggle just to get by and pay their bills.
Interestingly enough, Green's solution to "challenge" this system and generate more wealth for those who cannot afford to retire is to teach them how to invest. He claims that just a $1,000 invested into the right stock could bring you profits of over $400,000 in less than ten years time.
He then follows this up with some generic examples of profitable giants like Apple, Google, Amazon, and Netflix. The problem is that these companies have been generating profits for decades in most cases and unless you invested in them in the 90's or early 2000's, you couldn't buy too many of their overpriced shares (not even one in some instances) with just $1,000 today. However, Green strongly believes that "by owning shares in a breakout business" that creates innovative products, it lead to a care-free retirement. 
Surprisingly, he is also the first one to mention that what was once considered real wealth (having $1 million dollars), is now being challenged by the cruel realty that it isn't going to buy you what it once used to. Since the average American now requires an estimated $1.7 million to live comfortably and not run out of money in their lifetime.
So, how can you be sure the stock you're willing to invest in will be the one to potentially get you out of poverty? Green's buddy, Bill O'Reilly believes in with a set of criteria that must be met by a company in order to become "the perfect stock":
The company should be a leader in a cutting-edge technology that changes the way we all live, like Apple, Amazon, Netflix, Google, and others.

It should have breakthrough products or services used by millions around the world

It holds patents and trademarks that protects its profit margins

It should have hundreds of millions of dollars, if not billions, in future sales that are contractually guaranteed 

It should be relatively undiscovered and trading for a very low price
If you think O'Reilly is chasing unicorns, chances are you are right. What he identifies as the primary criteria for a "perfect stock" sounds very similar to a mature company that already has global operations, meaning there is only a small window of opportunity (if any) to invest in it. Therefore, unless your timing is almost perfect (who's is?), you might lose out on the opportunity of a lifetime. 
However, every once in a while the market creates one of these "unicorns" and this is what Green and O'Reilly are really pitching here.
Revealing The 5G Stock Megastock
Throughout the presentation, Alexander Green provides us with some clues as to what the name and ticker symbol of the company he teases could potentially be. Let's see what they are:
The stock Alex Green hints to "operates in the fastest-growing and most exciting sector in the market today", which according to the author is 5G technology. 
He goes on to say that "the company is perhaps the most important linchpin to the entire 5G network" and that "it makes the 5G microchips necessary for the entire system to work."

Another hint given is that "any business that wants to be involved in this coming 5G revolution needs this company's product", which makes this particular stock interesting.

Other details offered by Green include several facts, like "you will find this company's microchips in Google's 5G Chromecast… Samsung Galaxy 5G smartphones… and Audi's mobile 5G Wi-Fi hotspots" and "the company also just did a deal with SoftBank Group".
To really make the stock sound like an opportunity you shouldn't miss, the author mentions that "this company's microchips will soon be found in 2.3 billion products worldwide" as they are already used in the Internet of Things, automotive technology, big data, processing, storage, network, and security."
Moreover, according to Green, the company is protected by around 10,000 patents, and "because of that, sales are skyrocketing".
Finally, we find out that "it has secured $1.7 billion in 2020 after signing a new deal with NXP Semiconductors" and "it's sitting on $500 million right now that its CEO says it is prepared to distribute to shareholders."

The stock being teased is supposed currently sells for around $25 per share, which could secure you a small stake if you were to invest $1,000-$5,000. 
So, what is the company that Green is talking about? Before revealing its name it is worth mentioning that the pitch isn't new and that it has been around, under various forms, since 2019. However, he still considers that "an incoming catalyst could launch this stock even higher". 
Based on the clues provided by the author, our educated guess is that he is talking about: Marvell Technology Group (NASDAQ: MRVL). Here are a few things that gave it away:
The company has a

collaboration with SoftBank's ARM Holdings

for server chips

Marvell also claims to have "more than 10,000 patents", which ticks another one of the boxes Green teases

Marvell also closed a deal worth

$1.7 billion with NXP Semiconductors

back in 2019.

The only thing that doesn't check out is the company's stock price, which now goes for around $42. But given that the original pitch has been around since 2019 and the fact that MRVL stock was trading in and around the $25 range in the summer of 2019, it explains this.
Big Profit Opportunity?
Green is strongly advocating for people to invest in this stock while its price is relatively small before the imminent 5G revolution starts. Even though he doesn't make any hyped claims about the potential profits you might get, he gives the example of those who have invested in high-flyers like Apple, Google, Amazon, and Netflix in their early years. But does Marvell come close to living up to such lofty comparisons? 
First, it's an unfair comparison. As Marvell is a manufacturer and B2B supplier of various Ethernet and other solutions. This means it will never achieve the name recognition of the aforementioned businesses, which are all consumer facing brands. Second, Marvell has been around since 1995 and its 5G connectivity solutions only make up a small portion of its nearly $3 Billion in annual sales. Lastly, the company's income has dipped into the red over the past year and while this may indeed be a short-term aberration. This also means that its share price will be constrained over the short-term and likely won't be rocketing higher anytime soon.
Quick Recap & Conclusion
In a marketing presentation held by Alexander Green and Bill O'Reilly, our hosts talk about a certain 5G stock that could potentially bring high profits to everyone that buys in.

Green mentions it as the number one 5G stock of the year and claims that it has all the necessary attributes to become as big as Amazon, Netflix, and Apple are in their respective fields. 

You can find more information about this stock and become a member of the "Great American Wealth Blueprint by subscribing to the

The Oxford Club investment newsletter

for $49 per year.

Based on the clues he provides throughout the presentation, we were able to identify the stock being teased for free as

Marvell Technology Group (NASDAQ: MRVL)

, so you can skip the subscription.

The company manufactures 5G microchips among other ethernet circuitry and the author believes that its technology will power over 2.3 billion 5G devices in the next few years.
What do you think about 5G, overhyped or game changing opportunity? Are you already invested in businesses that are connected to 5G in one way or another? Let us know in the comments section below.