The latest Coronavirus pandemic has forced many of us to change our perspective on life and adapt to different conditions. With more than 100 million people worldwide transitioning to performing daily work tasks online, remote working and telemedicine have become the norm in 2020. They have also put tremendous pressure on the global Internet infrastructure.
"According to the Department of Energy, it takes 70 billion kW of energy per year just to power just the Internet", which is "nearly 2% of all energy used in America and costs roughly $7 billion each and every year". These are some of the statistics Alex Koyfman uses in his latest marketing ad, "Internet Fuel" where he teases a revolutionary technology that could help power the Internet in the next few years. Koyfman promises to deliver the name and ticker symbol of a company that found the solution to the increased use of energy to fuel the Internet. Stay tuned, as we're going to be revealing the name of this microcap right here for free.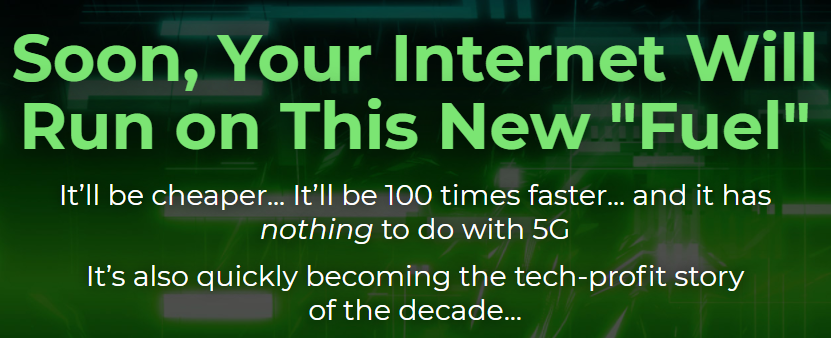 The author mentions "it'll be cheaper… it'll be 100 times faster… and it has nothing to do with 5G". This so-called revolutionary alternative to energy has apparently been developed as a solution to the increased consumption and spread of the Internet in modern society. Nowadays, there are millions of "smart devices" and appliances that require Internet connectivity, "from washers and dryers to watches, thermostats, door locks, and even vacuum cleaners." You can read all about it in the report "Internet Fuel: How to Bank 2,500% on the Colorado Microcap That's Going To Save the Internet" as part of the yearly subscription to the author's Microcap Insider newsletter for the not-so low price of $999. 
Who is Alex Koyfman
Koyfman was born in Soviet Russia but immigrated to the US in the 1980's with his family. He showed an early interest in finance and was actively trading by his late teens. After graduating from law school, Alex decided to dedicate his full-time attention to trading and investing and is now the editor behind Microcap Insider, an investment-advisory newsletter published by Angel Publishing. 
As he himself mentions, Koyfman "never worked for a Wall Street bank or hedge fund" but chose to explore the world of microcaps and try to find the "next Google or Amazon". So far, he claims he has predicted dozens of smart investment opportunities, with gains of up to 347% in just 24 months.
The Next Big Thing?
Koyfman's marketing letter doesn't talk too much about the investment opportunity apart from saying that it is in the photonics market. According to the author, the microcap "has pioneered a method of turning electricity into light by leveraging a new tech known as electro-optic polymers". 
The technology developed and used has the power to transmit data at higher speeds, using less power, which if true could be revolutionary. Although it's not exactly what Koyfman calls "an alternative" to energy since it still uses energy, this tech could prove ground-breaking in a world where we rely almost exclusively on energy to power every aspect of our lives. 
However, investing in promising microcaps with so called "revolutionary" technology has to lead to many heartbreaks and empty wallets over the years. Microcaps inherently carry a high degree of risk as you never know when or if they will pan out. We have covered plenty of pitches here to know how this works: Microcap Microchip Company and 100x Club.
Koyfman claims he knows the keys to determining which microcap has the potential of booming.  According to him, there are 5 key factors to look for when analyzing microcap stocks: 
Avoid the dividends

Cash reserves

Strong profit margins

Gross margins of 50% or better

Tight share structure 
The first point makes sense as you want an early-stage company to re-invest most of its money into R&D rather than distribute it to shareholders, on the second point, cash reserves and strong gross/net profit margins are always a good indicator of a business' underlying health, and finally a tight share structure is an underrated point. If you're a shareholder you want to see a lack of dilutive options and warrants outstanding, just a single class of shares, and a high amount of insider ownership in a company's capital structure.
The author also mentions that "it's not uncommon to see microcaps move 50% to 100% in a single day and 1,000% over the course of a month", which is the main reason why brokers still favor microcaps and pitch them to clients.
While all of this is true, it is still far from a foolproof system for investing in microcaps, which often have little to no earnings and a long time horizon (think years not weeks or months) to realizing their full potential.
Internet Fuel Company Revealed
Throughout the newsletter, author Alex Koyfman mentions that the company he teases has "51 patents that ensure it's the only one that can deploy this revolutionary 'Internet fuel' for decades to come". 
He also gives a very important piece of information when he mentions it is a "sub-$1 per share company that just developed 'the Holy Grail' of the Internet". 
To justify the need for such technology, Koyfman says that, due to the pandemic, we're experiencing "the first official worldwide test of how our systems handle huge surges in Internet traffic". He goes on to mention that "in China, speeds fell by more than 50% and in the U.S. broadband speeds declined by as much as 38% in some parts", while Disney+ had to postpone its official launch in France due to the country's broadband restrictions as a result of the coronavirus pandemic. 
The new technology Koyfman praises is supposed to allow "the transmission of data to occur at far higher speeds, and it can be done with existing infrastructure", which will reduce costs while not affecting the environment. 
According to the author, "the photonics market – which this company is absolutely dominating – is expected to be worth $80 billion by 2030". 
Although there isn't too much direct information given about the stock teased, we were able to identify it as Lightwave Logic, Inc. (OTC: LWLG).
The company is located in Englewood, Colorado, just like Koyfman suggests

Its stock is currently trading for below $1 per share

Per its website, it "is developing a platform leveraging its proprietary engineered electro-optic (EO) polymers to transmit data at higher speeds with less power", which is exactly what Koyfman mentions at the beginning of his

"Internet Fuel"

newsletter.
Legit Opportunity Or More Hype?
Lightwave Logic, Inc. was founded in 1997 and focuses on the design and development of photonic devices and non-linear optical polymer material systems. Its main products include proprietary polymer photonic integrated circuits and electro-optical modulation devices…that's a mouthful.
The company currently focuses on the data and telecommunications hardware supply chain and aims to solve the solution of delivering data faster during the COVID-19 pandemic and beyond while reducing the use of energy. The firm is a domestic U.S.-based company with in-house material development, meaning that it is self-sufficient and doesn't rely on imports for its parts.
As more and more people perform their work online, streaming platforms and Internet providers will have to look for alternative methods to keep their content flowing even with "online traffic jams" that are occurring as a result of telework and telemedicine. Lightwave Logic could prove to be in the right place, at the right time, with the right product in this respect.
As we're slowly experiencing a paradigm shift and more businesses are shifting to online services, most likely we will require alternative methods to reduce energy consumption, which is why Lightwave Logic Inc. seems promising. That said, with shares still under $1, negative earnings, and a market cap under $100 million, expectations for results Lightwave can and will deliver over the short/mid-term should be tempered.
Quick Recap & Conclusion
In his latest marketing pitch, Alex Koyfman urges you to subscribe to his investment newsletter,

Microcap Insider

, for $999 per year. For this money, you will receive weekly issues of the newsletter, real-time buy and sell alerts, specific entry, exit, and target prices, complete research for every stock recommendation, as well as various bonus reports that are heavily focused on microcaps. 

If shilling out $999 isn't really your thing, we were able to save you the dough by identifying the company being teased by Koyfman in his "

Internet Fuel

" marketing ad for free as Colorado-based

Lightwave Logic, Inc. (OTC: LWLG)

. 

Based on the market trend and the constant search for alternative solutions to support the world's increasing need for energy, we reckon Lightwave Logic, Inc. may have a long-term future, if it executes on its business plan.
What do you think of this microcap? Do you agree with the premise that the world urgently needs more energy capacity? Let us know your opinion in the comments below.