American investor, Alex Koyfman, talks about an imminent "climate war" that could mint brand new millionaires and Alex tells us that "there's a unique way for regular investors to tap into this flood of cash making its way into the market".
What the author has discovered is a company that is making a biodegradable alternative to plastic – a "plastic killer" if you will and claims that investing in its stock will bring us profits of over 6,000%. 
The Teaser
Alex Koyfman starts by talking about the Paris Agreement, an international treaty on climate change that implores member countries to find ways to dramatically reduce pollution and gas emissions by 2030. According to Princeton University, $2.5 trillion could change hands in the U.S. during the next few years because of it.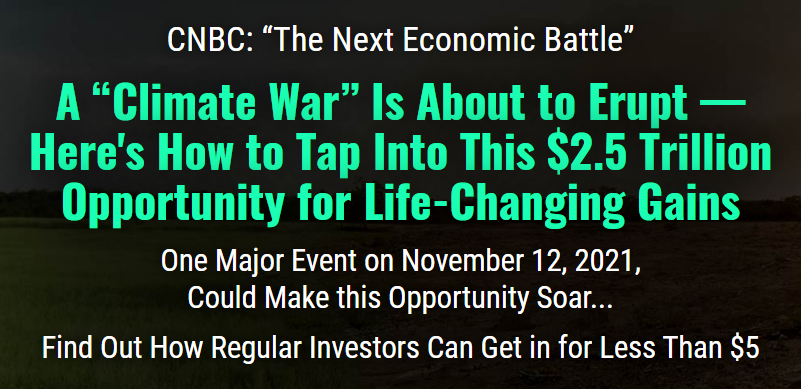 Alex Koyfman has over two decades of investing experience, after giving up a promising career in the legal industry to pursue his true passion. He has since honed in on microcaps and today writes and edits the Microcap Insider and First Call newsletters, as a way to give his readers a chance to take advantage of the same opportunities where he found his success. 
Since the agreement is more of a formal arrangement between countries, instead of an actual requirement, the United Nations is considering adopting alternative methods to 'help' states reduce their gas emissions, which could spark a true "climate war", in the words of Bank of America's managing director Haim Israel.
Carbon tariffs seem like the consensus choice to incentivize states to take real world action and it involves applying additional tariffs on imports from countries that elect not to transition to less polluting alternatives to manufacture their goods over time. Koyfman also mentions COP26, the UN Climate Change Conference of the Paris Agreement countries that is set to take place in November 2021, which will probably be the beginning of the aforementioned carbon tariffs.
The end result could be that countries around the globe will pay more to export their goods unless they commit to reducing their emissions. Higher costs on exports would also put additional financial pressure on heavy-polluting countries and might even trigger economic and political disputes. Koyfman aims to capitalize off another pollutant that is often overlooked – plastic. 
The Pitch
Alex talks in detail about the company and the tech behind it in one of his investment newsletters: Microcap Insider. We have covered some of Alex's previous picks here in the past, including his "oil killer" Ammonia Fuel Company and "Amazon of Uranium" stock.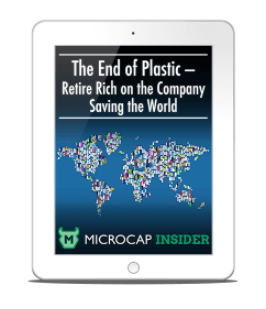 The cost of a one year subscription goes for $1,999 and included is the special report "The End of Plastic – Retire Rich on the Company Saving the World", 12 monthly issues of the newsletter, weekly content, recommendations, two additional special reports, and complete research for every recommendation. All this is backed by a 90-day money-back guarantee.
What the Heck is Bioplastic?
Koyfman mentions a few markets that have pushed alternative, greener sources of energy throughout the years – electric cars, smart homes, solar panels, and windmills. However, on a global, industrial scale, the positive effects of these innovations haven't had as big of an impact as they could due to some of the world's biggest economies, like China and the US, still heavily relying on coal and crude oil to keep its industries running.
When we add in the thousands of tons of annual plastic waste that gets into oceans and forests every year, it may seem like clean energy may be completed negated.  This is where the company being pitched by Koyfman comes in, as it aims to reduce plastic waste by using bioplastic instead.
The problem of bioplastic is a little bit more complex, as contrary to public opinion, it is not as biodegradable in the real world as often advertised. Although bioplastic often has a smaller carbon print than regular plastic, it might still take years to fully dissolve. It also does not fix the problem with existing plastic, which only ends up being recycled at around 20%, globally. In other words, while the company is looking for greener alternatives to bring to market, the plastic that has already made into the rivers, seas, and oceans is unfortunately here to stay for hundreds of years.
Nevertheless, the initiative of bioplastic represents the first step to a greener, more sustainable world…even if it might still take years of research until a 100% biodegradable and useful alternative to plastic is discovered.
What Koyfman's company is pushing for is an alternative to regular plastic coffee pads "that can stand the amount of pressure and heat coffee pods have to endure… that doesn't impede taste… and that essentially vanishes from the face of the Earth in as little as 35 days, leaving no waste and emitting practically no carbon". Let's see who this company is and if they can be successful.
Revealing Koyfman's Bioplastic Coffee Company
Throughout his presentation, Alex provided a series of useful tips about the company in question that helped us identify it:
Alex says he's found a little-known company that has developed a solution against the disastrous effects of plastic, which is working in cooperation with the University of British Columbia and tells us that "even the Canadian government has poured a ton of money into this firm".

"Right now, it shares trade for less than $5".

This company already has 10 patent applications filed and the development of the technology behind its revolutionary product took 5 years and $35 million dollars.

The company "already creates coffee pods made from plastic substituents" and could enter other markets like "eyeglasses frames and a wide variety of food packaging".
Based on these hints and others scattered throughout the presentation, we think the company being pitched by Koyfman here is NEXE Innovation Inc. (OTC: NEXNF). Here is what gave it away:
Question is, can it live up to its lofty aims?
How Much Can a Bioplastic Company Making Coffee Pods Really Make Me?
The author made some bold predictions, such as saying that this company "could grow by an astonishing 6,800%", which could turn an initial $5,000 investment into $349,800 in profits. 
Unfortunately, NEXE has some serious flaws that will likely impact its profits over the long-term. First among these is the stiff competition, with over 2,000 different companies in the world focusing on sustainable alternatives to plastic. Most of these tech firms are plant-based, with one company (Ooho) even claiming it can make water recipients out of edible algae. 
Second, Koyfman's company only addresses people who drink instant coffee-based drinks brewed at two specific brand coffee makers. Although the market is relatively large, the product certainly isn't the "plastic killer" we were waiting for. 
Finally, NEXE is nowhere near being a profitable company. If being a plant-based materials manufacturer yields about the same margins and returns on invested capital as other materials manufacturers, we're not interested, as there are better, more profitable places to allocate capital into than commodity businesses.
Quick Recap & Conclusions
Alex Koyfman's latest pitch talks about a bioplastic company that created a revolutionary technology to "kill plastic" and help the planet be less polluted.

The company in question is currently making fully biodegradable coffee pods and plans to expand its business into other manufacturing areas, including creating storage and transportation solutions for the food packaging industry.

Predictably, Alex tells us that we can get the name and ticker symbol of this company by subscribing to his investment newsletter

,

the Microcap Insider for $1,999 per year. This subscription would include a special report: "The End of Plastic – Retire Rich on the Company Saving the World", which contains the details we are after.
Fortunately, we were able to save everyone two grand by revealing the stock to be NEXE Innovation Inc. (OTC: NEXNF).

NEXE is a plant-based materials manufacturer which neatly fits the ESG investing trend, but at the end of the day lacks the underlying economics needed to generate shareholders an above average return over the long-term.
What are your thoughts on ESG investing? Would you buy into a business strictly based on its ESG 'scorecard'? As always, let us know your thoughts in the comment section below.