Alex Green is doing something he's never done before, he's all in on one "Microcap for 2023."
He's personally invested hundreds of thousands of dollars into this unique $3 investment. Let's find out what it is.
The Teaser
This may be the biggest moneymaking opportunity in over a decade. But you aren't likely to hear it touted on CNBC or Fox Business News. You won't find it listed on the S&P 500. It's completely outside the mainstream.
Alex Green is the Chief Investment Strategist at The Oxford Club, one of the longest-running financial newsletters in the world and one Green Bull is very familiar with. We've previously reviewed the Oxford Club and also unveiled Alex's #1 Microcap for 2021.
It's not a commodity, private placement, and it's certainly not crypto. It's the ONLY asset that's beaten inflation in every decade over the past 100 years.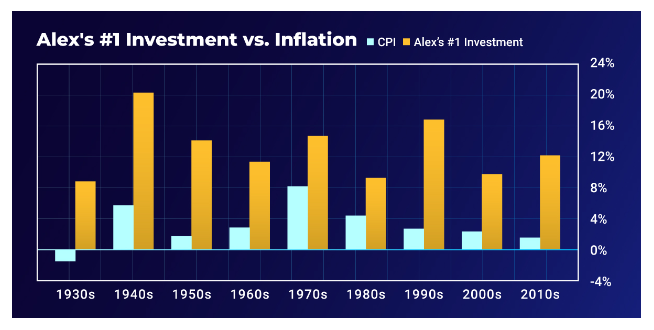 It even beat every traditional inflation hedge between 1973 and 1982, a time when there was massive inflation and an economic downturn.
It's likely the single investment with the most upside available today.
The intrigue grows when Alex confides that this investment is publicly traded, but it's in a hidden corner that few people pay attention to and one Wall Street cannot touch. So what corner of the market is he talking about?
It's Microcaps. A set of stocks with market capitalizations typically between $50-$300 million
Right now these stocks are the cheapest they have been relative to large caps in over 20 years and studies show that they also "significantly outperform large-cap stocks."
There is a myriad of reasons for this outperformance.
Far more growth potential
More likely to be founder-led and agile as a result
Limited information available
Microcaps Outperform Large-Caps After Crashes
One example of this is Rite Aid, which Alex says is exactly the type of ultra-small stock we want to target when stocks in general are down. Back in 2009 it was trading at $5 per share, with a market cap of just $240 million.
By 2015, the stock had risen from $5 to $165, a gain of 3,200%. On the other hand, CVS, a large cap in the same business, returned 235% over that same period.
Alex has identified more of these overlooked small stocks, including his #1 micro-cap for 2023.
The Pitch
A special report reveals this stock and exactly how to invest in the company. It's called "The #1 Microcap for 2023."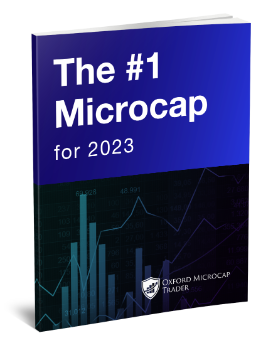 The only way to get our hands on it is by joining the Oxford Microcap Trader research service. This would set us back $897 per year, but includes the #1 Microcap for 2023, Alex's top Microcap research and recommendations, and more.
The Second Biggest Wealth Creation Event of Our Lifetimes
Many of us remember the great recession of 2009 as one of the worst times we had to go through.
Looking back, the times when things look the worst is quite often the very best times to invest…especially in the smallest stocks trading at the lowest prices. When stocks rebound, it's often these smallest stocks that deliver the biggest wins.
Warren Buffett once remarked:
"Every decade or so, dark clouds will fill the economic skies, and they will briefly rain gold. When downpours of that sort occur, it's imperative that we rush outdoors carrying washtubs, not teaspoons."
Today is another one of those washtub moments.
A lot of people are concerned right now. Stocks have been down and the broader economy has been even worse. Most thought the same thing back in 2009.
But if you had waited for the economy to recover to buy up great companies at bargain prices, you would have missed the biggest gains in 2009. It's the same story once again in 2023.
In fact, we're already seeing small stocks soaring as we speak.
Over the past year, 116 US-based stocks have more than doubled. 106 of those 116 stocks are small or microcap stocks!
The logical conclusion is that microcaps are too lucrative to ignore.
The #1 Inflation-Resistant Sector
Alex is most excited about an almost unknown stock trading for $3 a share.
It's also a leader in one of the most secure sectors of our economy. A sector that's essentially immune from inflation risk.
Wouldn't be my first guess, but Alex is talking about healthcare.
He cites a study performed by Dartmouth professor Kenneth French of 49 industry groups which dates all the way back to 1926. French found that healthcare stocks were, by far, the best hedge against inflation. No other investment sector comes close. Even gold was a distant second.
One major reason is that we need healthcare to live. So we're much less likely to stop spending on healthcare, even when our income declines.
The tailwinds behind this sector are massive.
Every day, 10,000 baby boomers turn 65. By 2030, ALL baby boomers will be 65 or older. It's being called the "gray tsunami" and with it comes a massive surge in healthcare spending. These are driving Alex's #1 stock for 2023.
Revealing the #1 Microcap for 2023
We have quite a few clues to work with on this one, so here goes:
It uses artificial intelligence to create new drugs at breakneck speed.
The company is an AI-powered drug discovery platform integrating genomics, engineering, hyperscale data science, and machine learning to reduce drug development costs.
It just listed its stock publicly in 2021.
Currently, the company has a market cap of just $280 million, but it just got a windfall contract of more than $600 million.
Initially, Schrodinger Inc. (Nasdaq: SDGR) came to mind, but Alex's #1 Microcap is Absci Corp. (Nasdaq: ABSI). Here is how the clues line up:
Absci describes itself as a drug discovery company harnessing deep learning AI and synthetic biology to expand the therapeutic potential of proteins. So, using AI to create new drugs basically.
The company listed its stock on the Nasdaq in July 2021.
Its market cap is around $240 million and the $600 million windfall Alex alludes to is a research deal with Merck.
The World's Next Big Royalty Business?
Alex is excited about the way this company makes money more than anything else.
Absci's business model is that of a drug creation technology, which it licenses to larger pharma companies like Merck. If these companies produce a hit drug because Absci's tech helped them identify viable proteins and antibodies, it collects royalties all along the way. It's a great business model that keeps costs low and revenue high.
Absci has about 17 of these drug deals now in place, but the challenge will be actually getting viable drug candidates through to clinical trials and commercial approval in order to see the big bucks. This is a very lengthy process, think years' worth of development.
In the meantime, Absci still has to fund operations while continuing to advance its proprietary technology. Not an easy proposition in a depressed market by any means. This is a high-risk, high-reward speculation instead of a surefire investment, as are nearly all early-stage biotech plays.
Quick Recap & Conclusion
Alex Green is going "all in" on one $3 "Microcap for 2023."
He's bearing the risk because this is likely the single investment with the most upside available today, in the #1 inflation-resistant sector.
The pick along with how to invest in the company is revealed in a special report called "The #1 Microcap for 2023." The only way to get it is by subscribing to the Oxford Microcap Trader research service at a cost of $897 per year.
We saved you the trouble, as we were able to reveal Alex's pick for free as Absci Corp. (Nasdaq: ABSI).
Absci is an early-stage biotech that is losing plenty of money and whose stock is likely to suffer aggressive dilution as it raises money to fund its operations. This is more of a speculation with a high potential upside than an investment.
What's a better Microcap stock for 2023? Share in the comment section down below.