The stock market is as unpredictable as always and while the outlook may look grim, it's not all doom and gloom.
With a "sneaky" but ethical way of investing in a virtually untapped sector of the real estate market, a "1-Click Landlord Strategy" can be a store of wealth in times of turbulence.
The Teaser
I'm sure you'd agree that now is not the time to turn down extra income. Access to cold, hard cash is invaluable, and just $20 can start us on the path of becoming "real estate rich."
Jim Pearce is the Chief Investment Strategist of Personal Finance at the investment advice site Investing Daily. This is the first time I've reviewed something from Jim, but I have looked at Ted Bauman's Real Estate Stock Pick and Zack Scheidt's "Bidenflation" Pitch, which are similar in nature.
$20 barely gets us a foot-long sub sandwich today. So I'm skeptical about how it can get us into real estate, to say the least.
Nonetheless, the "1-Click Landlord" promises to help us pocket up to $10,248 in the year to come…
Without leaving our home
Without "driving the neighborhood" for months looking for the right deal or
Having to deal with careless tenants who treat your new home like a disposable Kleenex
And without getting a mortgage and sliding into bed with all the agents, lenders, brokers, and other bloodsuckers who blindside us with fees
Sounds far-fetched?
Apparently, it's all thanks to an all-but-forgotten "footnote" in a 60-year-old law that has surprisingly little to do with real estate.
The Cigar Excise Tax Extension of 1960
Most people have never heard of Public Law 86-779, but Jim believes it could go down in history as the best thing to happen to everyday investors.
See, not long after PL 86-779 was signed, a new kind of real estate investment was born. Jim calls them real estate profit-sharing programs or "Profit Shares" for short.
It all works like this…big real estate investors start Profit Shares with the goal of buying and renting real estate. To raise the money they need, the companies sell shares to investors, and in exchange, these investors receive 90% of the profits.
Jim is talking about Real Estate Investment Trusts (REITs) here. Some of them do indeed trade for less than $20 per unit and by law, they are obligated to pay out 90% of their profits to shareholders.
Question is, which ones are the most likely to continue to deliver cash payouts for decades to come?
The Pitch
Jim has identified some "exceptionally unique real estate plays" and their ticker symbols are revealed in a short special report called: 1-Click Landlord: Your Shot at Pocketing Up to $10,248 from Cannabis Real Estate Every Year like Clockwork.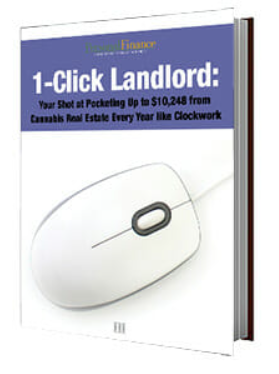 The report is free if we join the "elite investment research advisory service", Personal Finance. The regular price of the service is $99, but for a limited time, it's just $39. This includes intra-day flash alerts, weekly update emails, a confidential members-only website with news affecting portfolio positions, and more.
Big-Time Cannabis Cash Machines?
There are several different kinds of "profit shares" or REITs that invest in a variety of different real estate from single-family homes, to commercial real estate, all the way to oil field leases.
But there's one particular kind of REIT that's been all but overlooked by most investors and that's because it's still somewhat new.
This new type of REIT invests in real estate in an underserved industry that's experiencing incredible growth. Altogether, the industry posted sales of nearly $25 billion in 2021, which is projected to grow to $100 billion by 2030.
The steady revenue increase coincided with an 89% increase in total investor payouts in 2021 alone.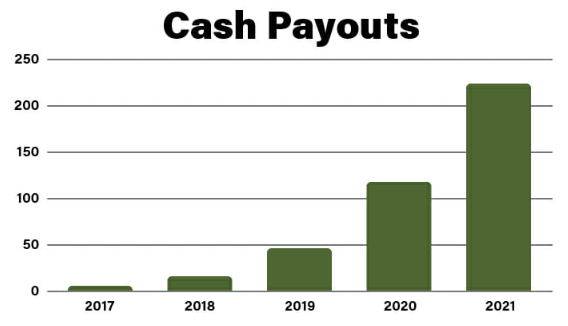 Jim is talking about Cannabis Property REITs here.
Not Just for Glassy-Eyed Stoners Anymore
Recreational cannabis is already legal in 18 states along with Washington, D.C. and medical use is legal in 38 states.
In total, nearly 80% of the U.S. now has some form of legal sale of cannabis.
Since cannabis is a real estate-heavy business, it's creating an opportunity for investors to make up to $10,248 a year in dividends by investing in cannabis property REITs.
Between brick-and-mortar dispensaries, greenhouses, and distribution centers, there's a lot to choose from. Especially since financing is often overpriced and hard to find for cannabis-based businesses because of federal laws, so very often, they choose to rent instead of buy the real estate they need.
To help us sort through all these, Jim has created "3 must-haves" for the perfect real estate investment:
Can it deliver payouts to investors and does it have the potential to deliver even bigger profits in the future?
Is it "push-button" easy to invest in?
Does it fit within the budget of average investors?
He's pinpointed three cannabis real estate companies that meet this set of criteria.
Exposing the Cannabis Profit Share Companies
Each of these picks specializes in a certain kind of real estate within the cannabis industry.
Cannabis Profit Share #1: Greenhouses
The first REIT owns 18 greenhouses and is consistently buying up new facilities.
Its CEO is a long-term real estate pro with over 30 years of experience in big industrial operations.
So far he hasn't sold a single share of his stock and has doubled his stake in the past.
The REIT Jim is teasing here is Power REIT (NYSE: PW).
Among the REIT's diversified portfolio are 22 cannabis greenhouses and counting.
Power REIT's CEO, David Lesser has over 30 years of experience in real estate investment and finance.
He is also among Power REIT's largest shareholders, with more than 600,000 shares to his name.
Cannabis Profit Share #2: Dispensaries & Growing Facilities
This next company is the largest cannabis REIT.
It owns 105 properties across the United States, from brick-and-mortar dispensaries in Colorado to a 123,000-square-foot indoor growing facility in New Jersey.
Over the last few years, this REIT has been extremely generous, with payouts to investors increasing by 1,066%.
This is Innovative Industrial Properties Inc. (NYSE: IIPR).
It is the largest cannabis-related REIT in the country by number of properties.
IIPR owns dispensaries in Colorado by way of a stake in publicly-traded Schwazze and it also owns a 114,000-square-foot (with 34,000 under redevelopment) industrial property in New Jersey.
Cannabis Profit Share #3: The Lender
Not a REIT, but this company helps cannabis companies buy real estate by providing financing.
It operates in 13 states and it has $425 million in outstanding loans.
The business has a large pipeline of $15.8 billion in prospective loans.
Jim is very likely talking about AFC Gamma Inc. (NASDAQ AFCG).
AFC is the leading provider of institutional loans to high-quality cannabis operators.
As of Q3 2022, AFC had current outstanding loan commitments of $426 million.
It has also reported total potential deals sourced at $17 billion in its latest quarterly report.
Real Opportunity to Pocket $10,248 in the Next Year?
As of last year, the median down payment adds up to $50,635 on a median-priced home of $390,000.
If it's a rental property, you would have a real shot of pocketing up to $10,248 per year after expenses, depending on the size of the property, where it is located, etc.
With Jim's "1-Click Landlord" Cannabis REITs, it would take at least double that amount to pocket the same amount in dividends, assuming no capital appreciation.
To be sure, Jim's picks aren't necessarily bad. Especially when one considers that last year many of the names were down a bunch and they are still trading at attractive valuations. But it will likely take more than the next 12 months to make 12x your money.
Quick Recap & Conclusion
Jim Pearce is teasing a "1-Click Landlord Strategy" that can be a store of wealth in times of market turbulence.
We come to learn that the strategy entails investing in "profit shares" or REITs and to be more specific – Cannabis Property REITs.
3 Cannabis Property REITs and their ticker symbols are revealed in a short special report with a long name called: 1-Click Landlord: Your Shot at Pocketing Up to $10,248 from Cannabis Real Estate Every Year like Clockwork.
To spare you some time and money, we were able to reveal all three for free as Power REIT (NYSE: PW), Innovative Industrial Properties Inc. (NYSE: IIPR), and AFC Gamma Inc. (NASDAQ AFCG).
A couple of the names are beaten down and trading at relatively low valuations. Just temper expectations and don't expect them to make new highs this year.
Are these the best Cannabis REITs? Let us know in the comment section.