Best-selling financial author and former World Bank economist Ted Bauman reveals that "something strange is happening in America" and it's creating a unique window of incredible opportunity.
He says to forget the typical $40,000 down payment on a home, because he has found a real estate pick that could be "The No. 1 Investment for the $33 Trillion Real Estate Boom".
The Teaser
The presentation starts by declaring a historic shortage in one asset that is set to soar to all-time highs, yet hardly anybody is paying attention to it.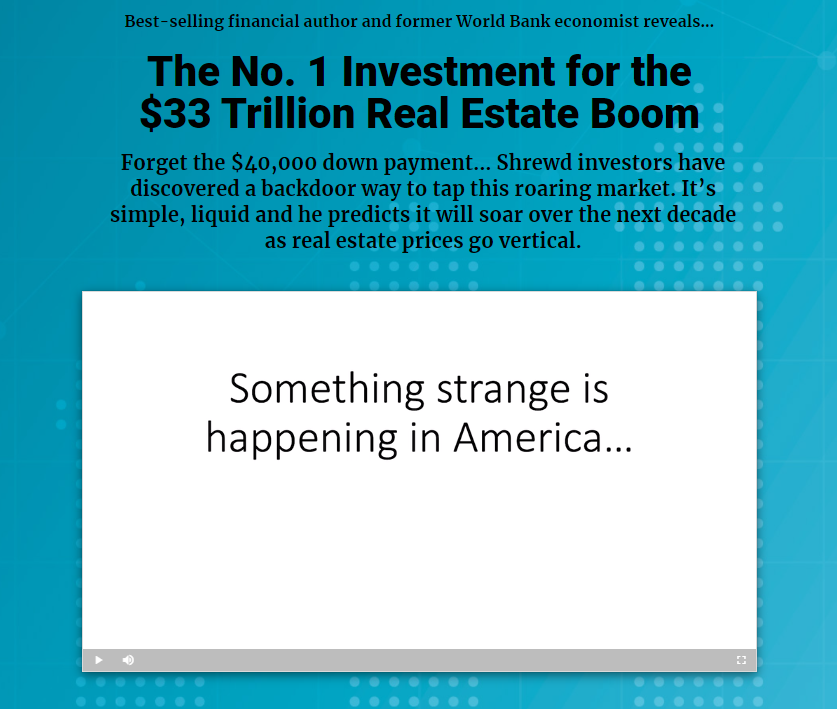 Ted Bauman is an economic historian and best-selling financial author. He joined Banyan Hill Publishing in 2013 and is the editor of The Bauman Letter, Big Picture. Big Profits. and Profit Switch. We have covered some of Ted's past presentations here, including his "Solar on Demand" Company and "Secret to 10X Wealth" Opportunity.
There is allegedly a backdoor way to invest in this asset that only the shrewdest investors on the planet currently know about. Ted says he's done a deep analysis on this stock and he believes that in the next decade, it's positioned to soar 800%. He even calls it his "Investment of the Decade".
Unlike the majority of so-called "investments" that are based on little more than speculation, bubbles, and hype. Ted says the value of this asset is set to rise because of the most basic law of economics: supply and demand. Simply put, when there's a critical supply shortage of something and demand goes up, investors can make a fortune.
It's happened time and time again throughout history. We saw it in 1973 when OPEC cut off oil supply to the west. The price of oil skyrocketed by 300% and domestic producers like T. Boone Pickens' Mesa Petroleum stepped in to fill the gap and grew into one of the largest independent oil companies in the world.
More recently, when global trade came back after the pandemic, demand for shipping containers surged! Importers and exporters faced a crisis, while shipping container companies on the other hand, hit the jackpot. Stock in companies such as the Danish shipping giant Maersk soared up to 183% in just nine months: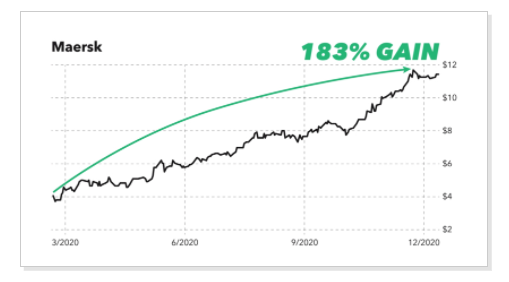 Now, this exact supply shortage is playing out with a completely unrelated asset. It has nothing to do with oil, or commodities, or shipping, it is something we simply cannot live or work without it and Ted has a stock recommendation to position yourselves now, so that as supply dwindles, we can claim our stake early.
The Pitch
Ted has put together a brand-new special report: 5X Your Money on the Investment of the Decade. We will need a subscription to The Bauman Letter investment research service at a cost of only $47 for an entire year.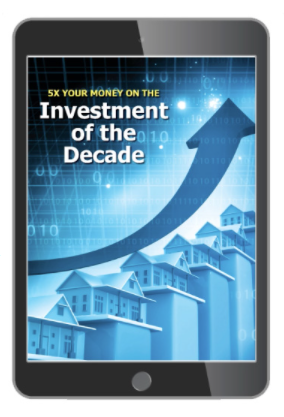 With this comes 12 regular monthly newsletters, instant access to a model portfolio, trade alerts, 24/7 access to a private website, and more.
The Factors Creating The Investment of the Decade
The "investment of the decade" and the one with 100 straight months of positive gains is the real estate market or more specifically in this case, residential housing.
Ted claims that houses just like yours and mine are becoming the hottest commodity on the planet and he has the data to back it up.
For starters, the housing market appreciated more in 2020 than at any time in the last 15 years and there are some signs that an even bigger rally is in the offing in the years to come.
Rally Signal #1
There are now more potential first-time buyers than when the baby boomers first flooded the market. This is due to the largest generation in U.S. history – millennials finally coming of age. That's 72.1 million Americans whose average age is now 32 years old.
According to the National Association of Realtors, one out of every four homebuyers in 2019 were millennials.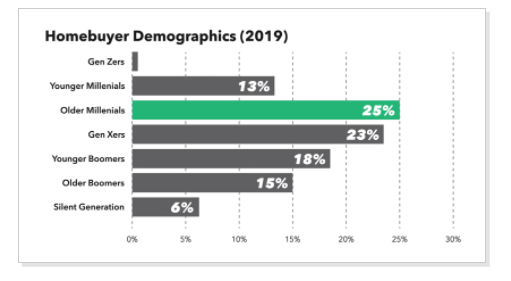 This is more than any other demographic.
Rally Signal #2
The latest data from the U.S. Census Bureau showed that last year was the 4th year of noticeable decline of millennials in major cities. They're growing up, getting married, having kids, and relocating to the suburbs, just like previous generations before them did.
Rally Signal #3
At the most basic level, houses are nothing but raw materials like cement, drywall, asphalt, and of course, lumber. Over 90% of American homes are built from lumber and the data shows that prices for this commodity are up nearly 200% since 2019.
This hasn't lessened demand however, with new building permits – the best indicator of future demand, on the rise.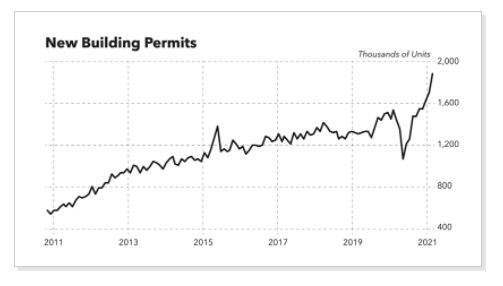 This tells us that demand for lumber won't fizzle out soon and that'll carry the housing market boom for many years to come.
Rally Signal #4
As of December 2020, the market had a 1.9 monthly supply of homes. A six-month supply is considered normal market. In other words, it's a historic shortage.
This U.S. housing supply shortage isn't likely to correct anytime soon either, as new homes are being built at the lowest rate in history due to a number of factors, from lack of skilled labor to stricter borrowing standards.
Add all this up and the real estate industry is undergoing a massive shift right now. Ted believes one company he's identified is the single best way to profit from this unique boom and we're going to find out about it next.
Revealing The Best Investment of the Decade
Until very recently, the real estate industry has been stuck in the Stone Age. Aside from listings moving online, there's been no real disruption for decades. But all of that is changing now and fast.
Ted says this one company is streamlining the entire process through its e-closing tools, technologies, and it's offering rock-bottom rates on commissions.
Seeking Alpha called it the "Amazon of real estate" for undercutting the dinosaur competition.
At the moment, it controls just under 2% of the real estate brokerage market, but with 75 million millennial homebuyers, it could grab much more an analysts are predicting five times growth.
With just under $1 billion in annual revenue, this company is just small enough to stay off the mainstream's radar…for now.
Based on this info, the company being teased here is eXp World Holdings, Inc. (Nasdaq: EXPI), which provides cloud-based real estate brokerage services for residential homeowners and homebuyers.
As Ted alludes, it is a full-service real estate brokerage providing 24/7 access to collaborative tools, training, and socialization for real estate brokers and agents through its 3-D, fully-immersive, cloud-based environment.
It has been referred to as the "Amazon of real estate" by several different outlets.
It generated just under $1 billion in annual revenue in fiscal year 2019, which is the time period that statistics in this presentation are pulled from.
The No. 1 Investment for the $33 Trillion Real Estate Boom?
True to form, eXp's brokerage business market share has grown by over 100% in the four year span up to 2019 and it is also No. 1 in 5 year transaction growth between the years 2016 to 2020.
eXp Realty's parent company – eXp World Holdings is already profitable, with a small 0.68% annual dividend to boot. Given its growth, position in the market, and high margin service-based business model, making five times your money on this one stock within the next decade is a real possibility.
Quick Recap & Conclusion
Ted Bauman tells us that a historic shortage in one asset is set to soar to all-time highs and he has an "Investment of the Decade" for us to cash in on this mega-trend.
Ted is talking about real estate here and residential housing in particular, which is being driven by some very real and very powerful factors – namely the largest demographic of new buyers in history, a great migration from cities to suburbs, soaring demand for lumber, and a historic supply shortage creating a big squeeze.
The only way to learn about his No. 1 investment in this space is by subscribing to The Bauman Letter investment research service at a cost of only $47 for the first year. This gets you a special report entitled: 5X Your Money on the Investment of the Decade, containing all the juicy details.
Based on the clues Ted left behind for us like a trail of breadcrumbs, it led us right to his pick, which is eXp World Holdings, Inc. (Nasdaq: EXPI).
There is a lot to like about eXp and its stock is well positioned to soar if the residential real estate market experiences the kind of growth talked about in this presentation.
Is the residential real estate market going to boom or bust over the next few years? Tell us in the comment section below.