Tony Sagami is here to tell us the best way to profit from what could be the most significant energy disruption of our lifetime.
One small A.I.R. Company is at the forefront of a new tech disruption in the oil industry and it could produce returns of at least 1,000% or more.
The Teaser
Here's the good news: We're at the dawn of an oil disruption that promises to tap undiscovered reserves, generate more abundant, cheaper energy, and improve the lives of billions of people in the process.
The bad news is: the people who typically end up with the bulk of the riches are those who own the greatest oil fields in the world – from the Permian Basin of Texas to the sands of the Arabian Peninsula, who spend their windfall profits on exotic pet cheetahs and other spoils of wealth. But with this energy disruption, things may be about to change.
Tony Sagami is the man. Why? He's been at the cutting edge of the financial industry for over 30 years and Thomson Financial ranked him the Portfolio Manager of the Year, not just once, but twice! We have previously reviewed Weiss Ratings – whom this presentation is on behalf of, and we have also covered some of their previous stock picks.
The last time something similar occurred in global oil markets was back in 2002. That was the last time investors saw the kind of huge breakthrough in oil exploration that Tony sees coming now.
The Last Big Breakthrough
What was this breakthrough you ask? It was fracking. You've probably heard of it, as this is the technology oil companies use to drill down into shale rock.
This is the disruption that helped the shares of 11 energy companies rise by at least 1,000% and some smaller companies beat these gains by a mile. Consider these for a moment:
Touchstone Exploration exploded by 6,878%
Scotoil Petroleum surged by 14,116%, and
Ryland Oil delivered historic returns of 14,570%
If we want something bigger than this, we'd have to go back more than a century, to 1901 when the Spindletop oil gusher gave birth to the entire petroleum industry.
Now, the stars may be aligning and the pieces coming together for a similar kind of growth because of a new technological breakthrough called A.I.R.
The Pitch
The move is to invest in a U.S. company that's the leader in A.I.R. and all the details about the stock are inside a special report titled: "How to Profit From the Coming $8.1 Trillion Oil Industry Disruption."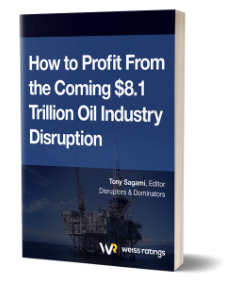 All we need is a no-risk trial to the service Tony helps edit, Disruptors & Dominators. The cost of the service is only $59 for a limited time and includes 12 monthly issues, three bonus reports, and round-the-clock, seven days a week support.
What in the World is A.I.R. Technology?
We're not talking about Nike sneaker tech here, we're actually talking about a new kind of technology that was pioneered by the U.S. Army in its early stages.
A technology so promising, that we're told it "could completely upend the oil industry as we know it today."
See, many people are completely unaware that the vast majority of the world's oil isn't buried in the sands of the Arabian Peninsula or under the permafrost of Siberia. Instead, according to the International Energy Agency (IEA) there is an estimated 270 billion barrels of oil sitting below the bottom of the ocean. And that's just the oil they say is recoverable.
Taking today's crude oil price of around $70 per barrel, that's $18.9 trillion in recoverable oil under the seas. Definitely not a rinky-dink oil find somewhere in the Midwest like we've seen others promote.
An $18.9 trillion Disruption
Until recently, any radar system that tried to penetrate deeper than 20 or 30 feet below the ocean produced data that was unreadable. Even the best engineers in the world couldn't make sense of it. It was basically a jumble of nothing.
A.I.R. technology, which stands for Artificial Intelligence Radar solves this problem.
In a nutshell, its radar systems can penetrate deep below ground or the ocean floor generating loads of data. The artificial intelligence then sorts through the data to provide a very clear picture of what's underground or under the ocean floor.
It's a powerful combination of three advanced technologies:
Big Data
Artificial Intelligence
And deep ground-penetrating radar
Together, these things can solve the world's energy supply woes, and we can grab a stake in the company with a lock on the technology for just a few bucks per share. Let's find out the name of it.
Revealing Tony Sagami's A.I.R. Company Stock
We're told to buckle up because this company could take us on a heck of a ride.
This is what we know about it:
The company isn't in the oil exploration business or even in the energy business for that matter. It's a technology company that serves the entire oil industry.
It's based in the U.S., has a lock on AI for ground-penetrating radar, and does business with one of the world's largest oil-drilling companies.
The company's stock currently sells for less than $20 per share.
While not a whole lot to work with, one possibility, albeit not a surety is Oceaneering International Inc. (NYSE: OII).
Oceaneering's subsea robotics segment provides remotely operated vehicles (ROVs) for drill support and related services.
The company is based in Houston, Texas, does business with a number of the world's largest oil-drilling companies, and its stock currently sells for a little under $18 per share.
Will A.I.R. Create the Largest Oil Boom in History?
Admittedly, I'm not a big macro guy and prefer to focus on value and business fundamentals.
But, even I can see that oil consumption and demand are not going anywhere anytime soon. Even the IEA has oil consumption blowing past 100 million barrels per day this year, which we are on track for.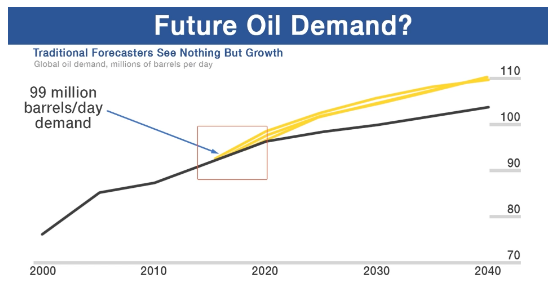 Based on the above chart, we're going to need all the oil we can get our hands on.
So if this technology can help get oil reserves off the U.S. coastline out of the ground, it would create a boom. How likely is it to do so?
Ground Penetrating Radar (GPR) has its limitations, not least of which is the fact that it is an added cost to already expensive offshore drilling, which by some estimates costs the equivalent of $49 per barrel of oil.
Add in the other major factor of moisture, which there is an abundance of in deep-sea drilling, causing difficulties in generating accurate soil snapshots, and we have a technology that is a value-add, but as we can see, not completely fool-proof.
As AI continues to become more sophisticated and affordable, GPR could be the solution the oil industry needs to crack the deep-sea drilling code. But we are still years away from this happening.
Quick Recap & Conclusion
Tony Sagami is teasing a small A.I.R. technology company that could be the key to unlocking trillions in undiscovered oil.
We learn that A.I.R. stands for Artificial Intelligence Radar, which allows oil drillers to penetrate deep below the ocean's floor, retrieve, and sort big data, painting a clear picture of what's underground.
One trailblazing U.S.-based company is at the forefront of this technology. Its name and ticker symbol is revealed in a special report titled: "How to Profit From the Coming $8.1 Trillion Oil Industry Disruption."
Based on the limited clues we were provided with along with some serious internet sleuthing, one name that loosely fits the bill is Houston-based Oceaneering International Inc. (NYSE: OII).
A.I.R. is essentially Ground Penetrating Radar (GPR) with AI layered on top. This is a relatively new innovation that shows a lot of promise, but viable implementation could still be a few year's away.
Is A.I.R. the magic bullet for ocean floor drilling? Tell me what you think in the comment section.