A new batch of "Phase 2 Cryptos" is following the path of Bitcoin and Ethereum and Stephen McBride is here to show us an easy way to buy them for as little as ½ a penny.
We are told that this is "the best-kept secret in the world, and maybe the history of financial markets", with the most asymmetric payoff opportunity of our lifetime. Let's find out for ourselves.
The Teaser
Before we get to "Phase 2 Crypto", lets first figure out what "asymmetric payoff opportunity" means. Stephen tells us that up until now, bitcoin was probably the greatest asymmetric investment of all time.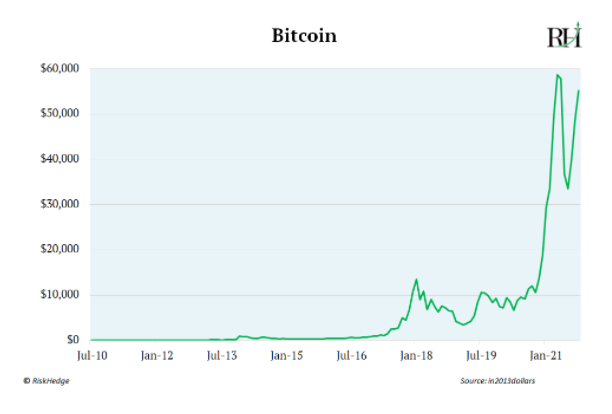 It's price surged 5 million percent! Early adopters who invested as little as $10 in bitcoin are now sitting on $500,000. This is asymmetry to the extreme. Turning a tiny investment, in this case a $10 bill, into a windfall.
Stephen McBride is a professional investor and the chief analyst at RiskHedge. While working at a billion-dollar financial institution in New Zealand, Stephen realized the corporate life wasn't for him and began his journey around the world and into investments that are off the beaten path. Crypto-related presentations are nothing new to us, in fact we have recently reviewed Michael Robinson's Metaverse Stocks & Crypto Play and Tom Gentile's "Crypto's Third Wave" Picks, among others.
Clearly, this kind of gain is no longer possible in Bitcoin. However, it is important to remember that bitcoin was a tiny, experimental asset in the beginning. Today, bitcoin's more mature and much more mainstream, with a market value around one trillion dollars. This is because the technology behind bitcoin – the same technology that's behind Phase 2 cryptos, is truly revolutionary. Mark Cuban, the billionaire Shark Tank star, says the state of this technology today is like the early days of the internet.
Stephen thinks it easily has 50X upside as its trigger moment approaches. This is due to its special technology which allows investors to earn up to 83X more interest than the average US savings account pays. There's no question that we're in the early stages of the total disruption of money, which in and of itself is a huge deal, since the one thing that hasn't changed much at all in the last 20 years or really in the last 100 years, for that matter is money.
Investing in "Phase 2 Cryptos" is equivalent to investing in technology that's disrupting finance and Stephen has not 1, not 2, but 3 picks for us to do this through.
The Pitch
Predictably, this info is available exclusively to members of RiskHedge Venture and a membership is not cheap. It starts at $3,000 per year for a limited time only.
Member benefits include all the Phase 2 crypto picks, at least one new crypto pick per month, specialized support, and more.
What is the Technology Behind The Phase 2 Cryptos?
It should come as little surprise that what famed venture capitalist Mark Andreesen has called "the most important technology since the internet", is The Blockchain.
Blockchain growth is blowing the internet out of the water. The distributed ledger technology currently growing by a staggering 115% per year. That's almost double the growth rate of the internet in the '90s.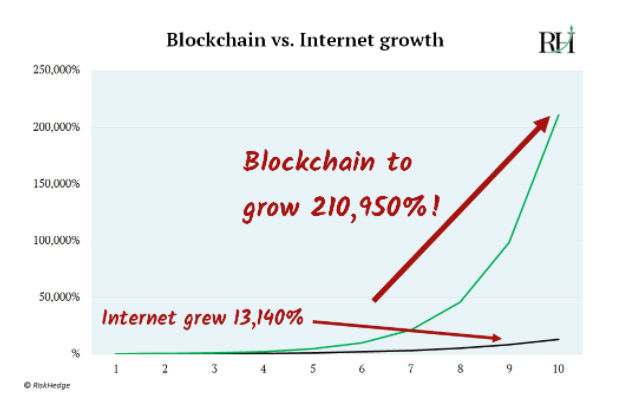 Keep in mind, the internet was the greatest engine of wealth creation in history. It gave us Netflix, Google, Amazon, Facebook, Shopify, PayPal, Apple, Microsoft, and dozens of other stocks that skyrocketed 5,000%+.
Imagine what blockchain technology that's growing twice as fast means. Say for example, if you could buy shares in the "http" internet protocol in 1990? These protocols would literally be worth trillions of dollars today, because they are the backbone of every transaction we make on the internet.
However, these protocols are "open source" meaning no one owns them. There was no way to invest in them. This is the major difference with cryptos. We can invest directly in the underlying technology. The same principle also applies to individual crypto coins. Stephen looked at every single crypto ever listed on Coinbase, all 104 of them and he found that the biggest gains often start BEFORE the Coinbase listing.
As an another example, look at the small crypto RLC. It first listed on Coinbase at $4.36. It proceeded to immediately jumped in price, as cryptos often do at their Coinbase trigger moment. Had we bought RLC the day it was listed, we could've made a 167% gain in 4 days. But had we bought RLC before it listed on Coinbase, we could've paid just 15 cents a share. That's a 96% discount from the $4.36 we would've paid on Coinbase. Even if we bought it the very first day and by getting into RLC at 15 cents, our gain is now 7,460% or 45x our money!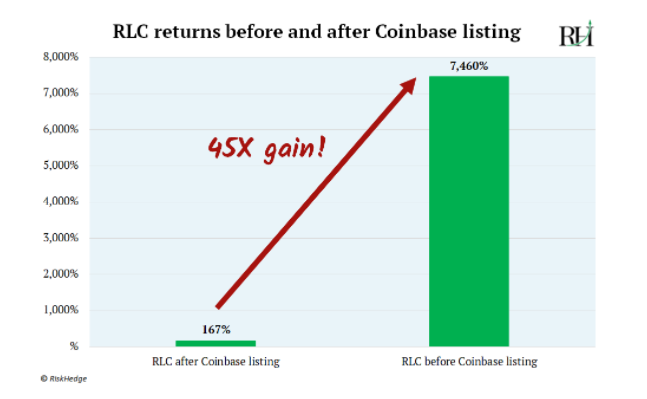 It's a good thing Phase 2 cryptos are still in the very early stages, which is why many of them are still available for a few dollars. Or in some cases, just a few pennies. Stephen is going to tell us about the 3 most lucrative Phase 2 cryptos that he's targeting. Two of them trade on Coinbase already and one is tiny and is not yet listed on Coinbase.
Revealing the Phase 2 Cryptos
There is a lot to go over, so let's get straight to it.
#1 Phase 2 Crypto
The first pick is Solana (SOL) or the "faster Ethereum". Solana is a base layer crypto, just like Ethereum and it has built the world's fastest blockchain. Stephen expects Solana will be the go-to crypto for big industries like sports betting, music streaming, and digital art.
#2 Phase 2 Crypto
The second Phase 2 pick is small. Its only about 1/10th the size of Solana and about 1/300th the size of bitcoin. This crypto owns the main blockchain protocol that allows people to borrow and lend money directly to each other.
This sounds a lot like Aave (AAVE), which is a decentralized, open-source lending protocol built on the Ethereum blockchain where users can lend and borrow a wide range of cryptocurrencies. Using the Aave protocol, buyers can deposit crypto into a pool to earn interest on their deposits. At a current market cap of around $2.2 billion, it is roughly 1/10th the size of Solana.
#3 Phase 2 Crypto
This one is truly tiny. It doesn't even trade on Coinbase yet. It's only 0.02% the size of bitcoin, for now and lets customers earn high rates of interest on their crypto balances. The interest is paid daily and the best part is that you keep possession of your capital while earning high rates of interest every day.
After some digging, we think Stephen may be talking about Lido DAO (LDO) here. It's not currently traded on any major crypto exchange, is around 0.02% the size of bitcoin, given its current market cap of only $42 million, and it has lending and borrowing capabilities with ETH, SOL and other coins.
Make 50x Your Money?
We have said this here before and we will say it again, as it is particularly applicable to this presentation and crypto coins in general.
Peter Lynch long ago told us to "buy what we know". Since I'm assuming no one reading this is an expert on micro-coins like Lido DAO, buying a basket of such coins is the approach we would take. That is, if we were buying crypto at all, as there are better physical assets to be purchased during the current tumultuous economic times.
Quick Recap & Conclusion
Stephen McBride introduces us to something called "Phase 2 Cryptos", which can be bought for as little as ½ a penny and which aren't listed on major crypto exchanges.
There are 3 lucrative Phase 2 cryptos that Stephen is targeting. Two of them trade on Coinbase already and one is tiny and not yet listed on Coinbase.
This info is available exclusively to members of RiskHedge Venture, which costs $3,000 per year. For this price, you get all the Phase 2 crypto picks, at least one new crypto pick every month, specialized support, and more.
The first pick was revealed as Solana (SOL) and we were able to identify the two others as Aave (AAVE) and Lido DAO (LDO), respectively.
As with most volatile, erratic, alternative assets, diversification is advised and even implored, if purchase is absolutely necessary (it isn't). Especially when it comes to small, obscure crypto coins that are not even traded on most exchanges.
What's the best "phase 2 Crypto" Coin? Tell us in the comment section below.