How would you like to turn as little as $1,000 into $313,000 before Christmas? You could enjoy a few months or years of worry-free living, pay upfront for a part of your mortgage, buy a new car, finally afford that vacation you kept on postponing, or simply invest your new revenues into your stock portfolio and live off returns.
Such a claim is made by Alex Koyfman to appeal to his fan base in his latest marketing letter, where he teases a "forever memory company" that is said to significantly increase your returns by December 8th, 2020. As exaggerated as it may seem, Koyfman is known for claiming his 50-50 stock investment predictions have helped people earn six figure-incomes in just a matter of years by betting on innovative companies and breakthrough technologies.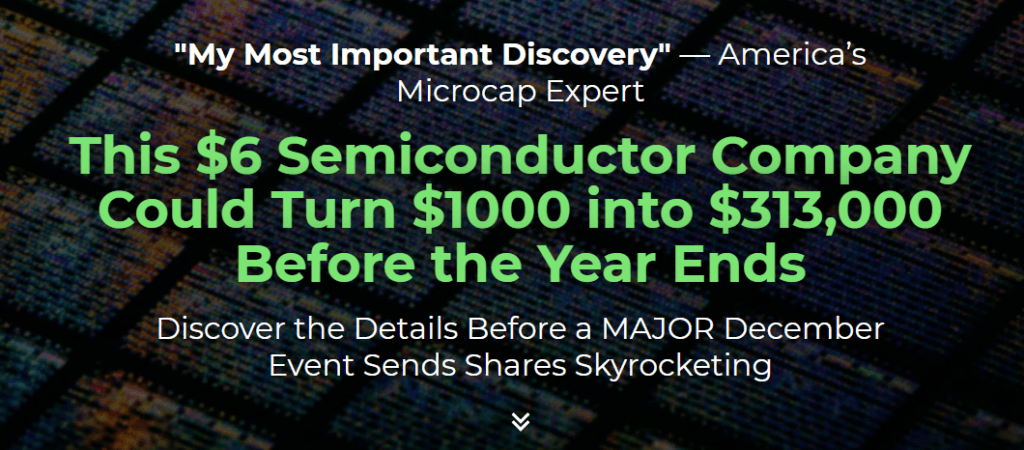 So, could this new forever memory stock turn you into a newly minted millionaire? You are told that you will get valuable intel and inside information by subscribing to Koyfman's Microcap Insider, a 12-month newsletter that includes weekly content, recommendations, and market updates, as well as the special report "Forever Memory: Retire Rich on the Semiconductor Revolution."
The price is $999 but, unlike many other similar authors and financial "gurus", Koyfman offers you a 90-day money-back guarantee. This time, he doesn't claim to offer two different services but, instead, re-branded his old Penny Stock Millionaire that has been running for the past five years or so, at the same cost.
Similar to other penny stock pickers, Koyfman has had his fair share of successful predictions (including Exro) and failures (Crop Infrastructure, Patriot One), among others. Let's take a closer look at the program and see if it could be a potentially good investment of your money. 
Who is Alex Koyfman?
According to his bio, Koyfman was born in the Soviet Union before fleeing to the United States where he started a successful career as an active stock trader. In the early 2000's, he made his "first 6 figure trade on the crumbling WorldCom stock", buying it for as low as 7 cents and then reselling it for over 35 cents. 
The experience opened his appetite for technology investments, especially in micro-cap companies, which ultimately have become his main area of interest and expertise. He also kept a financial blog for a couple of years before dedicating his time completely to newsletter writing and stock trading.
The Opportunity – Retire Rich on the Semiconductor Revolution? 
Before getting into details on the company teased in Koyfman's latest newsletter, we should talk about the opportunity that may lie in this new industry being advertised. According to Koyfman, he has found a chip maker that will most likely revolutionize memory technology. This new technology is supposed to hold data without consuming power, which seems to be the key to the Internet of Things and the new 5G connection pushed by big telecoms throughout the world. 
So, what's with the specific deadline of December 8th? Koyfman claims that investing in his latest discovery by that time will dramatically increase your chances of securing gains before the rules on 5G and other similar technologies change under the new legislation. The ad states that "forever memory has unlimited endurance [and] it can't be overstated how much digital progress depends on this innovation."
The Forever Memory teased by the author "works by manipulating the spin of electrons with a polarizing current that establishes a magnetic state to program, or write, the bits in the memory array". The data stored in this new Forever Memory uses "magnetic elements and, once magnetized, the storage elements don't require any power at all."
The urgency of investing in this company teased by Koyfman is that the wireless infrastructure of the Internet of Things "is about to come online" and "will be switched on by the federal government on December 8, 2020."
The so-called revolutionary technology is defined as Magnetoresistive Random Access Memory (MRAM), and there are many scientific articles available for reading if you wish to learn more about the technology, how it works, and how it can change the tech world as it is today.
The Company Being Teased 
Although the ultimate goal of the newsletter is for people to subscribe to Koyfman's 12-month program, the author does tease a company in the field that will, most likely, make a good investment in the short term, according to his predictions. 
The first hint of the company teased states that "given this company's size (it's currently valued at $120M), the potential for growth in the next few years is easily comparable to the gains early investors in semiconductor giant Intel made when its stock skyrocketed 19,803%."
The second clue being teased by Koyfman states that "this company is one of the very few in the world that can make Forever Memory, thanks to the 220 U.S. patents it owns."
Finally, there are also claims that NASA "released a study about it back in 2013, saying this company's Forever Memory is the technology of choice for space systems in the upcoming years".
Koyfman continues his pitch by showing several documents that "prove" this technology is in high demand and this is why his clients should act on it as soon as possible and subscribe to his newsletter to find out the company's name.
Putting all the clues together, it was pretty easy for us to discover that the company being teased is Everspin Technologies (NASDAQ: MRAM), one of the only companies on the market (so far) to develop and sell the previously mentioned MRAMs. 
You can also get your hands on a 2013 NASA report quite easily if you want to cross-check Koyfman's words and read more about MRAM, although the report doesn't specifically mention Everspin Technologies.
The company was venture-funded around 5 years ago, most of the funding coming from other big companies in the field of chip and memory space, such as GlobalFoundries and Western Digital. Without getting into too much detail about these two companies, it does seem like they have encountered success by building a niche with high-spec customers, including the military. 
The new-founded company, Everspin Technologies, went public only weeks before the 2016 presidential elections, debuting at $8 per share. The stock has had its fair share of ups and downs after its debut, only for it to fall again in 2019. 
Unlike many other similar reports from various financial authors, Alex Koyfman doesn't tease any other company apart from Everspin Technologies, which may point to the fact that the market isn't yet mature enough to attract new competitors or expand the technology so that it becomes broadly used.
Good Opportunity Or Forever a Laggard? 
Although the business has been steadily chugging along, but it hasn't recorded any notable growth yet, which contradicts Koyfman's claims of it being one of the best investments for your money over the short term. 
Upon further investigation, Everspin Technologies specializes in "Toggle MRAM, spin-transfer torque MRAM, and embedded MRAM products, as well as magnetic sensors and aerospace and satellite electronic systems". 
Given the company's profile and predilection for military and state-sponsored contracts, it is unlikely that it will reach the promised returns Koyfman enthusiastically predicted over the short-term, as such things usually take years to really scale up. 
This is yet another case that proves, not every company that promises to deliver "the new it product or service" is worth your hard-earned money. Similar to other new companies in IT, 5G technologies, robotics, cryptocurrencies or "tech royalties", investing in a forever memory company isn't likely to bring you out-sized returns in the short term and definitely not by December 8, 2020, as Koyfman suggests.
If you are willing to give this investment opportunity a chance, most likely you'll have to wait for the market to mature and discoveries to be implemented nation-wide, including in the 5G sector, before seeing any noticeable change in your stock portfolio.
Quick Recap & Conclusion
Alex Koyfman is an active stock trader and a full-time financial writer, teasing his latest discovery via his newsletter -"Microcap Insider" for $999 per year. He includes one special report entitled "Forever Memory: Retire Rich on the Semiconducter Revolution", as well as two other special reports, real-time buy and sell alerts, weekly issues, VIP service, and "complete research for every recommendation."
We revealed for free that the company teased is Everspin Technologies (NASDAQ: MRAM), a five year old company that specializes in "Toggle MRAM, spin-transfer torque MRAM, and embedded MRAM products, as well as magnetic sensors and aerospace and satellite electronic systems". 
There are no other companies teased, partly because Everspin Technologies is one of the few on the market to produce this "forever memory".

Based on our research and the current market opportunities, investing in stocks in this particular company won't bring you significant returns in the short term, especially not by the end of 2020. Although there are chances for this niche to really grow and shares of companies in the space to increase, it will likely take years not months for the market to mature to this point.
Do you feel confident enough about investing in MRAM technology? Do you think Everspin Technologies' stock will rise far above its current market value? What other similar fields might be better investment opportunities in the short run?