Jason Williams says the future of energy isn't solar or wind, but rather a very unique type of energy system called the "Newton Battery".
It's unlike anything the world has ever seen before and the little company behind it could soar for 15,900% gains.
The Teaser
The presentation begins by calling attention to a new power source that is cheaper, easier, and safer than anything that is available on the market today.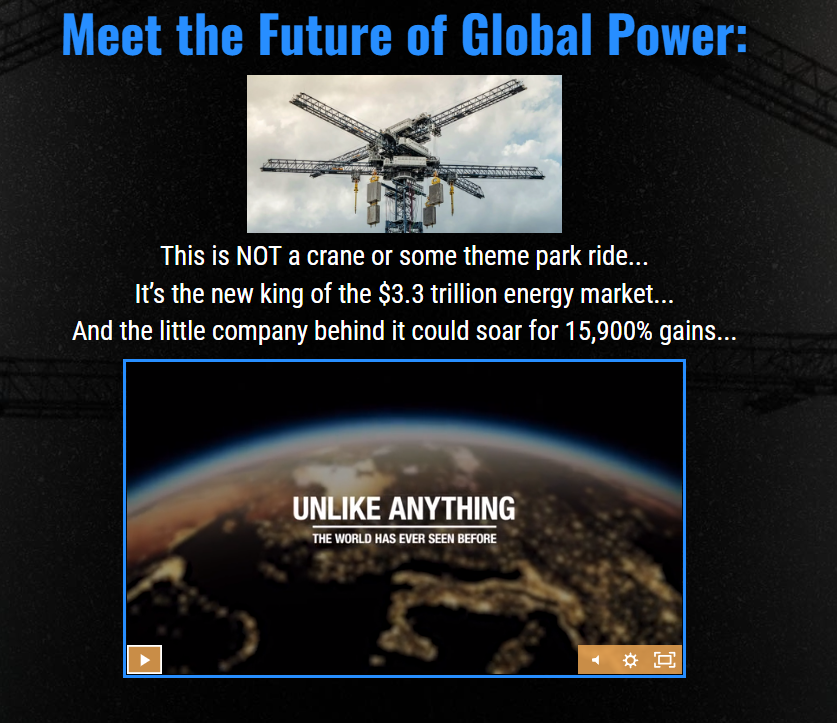 After attending the University of Baltimore's internationally accredited Merrick School of Business and going to work for the U.S. military. Jason Williams got his start in the financial world working as an investment banking analyst for Morgan Stanley. It was here that Jason made the connections that built his network which would help him start his own family office and make his first angel investments. We have reviewed several of his presentations here in the past, including his "Electric Glass" Company and "Farm Cash" Opportunity.
Getting back to this presentation, the "future global power source" is only possible because of a huge technological breakthrough, that is able to store power using common industrial materials like steel and concrete. Not only is it able to store power, but it also retains it as well. Unlike the lithium battery inside our phones or in an electric car that constantly leak power, the charge in this battery will and quote "NEVER deplete".
A dream come true right? Perhaps, if only more people knew about it. As currently a full 99% of the population aren't even aware that it exists. The company behind the so-called "Newton Battery" only recently went public and its still flying under the radar…for now. So what gives this energy storage system its true competitive advantage?
First, a word about the problem the Newton Battery solves, as its huge! With the push that renewable energy is receiving from federal governments by way of direct subsidies and the direct investments made by private industry – over $100 billion in 2021. Renewable is expected to account for 90% of total energy generation by 2050.
This is going to require ever larger amounts of storage capacity, as storage is after all the key to making renewable energy work. This is what the company behind the Newton Battery has perfected, by creating a proprietary energy storage system that doesn't rely on rare earth minerals, metals or anything that is constrained by supply.
The Pitch
This is the part of the presentation where we get down to brass tacks, as in order to find out more, including the name and ticker symbol of the company behind the "Newton Battery" we will need a subscription to Angel Publishing's nanocap advisory service, Future Giants.
This will set us back a cool $1,999 and give us unrestricted access to a special report entitled: Newton Battery: The New Emperor of Energy Storage, containing all the details we are after and a few extras thrown in as well.
What in the World is the "Newton Battery"?
The unconstrained force behind the "Newton Battery" scalable energy system capable of meeting the needs of the world's largest energy storage customers is, gravity.
The revolutionary physics behind the system are based on the fundamentals of pumped hydroelectric energy storage (PHS) and combines advanced materials science with proprietary machine-vision software to collect excess energy from nearby sources such as solar and wind farms, which it then stores in custom-made composite blocks in this amusement park from hell looking contraption:
Think of it as a new form of hydropower, instead of harnessing the weight and power of water via a dam you're creating that weight and power with electricity. So the energy storage platform being touted is really Pumped Storage Hydropower (PSH).
Whether this can charge, store, and discharge electricity in grid-scale applications remains to be seen, but some big name investors apparently think the technology is promising enough and are piling into it. Among these are Saudi Aramco – the Saudi Arabian Kingdom's oil company and Bill Gates, who is "investing over $60 million into it".
Jason backs this sentiment up by saying that "no other battery in existence measures up" and this excess energy solution is the best in the market. The deals it has inked with some of the largest Fortune 500 corporations in the world to help accelerate their decarbonization goals are a testament to this. Let's find out the name of the company claiming to hold the key to effective and sustainable energy storage.
Revealing the "Newton Battery" Stock
Several tips are dropped throughout the presentation about the business behind battery. Here are the ones which led us directly to Jason's pick:
We learn that this company's technology has already been implemented in Switzerland and the aforementioned Saudi Aramco is also using it.
Its stock is currently selling for around $10 per share and became a publicly traded company earlier this year.
The company develops gravity-based, grid-scale energy storage solutions.
Based on this info, the company being teased here is clearly Energy Vault Holdings, Inc. (NYSE: NRGV). We know this because:
Energy Vault is a Swiss-based startup that completed mechanical construction of a first of its kind, grid-scale customer demonstration unit (see image above) which is located in Ticino, Switzerland.
Its stock currently trades just above $10 per share and it became a publicly traded company earlier this year via a combination with a listed SPAC.
Per its own description, Energy Vault's "energy storage systems are designed to be cost-efficient, reliable, and environmentally sustainable over a 35 year technical life, using gravity to store and release renewable energy on-demand".
Is it really the future of global power?
Legit Opportunity to Make 15,900%?
Prior to the start of the current decade proprietary gravity-based energy storage technology and a energy storage management platform would have been novel and awe-inspiring.
Today…not so much, as there are many competing battery storage solutions on the market, from lithium ion to zinc to vanadium flow, and others. Energy Vault's value proposition is predicated on its proprietary tech, which pledges to significantly reduce cost of energy by 30-40% compared to current alternative storage technologies, while maintaining power reliability, and being relatively low cost. Is this enough?
Per the company's own November 2021 investor presentation, they are projecting to be cash flow positive by 2024, which sounds very aggressive, seeing as how anticipated revenue for fiscal year 2022 is expected to be only $200 million and capital expenditures to build and maintain industrial scale energy storage systems are significant to put it mildly.
As with most startups and speculative ventures, I would expect significant dilution via additional share sales, warrants, and options before NRGV ever reaches anything close to profitability. For this reason and the unproven tech, which admittedly I am no expert in, I would stay away for the time being or at least until its energy storage solution gets past the test installation phase.
Quick Recap & Conclusion
Angel Publishing's Jason Williams believes that the future of energy is a very unique type of system called the "Newton Battery".
We learn that the force that makes the "Newton Battery" go is gravity and the energy storage solution is based on the fundamentals of pumped hydroelectric energy storage (PHS).
To get the name and ticker symbol of the company behind the "Newton Battery", we will need a subscription to Angel Publishing's nanocap advisory service, Future Giants. This costs $1,999 and gives us direct access to a special report entitled: Newton Battery: The New Emperor of Energy Storage, containing this info.
There were enough clues peppered throughout the presentation to be able to reveal the name of the stock right here for free as Energy Vault Holdings, Inc. (NYSE: NRGV).
NRGV is still at the speculative stage, as it only has a few test iterations of its proprietary energy storage solution installed at this time. I'm staying away until this changes.
Are gravity-based energy storage solutions the key to commercializing renewable energy or is there something better out there? Let us know in the comment section below.