Will the next two years generate more wealth than the previous 20 combined? This is the question Bill O'Reilly poses to us at the start of The Oxford Club's latest presentation.
Bill lists off some of the maladies currently afflicting the country – from tax hikes to millions of Americans still being out of work before introducing New York Times bestselling financial author Alexander Green, who in contrast to our host says that "historic wealth creation is coming". Let's find out if there is any truth to this.
The Teaser
Bill responds to Alex's claim about "more wealth being generated in the next two years than in the past two decades" by saying what we are all thinking, that it "almost sounds crazy". Alex shrugs this off by stating a cold hard fact: America, despite its corrupt media, inept political leaders and gargantuan debt, is still made up of the freest and most dynamic group of innovators on earth.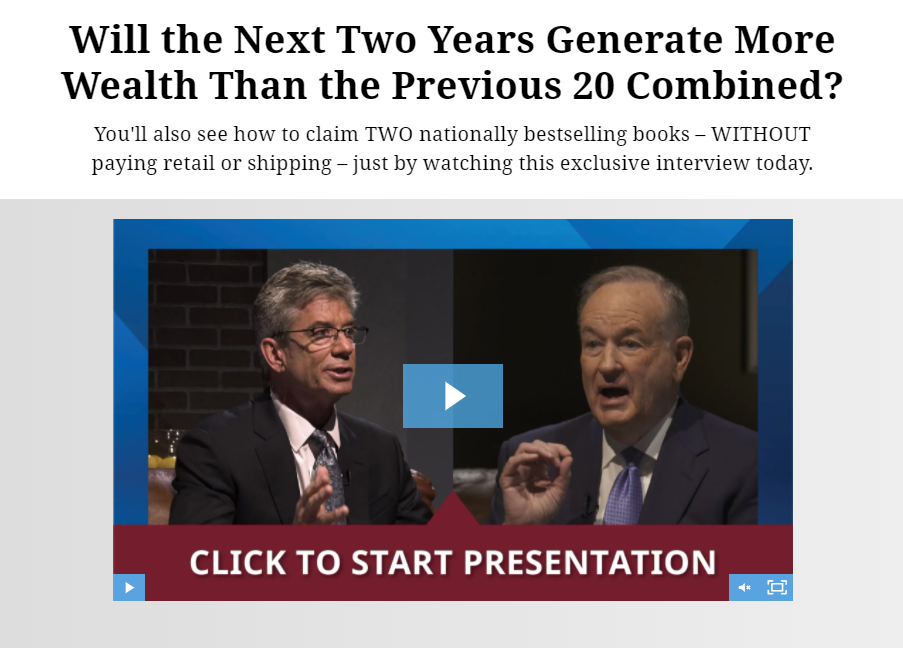 Alexander Green is the Chief Investment strategist at The Oxford Club. He spent 16 years on Wall Street as a research analyst, an investment advisor, and as a registered portfolio manager, before truly dedicating himself to "mastering the art and science of investing", which is what his research and writing is dedicated to today. We have covered a variety of Oxford Club presentations here in the past, including but not limited to The Oxford Club's "Infinite Energy Stock" and Matthew Carr's "Ultimate Growth Stock".
The technological advances we've seen over the past 100 years give credence to what Alex is saying, countless medical and surgical breakthroughs, the assembly line, the television, advent of the internet, personal computers, smartphones, e-commerce, space exploration, with more to come.
The "more to come" part is what Alex specializes in – identifying great companies that are creating cutting-edge new technologies, launching breakthrough products that reward shareholders along the way. He tells us that he's pinpointed four specific innovations that he believes will change the world and most importantly, benefit shareholders in a big way.
These he foresees paving the way for a record number of new millionaires to be minted, more stock market all-time highs being made, and a new prosperity in America that seems inconceivable today.
The Pitch
If we want to find out more about Alex's ag-tech, medical device and other picks, we will need to get a hold of the Innovation Accelerator Playbook special report. This will set us back $49, but contains the info we are after and also comes with some other perks.
Among these are 24/7/365 access to the Oxford Trading Portfolio, along with our three other model portfolios, Alexander Green's New York Times bestselling book The Gone Fishin' Portfolio, Bill O'Reilly's brand-new book, Killing Crazy Horse, and more.
What in the World is The Innovation Accelerator Playbook?
This is nothing more than Alex's guide or "playbook" for positioning yourself for the incredible wealth creation that's coming.
The first chapter of the guide is all about the profitable, yet controversial molecular biology field of messenger ribonucleic acid or mRNA, which Alex thinks might be the single greatest innovation of this century. No comment here, as these are still too new to assess the efficacy of in our humble opinion. A process which will take at least several more years to flush out.
Moving on, Alex tells us about a little-known phenomena by the name of 10G. To be clear, we are not talking about the newly rolled out fifth generation (5G) of cell networks here. Instead, 10G refers to the cable broadband network, which delivers broadband to your house and "10G" stands for "10 gigabits per second (Gbps)". This 10G is supposed to be more than 100 times faster, more reliable, and more secure than today's home and business networks, solving many of today's issues brought about by the increase in demand seen over the past year and a half.
The next company truly does deal with one of the biggest problems before us today, which is how to feed everyone on earth. Alex thinks this problem will be solved by Vertical Farming. This is exactly what it sounds like, with vertical farming, crops are stacked in layers that can go hundreds of feet high.
New, specialized LED lights ensure that all of them can conduct photosynthesis, while hydroponic and aquaponic technologies allow growth in far less soil than ordinary farming requires. With vertical farming, produce can grow year-round, pesticide-free and this all results in an exponential level of production.
Last, but not least is a robotics company founded by three scientists from MIT's Artificial Intelligence Lab, whose robots have been deployed in Iraq, Afghanistan, and to defense forces around the world.
Let's find out the companies behind these innovations.
Revealing the Innovation Accelerator Stocks
Since there are four companies and a fair amount of details provided on each, we simplified things by revealing each, one by one.
10G Company
Alex says he's got a new company that's "way out front in 10G", while everyone else is focused on 5G.
He says this company is building networks that "that will fuel innovation and the economy of the future".
It's got patent-protected technology that allows it to digitally add more transmission to existing cable boxes.
What gave it away was this quote by its CEO: "While the world is talking about 5G, we're proud to be part of this extraordinary movement to 10G. We're already launching entire Gigacities and that's just the start". The company being teased here is Liberty Global Plc (Nasdaq: LBTYA) and its CEO Mike Fries made the above comment in early 2019.
mRNA Company
While Moderna is focused on COVID-19, the company Alex has identified is pushing forward, using mRNA technology to tackle all the worst diseases, such as cancer, heart disease, and several other rare diseases.
This company also has patented technologies that can "can send messages inside the cells to shut down the production of bad cells".
It recently announced FDA acceptance of an investigational New Drug Application (NDA). This drug is the first clinical-stage candidate to emerge from its collaboration with Eli Lilly.
Based on these clues, especially the last one about a collaboration with Eli Lilly, the company Alex is talking about here is Dicerna Pharmaceuticals Inc. (Nasdaq: DRNA).
Vertical Farming Company
As of right now, Alex thinks there is one publicly traded company that makes perfect sense in this space. Its a fast-growing retailer that owns and operates a chain of stores selling equipment for hydroponics and organic gardening.
It's expanded to 36 locations across the United States in 2021, up from 25 the year before.
It recently acquired the largest hydroponics operator in Southern California. A deal that is expected to add an additional $20 million in recurring annual revenue.
The company being discussed here was pretty easy to pinpoint as GrowGeneration Corp. (Nasdaq: GRWG), as it bought out Southern California's largest hydroponic operation last December.
Robotics Company
This former military contractor has truly reinvented itself in 2021 and is now creating robots for practical use in homes, pool and lawn maintenance, retail businesses, and more.
The company's CEO says advancements in computer vision and the ability for robots to map out a home or business make such devices possible.
According to Bloomberg, Alex's favorite robotics company is now working on a fully integrated smart home with robotic helpers.
The robotics company being hinted at here is none other than iRobot Corp. (Nasdaq: IRBT) and its CEO Colin Angle revealed the details in the last clue to Bloomberg at last year's Consumer Electronics Show in Las Vegas.
Above Average Returns from Innovation Acceleration?
All of Alex's picks can without a doubt be classified as growth stocks, with fairly high valuation multiples. Except for Liberty Global that is, which currently carries an earnings multiple of less than 5x and is also owned by Warren Buffett's Berkshire Hathaway.
Liberty is a huge broadband internet, video, and mobile communications services provider to residential and business customers, making it the company with the most stable operations out of all of Alex's picks. If you're in the market for a bargain with upside potential that isn't too far off in the distant future, Liberty deserves a closer look.
Quick Recap & Conclusion
Host Bill O'Reilly introduces us to The Oxford Club's Chief Investment Strategist Alexander Green who exclaims that "historic wealth creation is coming".
Alex says he has identified four break-out companies that are creating cutting-edge new technologies and launching breakthrough products that reward shareholders along the way. They are part of his Innovation Accelerator Playbook.
In order to find out the names of Alex's four breakthrough picks, we will need to obtain a copy of the Innovation Accelerator Playbook special report. This costs only $49 for a limited time and comes with a slew of other bonuses, including Alexander Green's New York Times bestselling book The Gone Fishin' Portfolio.
If you would rather keep your money with the holidays coming up, we understand and revealed all four of Alex's picks right here for free: Liberty Global Plc (Nasdaq: LBTYA), Dicerna Pharmaceuticals Inc. (Nasdaq: DRNA), GrowGeneration Corp. (Nasdaq: GRWG), and iRobot Corp. (Nasdaq: IRBT), so you can do just that.
Of the lot, Liberty Global represents the best current bargain, while vertical farming – GrowthGeneration and Robotics – iRobot Corp. may be the highest flyers, with the most potential upside.
Are you invested in any Innovation Accelerator sector at the moment? What space do you see as having the largest potential upside? Tell us in the comment section below.