In one of the latest marketing ads from The Oxford Club, investor and author David Fessler talks about two different electric vehicle companies that he claims are going to revolutionize our lives in the next few years. He describes each one of these companies in detail in what he calls – "The Charging King" and "The Battery Disrupter".
He is calling this "the no. 1 profit opportunity of 2021" and says that "in the next couple of years, we'll have all-electric versions of the Mustang, the F-150 pickup, and even the GMC Hummer". Let's see what info there is to back all this up.
The Teaser
David starts by saying that huge companies like Apple, Amazon, and Uber are investing heavily in electric vehicles (EV), with Apple set to produce its first electric car in 2024 and Uber pledging to offer 100% of its US rides with electric vehicles by 2030.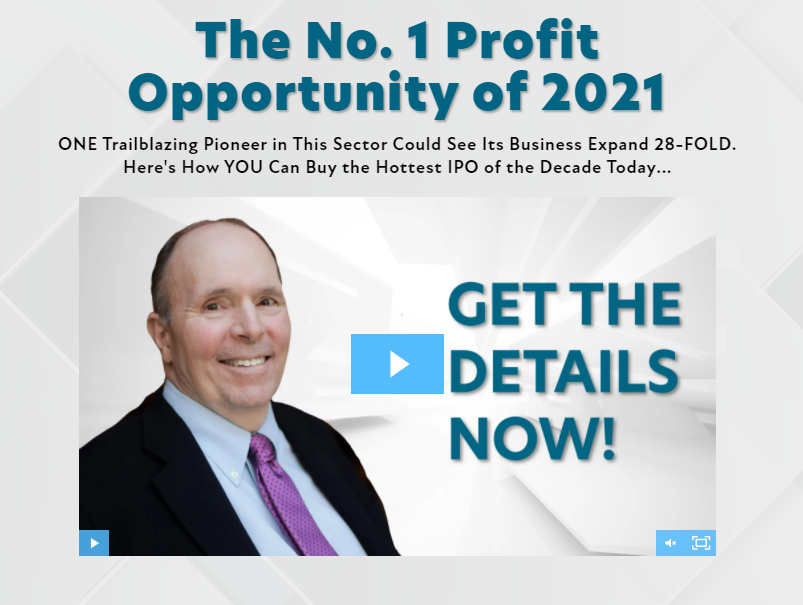 David Fessler is the Engineering Strategist of The Oxford Club. He has been actively trading stocks for almost five decades and works to identify and invest in major technological disruptions before others ever hear about them. He has also authored a book: The Energy Disruption Triangle: Three Sectors That Will Change How We Generate, Use, and Store Energy. We have covered plenty of EV themed teasers here, including Charles Mizrahi's "L5" Autonomous Vehicle Stock and The Motley Fool's One Stock for The Self Driving Revolution.
One reason behind what may seem like a sudden change in these companies' long-term operational strategies is a "$44.5 billion government windfall that is about to kick the industry into overdrive". This is of course part of the Biden Administration's $2 trillion 'infrastructure' plan, which could make EVs an even hotter market, as it contains a provision that could solve the BIGGEST problem facing the EV market today: the scarcity of EV charging stations.
Interestingly, David exclaims that "he's doing the same thing with his own money" and that he has a significant amount of his own investable assets spread out across companies in the EV sector. While he's not invested in any of the companies he's going to share with us today – I had a hunch, they are two of his favorite stocks for this year nonetheless.
Out of the two stocks Fessler hints at, one deals with chargers for electric vehicles and the other one is supposed to make batteries charge faster and therefore, enhance the overall experience of driving a fully electric vehicle.
The Pitch
The author pitches two special investment reports, the first entitled "The EV IPO of the Decade." and the second, in which you will get the full scoop on his second company is called "The Battery Disrupter." These can be had by becoming a full fledged member of the Extreme Disruptions Trader newsletter for a 'mere' $2,095.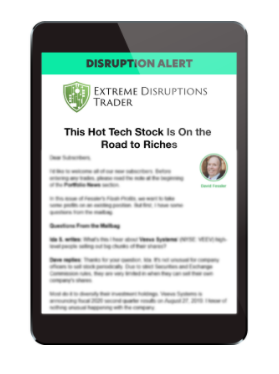 Some of the attached perks include, the two special reports we previously mentioned, a video series that teaches you how to trade options, weekly alerts, step-by-step action plans, and 24/7 access to a members-only website.
What in the World is "The Charging King" & "The Battery Disrupter"?
Combined, the two stocks David teases tackle the most important aspects of the EV market and have the potential to unlock an estimated $1 trillion in wealth by 2035. In this regard, let's start with the first one – "a small company that could expand its business 28x over".
Currently, for every charging station, there are about seven gas stations. This is somewhat concerning, as who wants to have the battery in their car potentially run out of juice in the middle of nowhere? But one plan solves all of that, as it calls for the building of some 500,000 EV charging stations across America.
This could be huge for the stock which David calls "The Charging King", which boasts the largest network of EV charging stations in the world.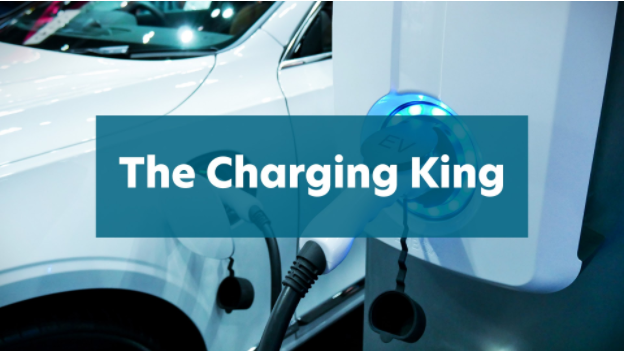 It already has a 39% market share with 6,895 stations, which is more market share than Tesla and counts a staggering 60% of Fortune 50 companies as customers.
This positions it very well to win the contract to at least partially build the proposed 500,000 charging stations. If it does so, David states that its business would "expand 28-fold". If this weren't enough, apparently this company has cornered the consumer market too, as it is No. 1 on Amazon's list of bestselling home chargers.
As you can tell, this company, which David calls "The Charging King" is poised to have an outstanding year and it just went public, at a valuation that is 95% cheaper than Tesla to be exact.
For the second stock pick, David tells us that he has zeroed in on a company that could benefit immensely from the $44.5 billion infrastructure plan. It's a company that solves a problem that has plagued the EV industry since its inception and one that David calls "The Battery Disrupter".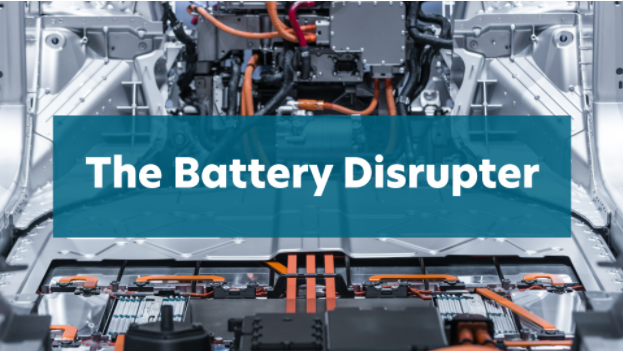 A bit of relevant history shows that back in 1900, EVs accounted for a full third of all vehicles on the road. This all changed when Henry Ford's mass-produced Model-T hit the market, as the gasoline-powered car cost only $650, while an electric roadster sold for $1,750. Why were EVs so much more expensive?
Turns out, it all comes down to the battery. With the average EV battery costing $7,350 to this day. But David thinks that this hurdle could be on the verge of vanishing entirely.
This is because the company in question manufactures a revolutionary new type of battery, that is cheap, lightweight, and also charges faster than the lithium-ion batteries you find in most EVs today. Davis says "it can charge an EV to 80% of full capacity in just fifteen minutes".
To give you an idea of how big this could be – it can take anywhere between 9 to 22 hours to fully charge a Tesla battery. That's a gigantic difference. Thus, it's little wonder that the company's technology is protected by more than 200 patents and the notorious Bill Gates has even invested upwards of $20 million in The Battery Disrupter.
While this company is publicly traded, David adds that none of the shareholders at the time of its IPO used it as a chance to cash out, as the potential upside is impossible to pass up on. Let's find out the names of these two 'home runs'.
Revealing "The Charging King" & "The Battery Disrupter" Stocks
Based on the information we have and some of the clues already highlighted above, we were able to identify both stocks. Here is the first:
Our "Charging King" became the world's first publicly traded global EV charging network this past March.
It has an expanding customer base of 5,000 commercial businesses that includes 76% of the Fortune 50 list of companies.
It's stock is currently some 95% cheaper than Tesla's.
Without further ado, the company being teased here is without a doubt, ChargePoint Holdings Inc. (NYSE: CHPT).
As for the second stock Fessler is teasing:
It engages in the development and commercialization of solid-state lithium-metal batteries for electric vehicles and other applications.
The company is enabling a mass market transformation by eliminating the lithium diffusion bottleneck in anode host material, which enables a 15 minute fast charge (0 to 80%) for EVs.
It holds around 200 patents and patent applications related to solid-state battery technology according to FutureCar.
The second stock here is QuantumScape Corp. (NYSE: QS).
Are these the sure-fire bets David intimates or just more speculative early-stage wagers?
Opportunity to Make 3,418% in a Year?
As to be expected with almost any publicly traded company in a fast growing sector nowadays, both ChargePoint and QuantumScape are not profitable from an earnings or cash flow from operations standpoint.
Even though neither stock is currently at or near its all-time high, something tells us a better entry point can be had over the short-term if we remain patient and insist on value for price paid. Alternatively, since the growth potential is there, risk can always be spread across a small basket of companies in each respective space.
Quick Recap & Conclusions
David Fessler's pitch,

The EV IPO of the Decade

mentions two different stocks that he is adamant can bring us profits of 28x or more.

We are told that a "$44.5 billion government windfall that is about to kick the EV industry into overdrive" with two stocks (The Charging King & Battery Disruptor) set to disproportionately profit as a result.
If we want to find out the names of these two companies, then we must become subscribers of the Extreme Disruptions Trader newsletter for a 'mere' $2,095. This will grant us access to two special reports containing all the details.
Fortunately, we were able to reveal both companies for free as ChargePoint Holdings Inc. (NYSE: CHPT) which is our "Charging King" and QuantumScape Corp. (NYSE: QS) for our "Battery Disruptor".
Predictably, both companies' underlying economics are not exactly great at this stage, but we are being asked to pay hefty valuations for both, which gives us pause despite the lofty growth projections.
Are you already invested in the EV market? Do you think we will be anywhere near the majority of vehicles on the road being EVs by 2030? Tell us what you think in the comment section below.