It wasn't that long ago that the very idea of self-driving cars was the stuff of The Jetsons and Saturday morning cartoons. However, thanks to advances in LiDAR technology autonomous driving is closer to being a reality than ever before.
In one of his latest presentations entitled "The L5 Revolution", Charles Mizrahi is here to share details about his "No. 1 LiDAR stock" that is at the forefront of a tech revolution unlike anything we've seen before. Let's find out what he is talking about.
The Teaser
The author begins by projecting that "one overlooked industry is set to grow 63,000% over the next decade and add $7 trillion to the global economy by 2050". The Financial Times backs up this claim by calling this boom "once-in-a-century".
Charles began his career on the trading floor of the New York Futures Exchange at the age of 20. He has since amassed more than 35 years of experience recommending stocks and he's seen just about all that the market can throw at an investor. Most recently he launched the Alpha Investor and Lifetime Profits trading services at Banyan Hill Publishing and also publishes a weekly article for American Investor Today. We have covered our fair share of driverless vehicle teasers here in the past, including Paul Mampilly's EV Stock and Jeff Brown's Image Sensor S.A.V. Company, among others.
Our host for this L5 Revolution event is Corrina Sullivan, who is here to lob softball questions so Charles can hit them out of the park. The first thing we learn about this mystery sector is that the U.S., Germany, China, Japan, and the EU are all launching initiatives to move this new industry forward and according to Charles "Google is already doing live tests in this new industry. Apple just announced it's going all-in as well, even the U.S. Army is heavily investing in it.
What's more, we're talking about a big disruption …real big. We're talking about Gutenberg's printing press big, the discovery of oil big or even the invention of the light bulb big. Charles believes "this mega trend will disrupt nearly 10% of the entire global economy".
So what is this widely underestimated industry? Before you venture a guess we should disclose that it is NOT electric vehicles, artificial intelligence or 5G either.
Instead, Charles concedes that it is all three of these technologies combined. What he means here is that it is autonomous vehicles or AVs for short, which combine elements of all three industries. Hence the upcoming discussion about a "No. 1 AV stock".
The Pitch
To find out the name of Charles' No. 1 stock pick, subscribing to the Alpha Investor newsletter is a must. As it is the only way to receive "The No. 1 Autonomous Vehicle Stock of the Decade" special report, which contains the name and ticker of the stock.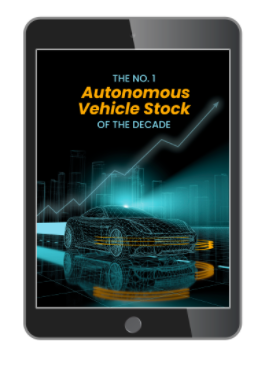 The regular price of a one-year subscription to Alpha Investor is only $199. But for a limited time subscriptions can be had for only $47 and includes 12 regular issues, 3 special reports, including the one mentioned above and weekly updates to keep members engaged.
What in the World is the L5 Revolution?
What Corrina and Charles are describing here is an L5 autonomous vehicle. Automated driving has six levels, all of them are defined by the Society of Automotive Engineers (SAE) and used by the U.S. Department of Transportation.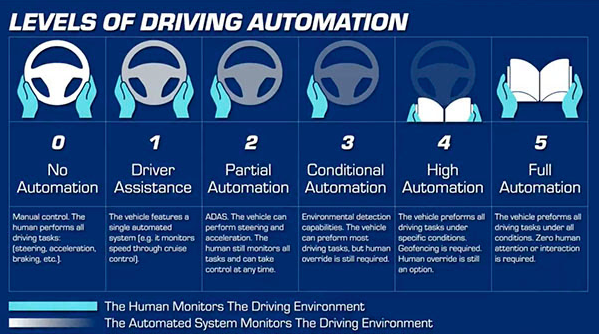 Since automated vehicles (AV) are already on the streets and taking passengers from point A to point B, one single technology will make L5 AVs possible, with mass adoption to follow…very fast. The data is behind Charles on this one, as it took almost 75 years to adopt gas-powered cars, while electric vehicle (EV) adoption happened in just over a decade, and AVs might happen even faster.
Bloomberg also forecasts that by 2030, 28% of all car sales will be EVs and almost 55% by 2040. Charles also rightly points out that the AV industry is not just about cars. Keeping in line with the growing demand for delivery services and personal transportation, autonomous trucks are coming. But this major disruption can only happen with one technology that is supposed to be the linchpin of this "revolution".
That technology is called Light Detection and Ranging or LiDAR. The way it works is that instead of radio waves like radar, LiDAR, shoots out light instead or millions of pulses of laser light to be more accurate. When this light bounces off objects, it sends data back to the computer in the car, which builds a 3D image of its environment. LiDAR is supposed to be much faster and more accurate than radar.
At the end of the day, this is the technology that will give self-driving cars the ability to see other cars, pedestrians, and objects. While LiDAR technology has been around for a while, with the concept of using searchlights to probe the atmosphere first originating all the way back in the 1930's. Its cost, as with most new technology was too prohibitive to commercialize.
Until recently that is, with one company bringing the price of a LiDAR system down to just $1,000 – 99% less than it was 10 years ago. Let's find out the name of this company.
Revealing The No. 1 LiDAR Stock
First, here are the clues which helped point us in the right direction:
This company has created a LiDAR that can fit in the palm of your hand and it costs as low as $400. Charles also said that "They're aiming for a $100 system in the very near future".
It's currently the leader in solid-state LiDAR technology. "Solid-state is a technology where there are no moving parts. Not only is it safer, it's more durable, it takes up less power, and it's cheaper".
BMW has already partnered with this company. "What's more, it's also got partnerships with four of the leading tier-one OEMs".
The CEO of this company served as an officer in an elite intelligence unit before building his LiDAR company. In fact, the company's entire executive team is made up of a lot of alumni from that same unit.
Based on these, we think the company in question is almost certainly Innoviz Technologies (Nasdaq: INVZ). Here is some cold hard evidence that backs us up:
First, Innoviz is a manufacturer of solid-state LiDAR sensors and perception software that bring vision to the automotive, drone, logistics, sidewalk delivery, and other industries. A perfect fit with the earlier "solid-state" description.
Second, from the company's website: "Innoviz is the first LiDAR provider to be selected by a major automaker (BMW) for the mass-production of Level 3-5 autonomous vehicles, as well as several partnerships with the world's leading Tier 1 automotive suppliers, like HARMAN, HiRain, Magna and Aptiv".
Lastly, the "elite intelligence unit" reference in regards to management is almost certainly Israel's Unit 81, a technology R&D group whose alumni have gone on to build several high-profile Israeli tech companies. Innoviz's CEO Omar David Keilaf previously served as an officer in an elite technological unit of the Intelligence Corps of the Israel Defense Forces, according to his bio.
Is this the one LiDAR company that is going to be at the forefront of the 63,000% AV growth wave?
Revolutionary Potential or Pumped Up Hype?
A quick look at Innoviz reveals a not-so small $854 million market capitalization company, with around $4 million in annual revenue and $52 million in annual operational expenses on the low end.
It's safe to say that Innoviz will continue to be in the red for some time to come, perhaps even years. However, Innoviz management does project a forward-looking order book of $2.4 billion, representing the cumulative projected future sales of hardware and perception software through 2030. This would better explain the current market valuation, but even if part or all of this revenue does materialize, it will be a long time before profits follow due to both heavy capex and research and development spending.
Bottom line, Innoviz has good technology, with its solid-state sensors and a great amount of potential along with some major early-stage partnerships to back it all up. But at present time, you would be paying dearly for this potential.
Quick Recap & Conclusion
Charles Mizrahi is here touting a "The L5 Revolution" along with teasing a "No. 1 LiDAR stock".
We learn that L5 stands for Light Detection and Ranging or LiDAR powered autonomous vehicles and that there is one company working to bring the price of a LiDAR system down, making mass production and commercialization possible.
In order to find out the name and ticker symbol of this company, we need to subscribe to Charles' Alpha Investor newsletter for a discounted price of only $47 for the first year. This will get us "The No. 1 Autonomous Vehicle Stock of the Decade" special report, which contains the name and ticker of the stock.
Through some clues and rather obvious remarks, we were able to reveal the company in question for free as Innoviz Technologies (Nasdaq: INVZ).
Innoviz's solid-state sensor technology appears to be exactly what will drive the autonomous vehicle market forward and for what that we will need to pay a very dear price in terms of valuation.
Are you already riding the autonomous vehicle wave? Is there something else we are missing that is going to be the real driver of the industry moving forward? Let us know in the comment section below.