New York Times bestselling author Alexander Green has discovered a low-priced stock that he believes will soon skyrocket.
He calls it the "Next Great American Super Stock" and it's overhauling an entire market.
The Teaser
This overhaul is long overdue, as this market has seen essentially zero innovation over the last century.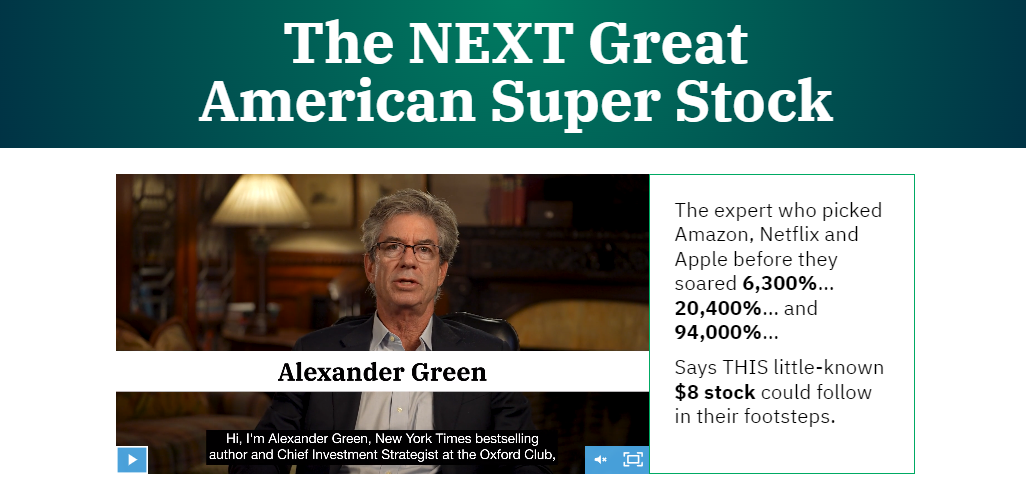 Alex Green retired from Wall Street at the young age of 43, after 16 years inside America's financial capital. Now he edits investment newsletters and makes stock recommendations that we review here at Green Bull, like the #1 Microcap for 2023 and 5G Stock Pick.
I have said this here in the past, but it bears repeating. Disruption = opportunity.
This has proven itself true time and time again.
Take Amazon for example, it disrupted the publishing and retail industry with its online bookstore in the mid-90s. Or Apple, which disrupted the music industry by putting thousands of songs in our pockets with its iPod.
There are also lesser-known stories, such as Lululemon disrupting athletic apparel and spawning an entirely new $300 billion athleisure market. In fact, former Lululemon CEO Christine Day was a big early investor in this "Super Stock" company.
But disruption is only one piece of the investing puzzle, it takes a lot more to create a sustaining "Super Stock."
By now, having reviewed dozens of stock teasers, I can tell you that the vast majority of them leave a lot to be desired. But Alex says this time really is different.
He believes his pick is disrupting its industry in the same spectacular fashion as some of the legendary Super Stocks of the past and he has five key filters that prove the company is here to stay.
The Pitch
Alex has put all the research he's compiled on the "Next Great American Super Stock" in a special report called "The #1 Super Stock to Buy Now."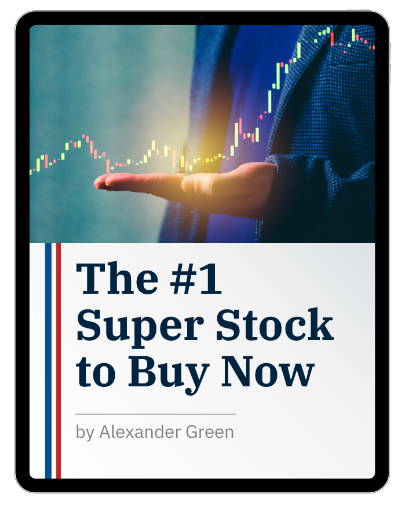 This report is only available to subscribers of Alex's monthly research advisory, The Oxford Communiqué. Normally, the newsletter costs $249 for 12 months. But for a limited time, we can get it for only $49.
Included in our subscription are two additional special "Super Stock" reports, a Three Steps to a Seven-Figure Portfolio video series, access to something called Pillar One Advisers, and more.
The Five Key Filters for Multi-Bagger Stocks
Alex has developed a five-step strategy to identify ten-bagger stocks.
Presumably created during his time spent on Wall Street, it looks like an inverted pyramid, with the first step being the most important.
Step #1: Tremendous Innovators
This goes back to the point made earlier about disruption.
History is filled with companies that disrupted legacy industries and created entirely new markets that changed the world.
Step #2: Small Companies
A recent study by Ariel Investments shows that small stocks outperform large-cap stocks 98% of the time over a rolling 20-year period.
This is a huge difference! But what does Alex define as "small?"
He says his focus is on "the most innovative, small companies with market caps under $10 billion, many worth well under $2 billion."
On this point, Alex is absolutely right. Micro and small-cap stocks do indeed offer the best chance at nabbing potential multi-baggers.
Step #3: Relatively Unknown
This is a list of the top-gaining stocks over the past five years: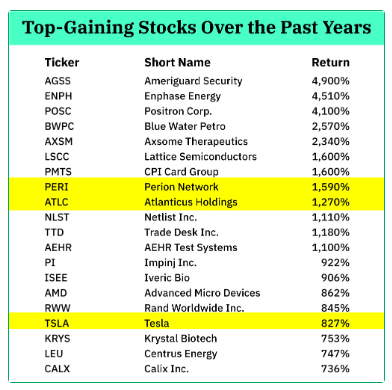 How many can you name?
Step #4: Booming Sales
In my opinion, it should be booming cash flow, but hey it's not my five-step strategy.
Alex says finding a company with sales going up at a 20% annual clip is the metric he uses.
Big gains can certainly follow.
Like in 2014, when Under Armour, the sports apparel company posted 18 consecutive quarters of 20% revenue growth, including four consecutive quarters of 30%.
As a result, its shares skyrocketed from around $1.59 in 2009 to over $53 in 2015.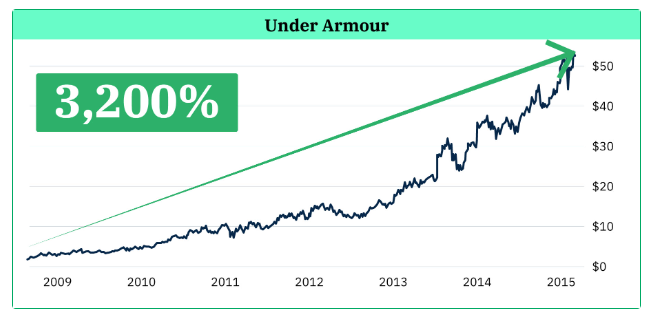 This is exactly what's happening with the stock Alex is teasing here.
Its sales momentum is off the charts, increasing by over 2,000% in the past six years and its gross margins have consistently been above 70%.
Step #5: Strong Insider Buying
Famed former portfolio manager Peter Lynch once said:
"Insiders might sell their shares for any number of reasons, but they buy them for only one – they think the price will rise."
It's a great indicator because who knows a company better than the folks running it? They have access to information the rest of us on the outside looking in simply don't have.
Insiders at a company more than anyone else know when the stock is likely to rise and they bet accordingly.
Alex's "Super Stock" meets all of these criteria for becoming a ten-bagger. I'm going to try and reveal it next.
Revealing Alexander Green's Next Great American Super Stock
We get a generous amount of clues about this pick:
This tiny $1 billion company is disrupting a market that's expected to grow from $86 billion in 2020 to more than $140 billion in 2028.
It's reinventing a necessity for healthcare workers that hasn't been modernized in more than 100 years.
Insiders are loading up on this stock. The CEO – a Harvard MBA and Wall Street veteran, just scooped up about $5 million worth of shares and one billionaire investor who owns as much as 30% of the company purchased $7.2 million more in shares.
Based on this info, the "Super Stock" Alex teases is FIGS Inc. (NYSE: FIGS). Here is how the clues align:
FIGS' market cap currently stands around $1.3 billion and the healthcare segment it's disrupting is the multi-billion-dollar medical apparel space.
CEO Catherine Eva Spear purchased $4.7 million worth of stock in March and billionaire Thomas Tull is FIGS' majority shareholder, owning shares worth nearly $500 million.
A Potential Ten-Bagger?
FIGS is a growing (10% per year), profitable, direct-to-consumer healthcare apparel brand. Unfortunately, that's where the positives end.
As a manufacturer of its own apparel, the company's net profit margins are predictably low (under 3%), and its return on assets (4.6%) and return on equity (5%) aren't much better.
To sweeten the pot, Alex says "There's a major event occurring that I believe will catapult this tiny stock from obscurity to the headlines of every major news outlet."
He doesn't specify what this catalyst is and looking at FIGS' financial reports nothing stuck out to me other than "easing inflation" being mentioned to potentially raise margins, earnings, and eventually the stock price.
The expectation or hope is that over the long-term FIGS' direct-to-consumer model combined with growing brand awareness will lead to greater profitability.
I look at FIGS' and see a business with a limited, temporary competitive advantage that is easily duplicable and one that also operates in a niche market (healthcare apparel) where a brand name doesn't have the same importance as in the consumer apparel market. Why spend on brand-name scrubs when I will need to replace them at least once a quarter?
The business looks generously valued at a current price/earnings of 111x, so I wouldn't count on the stock being a ten-bagger from this point forward.
Quick Recap & Conclusion
New York Times bestselling author Alexander Green is teasing a "Next Great American Super Stock" that is innovating in its market.
The market is healthcare apparel and the stock meets all of Alex's five criteria for a multi-bagger stock: Innovation, Small Company, Relatively Unknown, Booming Sales, and Insider Buying.
Alex has put all the research he's compiled on this "Next Great American Super Stock" in a special report called "The #1 Super Stock to Buy Now." The report is ours when we subscribe to his monthly research advisory, The Oxford Communiqué for only $49 for a limited time.
Based on some generous clues that were served up, we were able to reveal the "Super Stock" Alex teases for free as FIGS Inc. (NYSE: FIGS).
FIGS' is a richly valued business with no durable competitive advantage, operating in a niche market (medical scrubs) where a brand name isn't as important as in other markets. In the end, the stock leaves a lot to be desired.
What are some better niche market stocks? Let us know your picks in the comments below.