The Oxford Club's Chief Investment Strategist Alexander Green says we're at a very crucial moment in time right now.
With inflation at a 40-year high, mortgage rates soaring higher, and stocks in a confirmed bear market. This is the single worst market since 2008 and many people are wondering what's going to happen next. No matter what it is, Alex says he has us covered with the "No. 1 signal to follow when stocks collapse."
The Teaser
Rachel Gearhart is our host for this special bear market event, where we're talking about stocks dropping further. But its not all bad news, as there is a single signal that can tell us the exact moment stocks are likely to bottom out.
Alex Green is another former Wall Street portfolio manager turned investment column writer. In addition to editing The Oxford Communiqué, The Oxford Club's flagship newsletter, Alex also runs three trading services where he shares weekly stock recommendations: The Insider Alert, The Momentum Alert and Oxford Microcap Trader. We have reviewed a few of his presentations here in the past, including his "#1 Stock in America" and "Single Stock Retirement Plan."
At present, this signal is appearing in a number of stocks, at a rate rarely seen since 2009. See, stocks can be a leading indicator. They can tell us months in advance when "it" is proverbially going to hit the fan.
Take 2009 for example, when stocks bottomed out at 6,600 points in March, most people didn't expect it. They assumed the carnage was going to continue for many more months, perhaps even years. But not Alex, who wrote to his subscribers and said the economy would be awful in 2009 (it was), but he also thought that it would be a banner year for stocks, which it was.
So much like early 2009, Alex thinks now could be the right time to load up on a few stocks that are about to deliver much bigger profits than anyone expects. This is where the "No. 1 signal to follow when stocks are collapsing" comes in. So you don't just protect yourself, but come out ahead when the dust settles. How does this signal know when a bottom has hit?
For one, it follows insiders. Who have information about their respective businesses that you or I couldn't possibly know. Alex is going to be revealing "three must-own stocks" with huge insider buys today.
The Pitch
He's got all the details on these plays, including their ticker symbols in a special report titled "The 90-Day Payday: 3 Must-Own Stocks With HUGE Insider Buying."
This is included for free when you sign up to the Oxford Club's The Insider Alert trading service. So are two other special reports and a brand new research tool that enables anyone to track insiders, look for their big purchases and even click through and research the companies. A subscription will set you back $1,995 for the first year, which is a 50% discount from the regular $4,000 sticker price.
The Specifics Behind the Strategy
Alex has built up his system over decades, with plenty of successful trade examples along the way. Here are some of the most important criteria that goes into it.
1. BIG insider purchases – buys over $1 million.
Alex says insiders aren't fools. They aren't going to bet huge money if the stock isn't likely near a bottom.
Take Carvana (NYSE: CVNA) during the coronavirus crash of early 2020. Its stock fell from $110 a share to $29 in a single month, that's 74%. Shareholders were freaking out, but not majority shareholder Ernest Garcia II. Because on April 1, 2020 he purchased over 555,000 shares, an investment of $25 million. Signaling nearly the exact bottom for the stock
It went straight up from there. Only a year later, Garcia's purchase had earned him an incredible $122 million.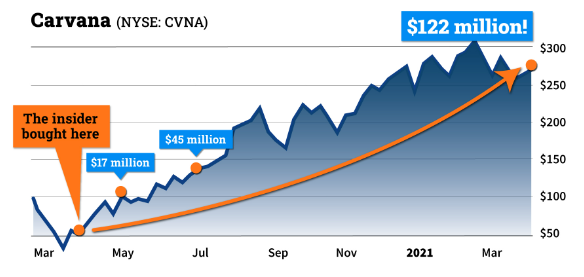 2. Cluster Buying
Alex confides that this might be the most powerful signal of all when it comes to insider moves.
Cluster buying is when several insiders all buy around the same time. Think president, chairman, CEO, and CFO. These are the folks who oversee the daily operation of a company. Officers are the most important to track because their compensation is typically directly tied to the stock's performance.
So they're particularly compelled to find ways to push the stock higher. Then there are directors (who sit on the board), and finally, those who own more than 10% of the company's shares, qualify as well.
3. More Insider Purchases than Sales
See, it's quite easy to find a buy, but is it surrounded by large sales? If so, then that purchase is somewhat meaningless.
This one speaks for itself, so let's keep it moving.
4. Insiders with as Close to an Unblemished Track Record as Possible.
Alex admits that he tracks one insider who's what you would call a whale investor. Since 2010, he's made 11 massive insider purchases as high as $5 million, $8 million, and $13 million. Huge bets by any measure.
So far, he's apparently been right 100% of the time! This guy has made millions and anyone who's followed him into those trades has made money right alongside him. This is what Alex means by unblemished track record.
Bonus: The 90-Day Payday
We all know earnings results can have a significant impact on share price, but if the earnings are announced soon after a major insider purchase occurs, the price can jump even faster.
Since earnings are announced every 90 days, the longest we should ever have to wait to see this catalyst come to fruition is 90 days after a major insider purchase. Hence the name "90-Day Paydays", as 90 days is the longest Alex aims to be in these plays.
Bottom line: If we want to make money in the market, especially a volatile market, we must pay attention to these signals. To get us up and running, Alex is tracking a few big insider trades right now.
Revealing the Three Must-Own Stocks with Huge Insider Buys
Here are some clues on each of these three different stocks that just reported major insider purchases, as each one is an urgent buying opportunity according to Alex.
The first is a real estate investment trust or REIT. Its first quarter net income increased nearly 680% over last year and it just raised the dividend by 7%. The CEO is also piling into the stock, having bought $3.3 million worth, with no sells.
The second play is a company with $39 billion in assets whose stock is forecast to appreciate as much as 116% in the coming year. It just saw cluster buying between the CEO, CAO, a director, and an executive vice president. Collectively, they purchased over $1 million in stock on the same day.
The third has the most insider buying of all. Together, five insiders have purchased $47 million worth of shares since May.
This isn't very much to go on, but here's what we were able to dig up:
The REIT in question is none other than American Assets Trust (NYSE: AAT). We can be sure about this one as Ernest S. Rady is AAT's CEO and he made the $3.3 million stock purchase Alex alludes to, while not selling any stock over the last 11 years whatsoever.
The second one is much tougher, but the mention of $39 billion in assets led us directly to PacWest Bancorp's (Nasdaq: PACW) door. The bank holding company has some $40 billion in assets now and one RBC Capital analyst thinks its assets will appreciate by 116% by the end of the year.
The third is even tougher, but after some serious scouring, we think Alex is referring to Carvana Co. (NYSE: CVNA). Since May, insiders have scooped up $47 million worth of shares. This puts it in the top echelon of stocks with insider buys, fitting Alex's description perfectly.
Legit Opportunity to Make More than 1,000% in 90 Days?
Bear markets are short, bull markets are long. These words are as true today as they were 100 years ago and they will probably still be true 100 year from now.
Buying when others are fearful and selling when they are greedy will work out more often than it doesn't over the long-term. When we add some additional criteria to this, such as insider stock buying with no correspondent selling, my feeling is that it can help more than it hurts.
Short-term trading around insider stock purchases and positive earnings results – "90-Day Payday" is much too short a timeframe for real gains to accumulate in my humble opinion, but I've seen trading strategies centered around worse things.
Quick Recap & Conclusion
According to The Oxford Club's Chief Investment Strategist Alexander Green, we're at a very crucial juncture right now. No matter what happens, he has us covered with the "No. 1 signal to follow when stocks collapse."
"The No. 1 signal" is really a short-term trading strategy centered around a plethora of insider buying metrics, coupled with quality of earnings. Based on this, Alex says he is going to reveal "three must-own stocks" with huge insider buys.
He's put together all the details on these plays in a special report titled "The 90-Day Payday: 3 Must-Own Stocks With HUGE Insider Buying." It is free when you purchase a subscription to The Insider Alert trading service for $1,995 for the first year.
Fortunately, you can keep this hard-earned money. As we were able to reveal all three of Alex's picks: American Assets Trust (NYSE: AAT), PacWest Bancorp's (Nasdaq: PACW), Carvana Co. (NYSE: CVNA).
Adding an insider buying criteria with no correspondent selling to your stock filter isn't a bad idea. Centering your entire stock selection around it instead of the quality of the underlying business, would be a bad idea.
Is there any stock selection criteria that you use, which perhaps isn't very widely known or applied? Tell us in the comment section below.