In his latest presentation, Money Map Press' Tom Gentile tells us that there's $672 million flooding into the market every 60 seconds! This is creating "one of the biggest speculative surges the world has ever seen".
With millions of first-time traders storming into the market via Robinhood and other social trading apps, these inexperienced traders unlocking enormous opportunities every day for those that are keen enough to spot them. Tom and his team of analysts, programmers, and even rocket scientists have figured out a way to profit off this massive speculation frenzy and he's going to share this powerful strategy with us today.
The Teaser
13 million new traders have brought billions in speculative cash into the markets and they're throwing it around like Monopoly money. Tom says this is creating big, tradeable surges unlike anything he's ever seen.
Tom Gentile is known as one of America's top pattern traders. He began his career by studying the ins and outs of options trading every single night in his parent's basement back in 1986, before eventually going on to build one of the largest financial tech companies showing people how to trade. Today, his mission is to show people everything he's learned in his more than 30 years of trading. Trading system reviews are nothing new to us, as we have covered many here, including Brian Christopher's Flow Trading System and Lou Basenese's Digital Fortunes, to name a few.
To capitalize off of these trends, Tom's team has created a triple-tier software platform nicknamed BRUTUS. This software has apparently already been used to back-test, analyze, and evaluate tens of thousands of trades since the frenzy began, with some striking early results.
For example, investors could have made over 506% on KB Home and walked away with over $12,000 in just five days:
Or Maxar Technologies and made 520% in just 10 days: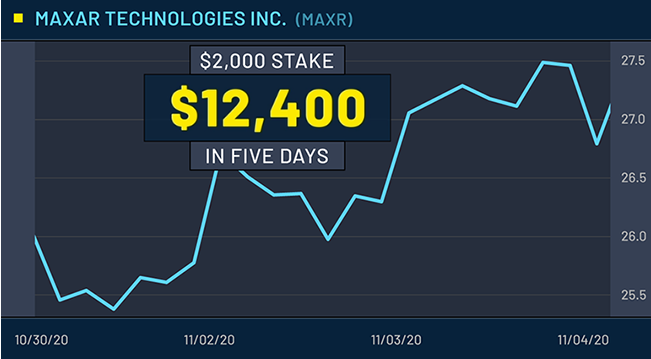 But there's a catch (there usually is) and its that this opportunity is extremely time sensitive. That's why Tom has designed a complete step-by-step guide designed to take us by the hand and lead us to financial glory – some strong language.
Supposedly, BRUTUS identifies an average of 1,000 "Trigger Events" or potential trades every month. It then narrows those down, rejecting 99% of opportunities available, in order to select the very best trade available for Operation Surge Strike members. Let's take a closer look at BRUTUS, how it works, and what it can and can't do.
The Pitch
But before we do, Tom has some Surge Strike "marching orders" for us, which urge us to become charter members of Operation Surge Strike for "a mere" $2,250. Which is 50% off the regular $5,000 retail price, with a full 100% money-back guarantee.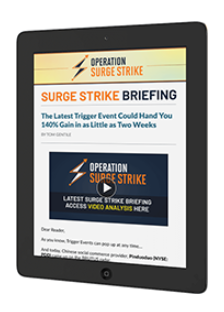 In return for this, subscribers will receive the first Surge Strike recommendation in their inbox, over 100 recommendations in the next 12 months, weekly videos to analyze positions and break down strategies, and access to a members-only Surge Strike forum to share stories and (hopefully) celebrate your wins.
What in the World is BRUTUS…and How Does it Work?
At its core BRUTUS is a proprietary, automated options trading system created by a team which includes rocket scientists among its ranks to exploit all the speculative or flat-out dumb money pouring into the market each and every single day.
Today, there is said to be over $11 million dollars up for grabs every second of every day, leaving BRUTUS' three-tier architecture with plenty of opportunities to exploit. It goes about this by utilizing a brute force algorithm, which attempts to calculate the winning probability for every possible trade and then selects the one with the very best probability and executes it.
Of course, algorithmic trading or automated trading which uses a computer program that follows a defined set of instructions to place a trade is nothing new, with the first such system introduced by Richard Donchian all the way back in 1949 to buy and sell publicly listed funds. Today, most algo-trading is of the high frequency variety and BRUTUS appears to be no exception to this. It analyzes a tremendous amount of data on nearly 3,000 companies, while also analyzing all the bid-ask information, strike prices, implied volatility, slippage, and ROI.
The best thing about BRUTUS is its apparent telepathic ability to identify exactly when speculative surges are going to hit…in advance. If that were not enough, Tom tells us that BRUTUS can also project how big the surge will be and how long it will last as well. If true, then this would explain some of the promising early back-test results.
Now that we have learned how this proprietary system nicknamed 'BRUTUS' has applied its algorithms to isolate tradeable patterns hidden among the waves of speculative cash sloshing around public markets, lets find out what trade recommendations it has for us.
Revealing the Operation Surge Strike Recommendations
On this point, our presenter is not as forthcoming. As no specific trades or companies are mentioned by name, apart from the prior successful trade examples we already highlighted above and a few other past trades.
This being said, we can take a closer look at the BRUTUS trading system itself to determine if it is worth our time and money.
Real Triple-Digit Profits in a Matter of Days?
Any strategy for algorithmic trading requires an opportunity that is profitable in terms of either improved earnings or cost reduction.
I could very well be wrong, but BRUTUS appears to be a volume-weighted average price (VWAP) algorithm, as it based on exploiting the inefficiencies created by money (volume) flooding into the market. Such systems typically use stock-specific historical volume profiles to execute orders and attempt to skim profits. But this is just one part of BRUTUS.
The other part goes beyond the usual trading algorithm and into a special class of algorithms that attempt to identify "happenings" on the market side. Such so-called "sniffing algorithms" used, for example, by a sell-side market maker—have the built-in intelligence to identify the existence of any algorithms on the buy side of a large order. Detection through algorithms help the market maker identify large order opportunities, which enables them to benefit by filling the orders at a higher price.
Bottom line, such front-running systems are heavily regulated by FINRA (Financial Industry Regulatory Authority), as they can be quite profitable and lucrative. Only time will tell if BRUTUS can accumulate a winning track record, but a legitimately profitable system that delivers consistently is very rare to come by and typically goes for many thousands or even hundreds of thousands of dollars.
Quick Recap & Conclusion
Tom Gentile informs us that there is a ton of non-sophisticated money (to put it nicely), flooding into the market every day and that he and his team have figured out a way to profit off this massive speculation frenzy and he's going to share this powerful strategy with us today.
We come to find out that "the way" is via a triple-tier software platform nicknamed BRUTUS. This software has apparently already been used to back-test, analyze, and evaluate tens of thousands of trades so far since the frenzy began last year, with some phenomenal early results.
Tom tells us that if we sign up to his Operation Surge Strike newsletter for "a mere" $2,250, then we will have direct access to all of the trade recommendations made by BRUTUS and at least 100 recommendations over the next 12 months as a guarantee.
Unfortunately, no trade recommendations were revealed, except for some profitable trades executed during the back-testing of the system.
Upon taking a closer look at BRUTUS, Tom's asking price for his Operation Surge Strike newsletter and stream of BRUTUS recommendations as a result, seems a bit low to us for a consistently profitable trading algorithm.
What has your experience been with automated trading? Have you ever or do you currently adhere to a systematic approach? What have your results been like? Let us know in the comment section below.