The price of gold has traded sideways or down for a good part of the past decade.
But with inflation now at a multi-decade high, it looks like we are at the beginning of a brand-new bull market in bullion and Stansberry Research has a "#1 Gold Play for 2023."
The Teaser
Host Amy Gamper says "it's by far the No. 1 way to get rich in gold today", and we can get started for less than $10.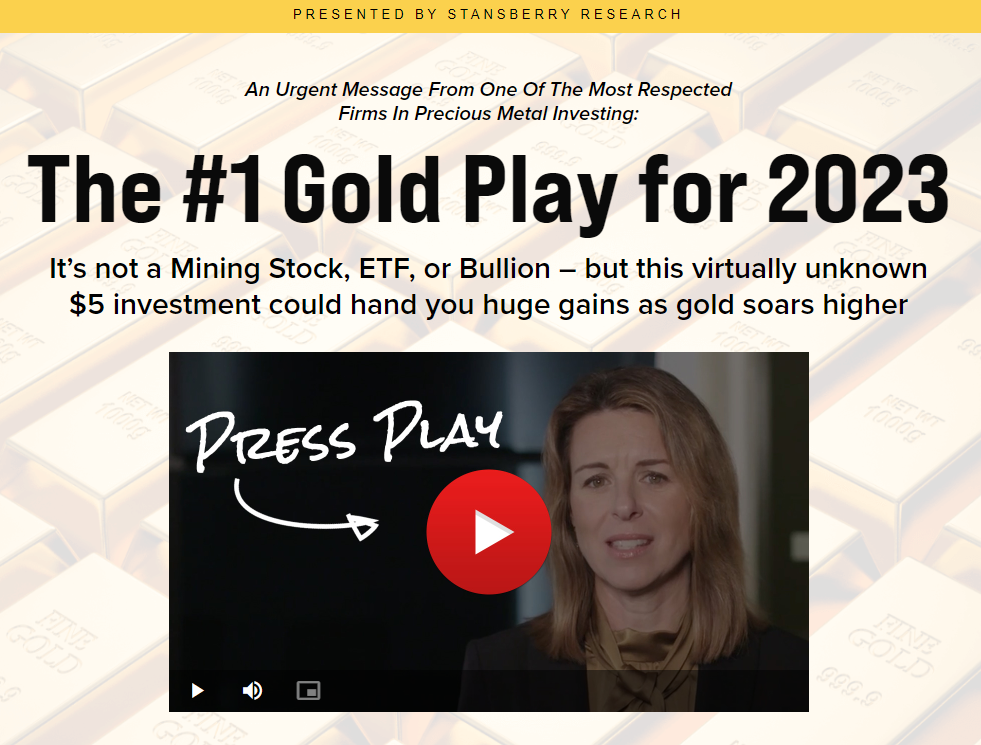 Stansberry Research has been publishing independent investment research since 1999, focusing on hard assets, like gold. We have reviewed Stansberry's services here before and some of their more recent presentations, like the "Best Oil Business on Earth."
Interestingly, we're told this investment is not a Mining Stock, ETF, or Bullion. 
Even more incredibly, this investment strategy has returned an average of 38% a year…for 18 straight years! 
The Godfather of Gold Mining
This virtually unknown gold investment was pioneered by a Canadian named Pierre Lassonde.
Lassonde is renowned as arguably the greatest company builder in the history of the mining sector. He is the past President of Newmont Mining, former Chairman of the World Gold Council, and former Chairman of Franco Nevada.
It all started when Lassonde and his business partner discovered by happenstance that they could purchase interests in mining claims. Shortly after the ink was dry on their first purchase agreement, a large mining operation swooped in, purchased the project, and discovered one of North America's biggest gold deposits. The Goldstrike Mine.
This deal landed the pair of investors a jackpot, turning every $5,000 invested when it went public into a windfall worth $1.6 million.
In short, "the secret" Lassonde discovered was 'Mining Royalties'. These simply give one the right to receive a percentage of the production income from an operating mine.
The next company they created was called Franco Nevada Corp. (NYSE: FNV). It has outperformed the indexes by a long shot.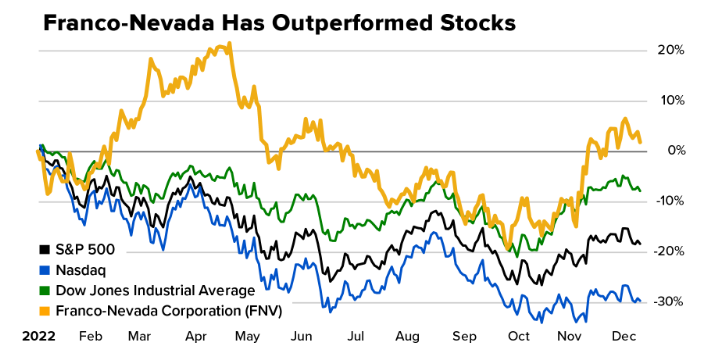 But there's a small company that's even better than Franco-Nevada. 
It's far cheaper to get into and has a much bigger upside. Stansberry considers it "the perfect business."
The Pitch
All the details about this company, including its name and ticker symbol, are in Stansberry's newest special report, called The #1 Gold Stock to Buy in 2023. 
The special report is ours when we sign up for a monthly investment advisory letter, called Commodity Supercycles. A subscription normally costs $199 per year, but for a limited time, we can pay as little as $49. This includes three special reports, including the one above, instant access to a model portfolio, and hundreds of back-issues and previous special reports.
Why Royalties are a Perfect Business
The case for a royalty trust over an active explorer is easy to make.
For starters, the entire process to build a mine and produce gold can take 10 years or more, and cost hundreds of millions or even billions of dollars. From paying drill and dig crews, applying to the Bureau of Land Management. A mining company is on the hook for all these expenses and hurdles, before it can even begin to produce gold.
Royalty companies, on the other hand, are a cash cow business because they have little overhead and require very few employees.
Franco-Nevada Corp. itself has only 35 full-time employees and yet it's a $27 billion company. This is because it currently has more than 400 interests all over the world. So, if one mine stops producing, it's no big deal. There are still hundreds of other royalties bringing in money. 
The point is, mining royalties are the perfect business because there's little risk, low overhead, and HUGE profit margins. 
Legendary mineral investor Doug Casey agrees, saying:
"Royalty companies are historically the safest way to invest in mining. They just pay money to buy a royalty stream from somebody who's mining."
One of the best parts is that the royalty trust business model is highly replicable.
The Royalty Firm That Has Soared 600%
Denver-based Royal Gold Inc. (Nasdaq: RGLD) is one example of this. 
The company was founded in 1986 and started as an oil and gas exploration company, before shifting focus to gold royalties a year later in 1987. Today, Royal Gold is the world's leading precious metals royalty company and owns a total of 190 royalties on five continents.
Over the past 20 years, Royal Gold is up an impressive 600%. But there's actually a much better (and newer) way to take advantage of gold royalties than Royal Gold or Franco-Nevada.
Revealing the #1 Gold Play for 2023
Stansberry is calling this the best gold royalty investment you could make in the world right now…by far. Here is what we know about it.
The operation is based out of a humble office park in Canada.
It's led by a man who grew the world's largest silver royalty outfit into a multibillion-dollar company.
They now own royalties on mines in Brazil, Turkey, Mongolia, Argentina, Canada, and the United States, just to name a few.
This tiny upstart has fewer than 25 employees, almost no overhead, and is trading for $5 per unit.
This royalty play wasn't easy to sleuth out. But after tracking down a Canadian royalty stock list, the closest thing fitting this description is Sandstorm Gold Ltd. (NYSE: SAND).
It is based in Vancouver, BC Canada.
Sandstorm's founding CEO, Nolan Watson, was previously the CFO of Wheaton Precious Metals Corp. Which is one of the world's largest precious metals streaming companies.
As per the royalty directory on its website, Sandstorm owns more than 250 royalties across South America, Asia, Africa, and North America.
Sandstorm shares are currently trading just above $5.
Is Now the Time to Buy Gold?
Stansberry recently measured every gold bull cycle in recent memory, there have been about eight distinct upcycles since 1975), and they discovered something interesting.
Only one bull market in recent gold history has returned less than an overall double.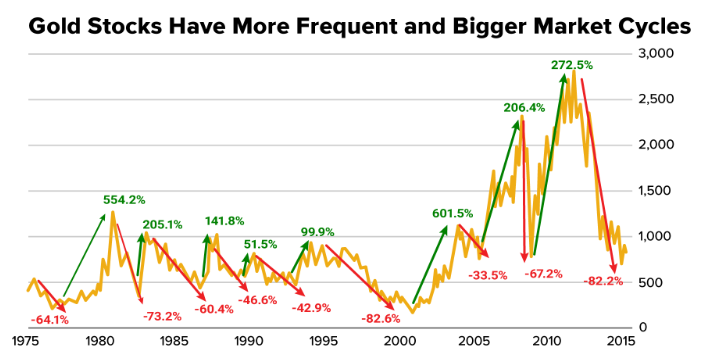 This means when the price of gold rallies, it rockets.
It also means getting into the right investment early in the next bull market could return well above average gains. Is Sandstorm Gold the right investment?
I concur with the thinking that a royalty business is a low-cost, low-risk way to gain exposure to the yellow metal. It's way easier than buying and storing physical bullion and less risky than buying the stock of a miner, with only a handful of producing gold mines.
As a mid-tier streaming and royalty company, Sandstorm has a huge opportunity to acquire smaller interests, that don't move the need for large players like Franco-Nevada and thus go overlooked. 
The company is doing just this, spending $1 billion to acquire Nomad Royalty Company and other royalty owners last year. With higher growth than its peers and industry-leading diversification, Sandstorm is a good bargain at less than 13x earnings.
Quick Recap & Conclusion
We may be at the beginning of a brand-new bull market in bullion and Stansberry Research has a "#1 Gold Play for 2023."
We quickly learn that it's not a mining stock, ETF, or physical bullion itself. But rather mining royalties that receive this nod.
All the details are revealed in Stansberry's newest special report, called The #1 Gold Stock to Buy in 2023. It's ours with a $49 subscription to the monthly investment advisory letter, Commodity Supercycles.
Fortunately, we can save you some time and a bit of money too, as we were able to reveal the #1 Gold Stock to Buy in 2023 as Sandstorm Gold Ltd. (NYSE: SAND).
Sandstorm Gold is a mid-tier royalty company that is rapidly expanding by actively acquiring other royalty owners. It is available for less than 13x current earnings, which is a bargain.
Are there other quality metal royalty companies out there? Let readers know in the comment section below.