For all the talk and hype over electric cars, batteries, and lithium batteries, Jim Woods says there's a virtually ignored part of the electric vehicle (EV) revolution.
It could be the biggest winner in an explosive $2.5 billion market and one EV Charging Company is leading the way.
The Teaser
The market Jim is talking about is EV charging stations and there's a critical shortage of them across the nation.
Jim Woods has maintained a Top 10 TipRanks.com financial blogger ranking for a decade now. But he's not here to brag. He's also a 20-year veteran of the market as a broker, trader, and writer. We have reviewed some of his work here in the past, see Jim Woods' Eagle Eye Opener and also covered electric vehicle-related teasers, such as Luke Lango's #1 Electric Vehicle Stock of the Decade.
So it's not surprising to see the "green-obsessed" Biden Administration step in with financial support to the tune of a whopping $23 billion across The American Jobs Act and The Bipartisan Infrastructure Deal.
Such a large injection of capital will temporarily move the needle for EV charging companies and lift their stocks, but what will ultimately make or break the market is the underlying fundamentals.
America is stampeding towards EVs at full tilt
I had to look this up myself, as there are a lot of grand projections floating around that are little more than wishful thinking on the part of those pushing a clean energy agenda.
What I found is that the bold goal of the Biden administration is to have electric vehicles makeup 50% of all vehicles sold in the United States by 2030. This differs from most forecasts which have EVs making up just 20% of the car market by 2030.
However, the growth figures I just mentioned above do not take into account the massive increases of inexpensive two and three-wheel EVs popping up across America, Asia, and Europe.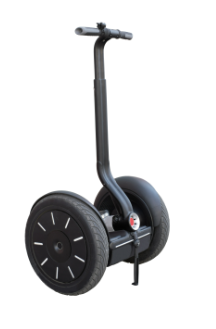 These shared two-wheel EV scooters are becoming commonplace in many of the world's urban areas, from New York to Shanghai.
The market for these alone is expected to reach $644 billion by 2028 and EV bikes for in-town transportation and EV mountain bikes are coming up right behind them. So even if some of these projections don't fully pan out, there's no denying that the demand for EV charging stations is growing.
Jim says the only company in a position to resolve this challenge is the one he's recommending as his #1 new EV stock.
The Pitch
Jim has prepared a private dossier on this company. He calls it The EV Flex Plan: An Easy Path to 7-Figures.
It is 'free' with a subscription to the Intelligence Report advisory service, which costs $49.95 for the first year at the beginner "Gold Tier" with a 30-day money-back guarantee. Included in the offer are the EV Flex Plan special report, 12 monthly reports, weekly updates to stay on top of recommendations, and urgent alerts notifying you about up-to-the-minute buy and sell calls.
Fast Chargers Mean Fast Profits
The lack of EV charging stations isn't the only problem afflicting EV owners.
If and when you do finally find a charging station, whether or not you are able to charge your battery depends on the type of charger you need and how long you have to charge.
For example, there are three different charger levels, and each takes a different amount of time to work:
Level 1 Charger: Up to 5 miles gained per charging hour.
Level 2 Charger: 20–80 miles gained per charging hour (most commonly used today).
And a Level 3 Charger: Up to 20 miles gained per charging minute, according to Forbes. Also called Fast Chargers, these are very scarce, accounting for only 16% of chargers today.
Fast Chargers are the key to solving what the Pew Research Center calls "range anxiety."
This happens when EV drivers wonder "how far they can drive before the next charge and where to find a station before their car dies."
84% of chargers on the market today are not Fast Chargers. So the companies able to pump out the most Fast Chargers, in the shortest amount of time at the best price will win.
One Company is Stepping Up
Jim intimates he has found one company that is capable of delivering enough stations quickly, inexpensively, and dependably, with best-in-class quality.
There are only a handful of companies to pick from to begin with and this company is said to have a proprietary advantage that puts it light-years ahead of its competition. What is its competitive advantage?
Unlike its competitors, this charging company doesn't simply sell charging stations to commercial property owners, collect an installation fee, and walk away.
Instead, this company's FLEX plan partners with commercial property owners, offering "four FLEXible levels of ownership and revenue sharing", tailored to each location.
It even offers a FLEX-Owned turnkey solution, that builds and installs chargers on a commercial property at no upfront cost to the owner and shares the revenue from the chargers with them. Only one company is offering such a sweet deal and it's Jim's #1 EV charging stock.
Revealing Jim Woods' EV Charging Company
I already have a good idea what the company being teased is but let's look at some clues to be sure:
This company partners with commercial property owners, offering FLEXible levels of ownership and revenue sharing.
The company already has charger agreements in place with Wal-Mart, 7-Eleven, McDonald's, and other high-profile clients.
Its new Fast Charger system charges commercial-and industrial-grade vehicles at twice the rate of other chargers.
Based on all of the info that we have now gathered, Jim's EV charging pick is very likely Blink Charging Co. (Nasdaq: BLNK). The clues line up well:
Blink gives property owners several charge station options, including a Blink-owned option where they share a portion of the revenues with the host.
On Blink's website, they cite Wal-Mart, McDonald's, and others as businesses' "they power."
Blink's new 30 kW fast chargers are twice as fast as its previous chargers which were the previous industry standard.
Is This the One Company to Make Us Millionaires?
Blink, ChargePoint (NYSE: CHPT), EVgo (Nasdaq: EVGO), EV charging station competition is intensifying.
This is a good sign that there are above-average returns to be realized otherwise, companies wouldn't be entering the industry.
Getting into Blink or another company at this stage could prove fruitful over the long term for a few reasons:
Federal government subsidies in place with industry incumbents like Blink and ChargePoint likely to benefit the most from these.
Blink's market cap is only $430 million as I write this, meaning it's a small cap with lots of room for future growth.
The emergence of wireless EV charging means Infrastructure-as-a-Service (IaaS) subscription plans are coming, which will provide steady, recurring revenue to businesses and their shareholders.
There are lots of potential downsides too, like EVs turning out to be a way smaller market than many anticipate.
But buying into a global infrastructure provider while it is still a small cap is indeed how millionaires are minted…if all goes well.
Quick Recap & Conclusion
Top-ranked TipRanks.com financial blogger Jim Woods is teasing an EV charging company that is a leader in this explosive market.
The federal government is subsidizing EV charging station infrastructure and EV scooters and bikes are adding to the growth of this multi-billion dollar market.
Jim has prepared a private dossier on his #1 EV Charging Company called The EV Flex Plan: An Easy Path to 7-Figures. The name and ticker are revealed inside and it is ours with a $49.95 subscription to his Intelligence Report stock advisory service.
Fortunately, you can keep your money and buy about dozen eggs with it given the high rate of inflation, as we were able to reveal Jim's pick for free as Blink Charging Co. (Nasdaq: BLNK).
Blink stock is down 60% over the past year, which could provide us with a good entry point over the long term if the EV market truly takes off as many believe.
Are EVs the future or overhyped? Let us know your thoughts in the comment section below.