Believe it or not, not all investment dollars go towards funding 5G and emerging technologies that will "change the future". Some of the very best investment opportunities are the simplest, in ages-old industries such as mining.
Stansbury Research's in-house commodities expert Bill Shaw is here to remind us of this and tell us about "Elon Musk's BIG PROBLEM", which could derail Tesla's entire future, but be a boon for "one natural resource that could skyrocket 14-fold by 2030".
The Teaser
Bill claims he has found a $4 royalty stock that is "dominating its market market". He explains that the Tesla Model 3 requires approximately 121 lb. of one natural resource and supply is drying up. As more people turn to electric vehicles, "Bloomberg expects demand for this resource to skyrocket 14-fold by 2030".
However, this resource is finite in nature, which is why it is said that "Elon Musk's plan to add 20 new million electric vehicles to the road by 2027 is doomed".
Bill Shaw is the editor of Commodity Supercycles and Stansberry's Gold & Silver Investor. Ever since joining Stansberry Research in 2015, Bill has been traveling the globe searching for the best investment ideas in the commodities and natural resource space. We have covered royalty teasers here in the past, including Dave Forest's Copper Royalty Company and Teeka Tiwari's Tech Royalty Retirement Plan.
Tesla's electric vehicles aren't the only ones needing this natural resource. The biggest car manufacturers in the world – including Ford and Toyota are already relying on it to increase their electric car manufacturing, whereas tech giants require the same material to fuel the latest generation of electronics, including smartphones.
Unlike lithium, supply for this critical element is drying up right now: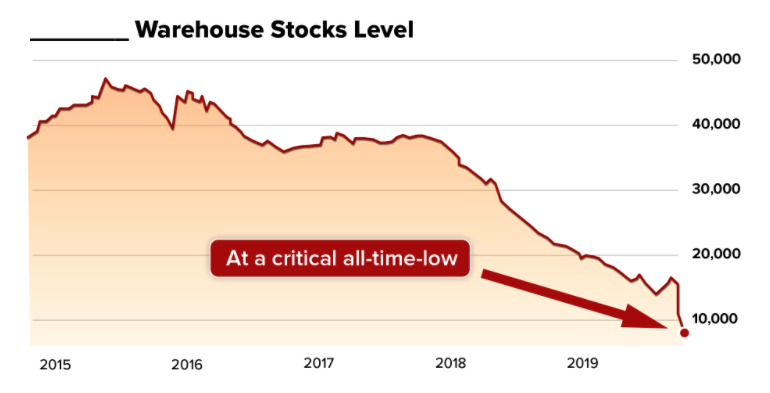 Needless to say, this creates a real dilemma. Fortunately for us all, Bill believes he's found the solution…a critical $4 stock that is developing a dominant market share in the ultra-competitive battle for this one resource that every single electric vehicle manufacturer needs to create the next generation of cars.
The Pitch
So, what is the author pitching? In his video teaser, Elon Musk's BIG PROBLEM, Bill Shaw talks about a mysterious company and mentions its ticker symbol in a special report called "Electric Vehicle Royalties: How to 10X Your Money Investing in the Critical Resources Tesla Need for Electric Vehicle Batteries". The special report is part of his investment newsletter Commodity Surpercycles, which is available for only $49 per year.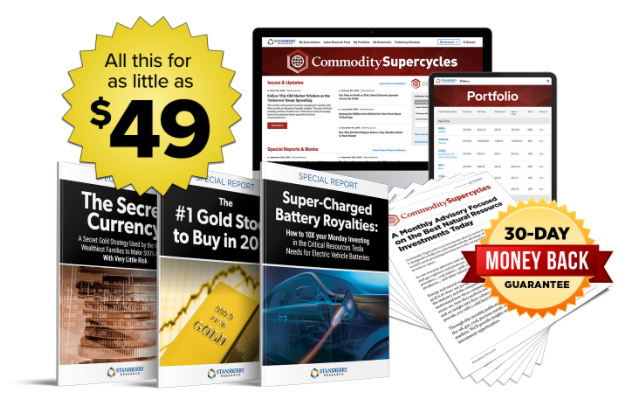 If you opt to subscribe to the Commodity Supercycles newsletter, you will receive three special reports, including the aforementioned one, instant access to the author's Model Portfolio, complete access to hundreds of back issues and special reports, as well as 12 regular monthly issues.
What is the "One Natural Resource" Being Teased?
For those who have not caught on already, the resource Bill is teasing here is Nickel. Nickel is one of the most common elements found on Earth and a key material for manufacturing everything from car batteries to electronics.
In fact, "without the necessary amount of nickel, mass-production of electric vehicles, including Tesla's Semi stereotype would be put on hold indefinitely". Simply put, electric batteries are comprised of 80% nickel and as electric vehicle adoption across the country is projected to ramp up by up to 10-fold in the coming decade, manufacturers will need A LOT more of it.
Elon Musk admitted as much when he said: "The main reason we have not accelerated new products like the Tesla Semi is that we simply don't have enough battery cells built. We could easily go into the production of the Semi, but we don't have enough battery cells for it right now".
This is where the ability to mine enough Nickel comes in. At this point you may be thinking what I am – namely that Nickel is actually one of the most common elements on Earth – the Earth's solid core is believed to be composed of Nickel and Iron. The only issue, according to Bill is convincing miners it's financially viable to start mining more of the resource.
Since raw materials like silver and nickel are highly reactive to changing technology, the nickel companies who will perform the best during this transition to electric vehicles will be the ones who act now setting themselves up for success in the process before nickel prices reach new heights.
The ones that do give early investors who spot this opportunity the chance to see quadruple-digit gains over the next decade. Bill tells us that one of these is a little-known company that is exclusively focused on "dominating the nickel market" in a unique way. By using a little-known, but incredibly powerful, wealth building tool called "royalties".
To this extent, Bill's favorite $4 stock is currently purchasing existing royalties from prospectors who hold the rights to the top nickel mines in the world. Let's try and find out the name of it.
What is the Nickel Royalty Stock?
First we learn that "in the last 12 months, this $4 royalty stock has been on a new acquisition frenzy". Purchasing (among other things) the rights to one nickel mine that is fully permitted and "shovel ready" right now and over the next 30 years, it's expected to produce 50,000 metric tons of nickel every single year.
A second hint that we are given about this company is that "just in the past year, they've acquired six of the world's largest Tier-1 nickel mines giving them a dominant market share in the future of the global energy supply chain".
Also according to the author, "years ago, the founding management team of this stock started a gold royalty business, where they made one-time investments purchasing the rights to several gold mines and were able to make huge profits on whatever gold was discovered there", now they are doing something similar with nickel companies.
This firm has a portfolio of royalties on some of the most strategic nickel mines in the world, and right now they're generating $8 of value for every $1 invested, yet their stock is still priced incredibly low, around $4 per share as of this writing.
Based on the details provided in the teaser and some digging, we think Bill is referring to Nova Royalty Corp. (TSX-V: NOVR). Here is why:
Nova is a royalty company focused on copper and nickel that currently owns a portfolio of 20 royalties and growing.

It completed three separate minority royalty interest acquisitions in February of this year and another two over the past two months alone, so it fits the bill in terms of being acquisitive.
Nova CFO Bill Tsang, is the former CEO of Metalla Royalty & Streaming, a company that Shaw mentions in his presentation and a royalty and streaming company offering investors leveraged exposure to precious metals, including gold by acquiring royalties and streams. This ticks another box.
Finally, Nova stock is currently trading just below $4 per share as of press time.
Question is, can you really hit pay dirt with this stock?
How Much Can This Nickel Royalty Stock Really Make Me?
First, author Bill Shaw mentions profits of up to 10x over the short-term and up to 1,000% over the next several years, which is a tough expectation to live up to. But putting aside the upside for just a moment, we can say that the downside is less than with most other investments in the junior mining space.
This is due to the fact that Nova Royalty doesn't take on any of the risk of exploration, development or building of the mining infrastructure. They simply make a one-time investment and wait for production to materialize into above-ground resources. One reason why royalty companies are one of the lowest risk, highest upside ways to invest in natural resources.
However, Nova primarily owns interests in early-stage projects. Meaning that there is no guarantee that some of these "development stage" will be built, let alone royalties being realized. Of course buying into such projects instead of an existing developed royalty stream is far less expensive, since royalties are several years or more away from production.
As with most investments as opposed to speculations, if your time horizon is long-term (years), instead of merely days and weeks then there is a good chance you may earn a decent return here.
Quick Recap & Conclusions
In his latest presentation dubbed

Elon Musk's BIG PROBLEM,

author Bill Shaw talks about a $4 company that is about to dominate the nickel market.

He claims that this little-known company can bring profits of up to 1,000% to its early investors, as demand for nickel is set to explode over the next few years.

To find out the name of this company we must sign up to the Commodity Surpercycles investment newsletters, for only $49 for the first year. This will include a special report called "Electric Vehicle Royalties: How to 10X Your Money Investing in the Critical Resources Tesla Need for Electric Vehicle Batteries" revealing the company name and the stock ticker.
Fortunately, there was enough information included for us to reveal the name right here for free as Nova Royalty

Corp. (

TSX-V: NOVR).
An investment in a royalty-based business provides less downside than an operating business, especially when it comes to the capex heavy mining industry. But its upside over the short to mid-term is also capped, which investors should be fully prepared for.
Are you currently invested in any royalty-based stocks? Do you believe they make for better long-term investments than actual producers? Tell us what you think in the comment section below