If you had access to a time machine that could bring you back to the early 80's and 90's, where today's Trillion Dollar Stocks started in their garages, wouldn't you want a chance to invest in these stocks as soon as their companies went public?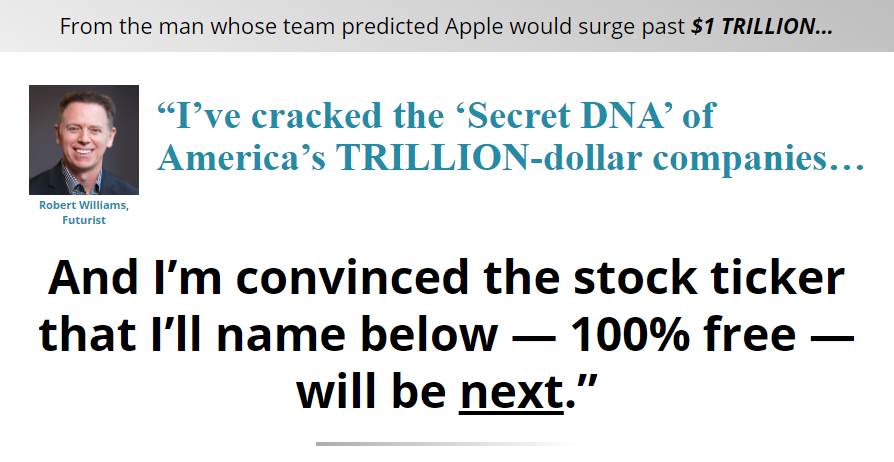 Today the four biggest companies in the world have a combined wealth that is worth around 5 trillion dollars, a quarter of the total US economy. Each of these four companies: Apple, Amazon, Microsoft, and Alphabet (the parent company of Google) have all reached a total value of over $1 trillion, something previously thought as almost unfathomable.
In his new marketing teaser, financial "guru" Robert Williams talks about the "Trillion Dollar DNA Stocks", a list he put together to expose the next potential breakthroughs in the stock market that could prove to be game-changers and future trillion dollar stocks.
So, if you already missed out on the mega wealth created by the aforementioned four companies and don't want to invest in their stocks which are already sky-high, you still have a chance to discover new investment opportunities that could turn you into the next millionaire, with just a little bit of help from our friend Robert Williams. 
Williams refers to a breakthrough discovery that he names the "Trillion Dollar DNA" and claims he has identified seven traits "that add up to a Trillion-Dollar DNA formula".  According to him, he's identified up to 11 companies which tick all the boxes and are most likely to cross the $1 trillion bar next as they fit his identified pattern. 
While he does name one company that is most likely to join the "Trillion Dollar Stock" group: Facebook, there is little information on the other companies he teases that will boost their revenues and become multinational giants. However, we have uncovered a few which we think are primed for this, but first just who the heck is Robert Williams?
Robert Williams – Who Is He?
As with other newsletter writers, Williams has his own program that he advertises and promotes to share his "wisdom" and financial knowledge with anyone and everyone – that is willing to pay a subscription cost that is.
So if you want to learn about the next hit Trillion Dollar Stocks to invest in, as well as some "coattail companies" (smaller companies that thrive in the ecosystem the trillion-dollar companies have created), you can receive William's Trillion-Dollar Toolkit "the moment you agree to a no-risk trial of his monthly research letter, Future Wealth with Robert Williams." 
Based on the options he is offering, you'll pay between $49 and $129 per year for a full subscription that includes several bonuses and investment opportunities such as bonus reports, alerts, a free phone consultation, and even the "Print on Demand" service that allows you to print any issue of the newsletter.
Williams does have over 20 years of experience in the financial field, and used to be an analyst "for one of the most revered and prestigious medical institutions on Earth". He became the lead analyst for another private Fortune 500 company and has worked with billion-dollar companies, as well as businessmen and authors according to his bio.
The Opportunity – The Next Trillion Dollar Stocks
By going through Williams' latest marketing teaser, you'll see that he identifies several investment opportunities in a few key sectors which, he believes, will boom and dominate the global market in the future decade. 
He identifies as many as 11 companies in fields ranging from Big Data, Satellite Tech, Artificial Intelligence, 5G, Health Tech, Robotics, and streaming platforms. 
All these companies thrive on the current Trillion Dollar companies' momentum and benefit from their structure. As giant companies continue to grow, they help develop other sectors of the economy and grow smaller companies in return, which Williams calls "coattail opportunities" and, therefore, the best ones to invest your money in if you're looking for fast and high returns. 
It is a fact of life now that emerging technologies like artificial intelligence, robotics, and big data are increasingly being integrated into products and services we use daily from ordering kiosks at restaurants to hyper-targeted communications based on things like what our favorite ice cream is, to robots making the apparel we wear and the cars we drive.
The global artificial intelligence market alone is expected to grow at a compound annual rate of 42.2% from 2020 to 2027 – the highest among any industry.
Will you earn a small fortune by acting now? There are lots of competing companies in each of the aforementioned fields and, even though they all look like promising upstarts that have the potential of becoming "the next best thing", its always a gamble to try to identify the exact companies which will break away from the pack based solely on future projections.
Most likely, you can earn above average returns by buying a large basket of businesses in these emerging industries, but that's a far cry from the huge earning possibilities Williams describes if you were to have invested in giants like Amazon, Apple, Facebook, Tesla, Microsoft, or PayPal in their early days.
The Companies Being Teased 
In his marketing teaser, Williams mentioned seven different characteristics that a company needs to posses in order to have a chance of becoming the next trillion-dollar business. 
Judging by his theory, a company should come up with a friction-less product, have access to unlimited funds, be borderless, "master data" and know how to use it, control all the links in their supply chain, flip the playing field, and "have an iconic brand with a big personality at the top".
Aside from the four giant companies that already meet all the criteria and are founding members of the trillion dollar club, there is one other company that Williams talks about, Facebook. But what about the others? 
We're told one is a platform which other companies utilize to help build their own businesses.
One of the hints he drops about a second company that people should invest their money in is "an innovative luxury brand with huge investments in the new technologies" which saw a stock increase of 335% in the last year. Although we do have a few clues about what this company might be, there isn't enough relevant information provided by the marketing teaser to reveal the name. 
Other examples of possible future trillion-dollar companies teased include companies that have "highly compatible technologies and match up with the existing companies in the trillion dollar club".
Based on this info we came up with a couple of high profile names that while already large mega-caps, are not quite in the trillion dollar club – yet.
We think the platform Robert is hinting at that other businesses build their own on might be: Salesforce (NYSE: CRM)
The innovative luxury brand with huge investments in new technologies is likely Louis Vuitton Moet Hennessy SE (EPA: MC) given their announcement that "AI is going to affect everything they do" and recent investments into tech.
As hinted in the teaser, all these companies are related to the tech field in one form or another and all could realistically become trillion dollar companies themselves within the next 5-10 years given the way they are positioned.
Are These Good Opportunities?
The Internet is the single most important invention of the late 20th century and has massively influenced the 21st century by opening up new possibilities and paving the way for major wealth creation and staggering revenues for some hi-tech companies. 
Based on Williams' predictions, any company that possesses one or more of the traits outlined in his theory can become the next trillion-dollar business, which means there is a real investment opportunity in some of today's giants and coattail companies alike. 
Fields like AI, high-tech, tele-medicine, online payments (including alternative payment methods and cryptocurrencies), and online streaming seem to be more profitable than ever, so you might still have a solid chance of increasing your fortunes by investing in these companies of the future. You might not become a billionaire, but if you pay a price that is close to fair for such stock's anticipated future growth you may someday join the hundred thousandaire club.
Quick Recap & Conclusion
Future Wealth with Robert Williams

is an investment newsletter you can sign up for as little as $49 per year, giving you access to the latest information about potential new stock investments from various sectors, including 5G, high-tech, AI, AR/VR, robotics, and tech medicine. 

The first company that matches the author's Trillion Dollar DNA is Facebook, which he claims has the biggest potential to reach the $1 trillion dollar club soon.

Although we can't be entirely certain about the companies that Williams teases, we were able to ID a few "coattail companies"  that loosely match his description and whose tech is compatible with the current trillion dollar stocks. These companies include PayPal, NVIDIA, Salesforce and Intel.
What do you think are the most promising industries of the future? Are you currently invested in any high flying tech stocks? What is a fair multiply to pay for a stock with lots of anticipated future growth?